Thursday, 16 June 2016

Made in Hebden event launches Arts Festival next Friday 24 June
Local craftspeople and businesses are joining forces to help open Hebden Bridge Arts Festival at a one off 'Made in Hebden' event on Friday 24 June.
Festival supporters can also check out a specially curated photographic exhibition 'She Wears the Trousers', (pictured right) in partnership with Bradford's National Media Museum, which will be on show at the Town Hall throughout the festival. The curators have used vintage photos from the Media Museum's collection to look at how women began wearing trousers in fashion and every day wear.
Local crafts collective Egg Factory will be running a pop up, hands on printmaking session and helping people make their own badges. Postman turned artist Kevin Boniface will be showcasing his Recorded Delivery Booth so local people can hear his musings about life in West Yorkshire based on what he hears on his daily round.
Georgia Boniface will be showing off her bespoke workwear and local trouser makers HebTroCo will be showing off their latest range as they help breathe new life into the town's textile manufacturing.
DJ Red Helen takes time out from running Ribbon Circus on Market Street to spin the discs, and there is a chance to chance to quaff Trouser Town ale brewed by Bridestones at the Drink bar featuring four colourful labels designed by Arts Festival competition winners Ron Whyte, Emma Griggs, Simon Farrow and Philip Etchells.
Arts Festival Artistic Director Helen Meller said, "This year's main theme is Trouser Town so it's right HebTroCo can join us as they reviving the art of making trousers in a place that used to make thousands of pairs every day.
"Red Helen runs one of the many businesses who have fought back from the traumas of Boxing Day, and our launch night will make it crystal clear that Hebden Bridge is back open for business."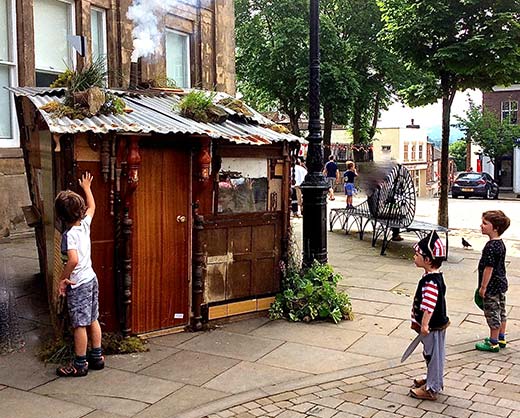 There will be a special auction of the InsideOutHouse, created by award winning artist Hilary Jack for the Town Hall, made from reclaimed office furniture designed to be an antidote to the arrogance of corporate expansion and as a tongue-in-cheek metaphor for the concept of the Northern Power House.
Made in Hebden start at 6pm in Hebden Bridge Town Hall on Friday 24 June, and there will be chance to buy Arts Festival merchandise including one off designer bags made from old festival vinyl banners.
More info at www.hebdenbridgeartsfestival.co.uk and the box office is open daily at Hebden Bridge Town Hall.