We:cycle electric bike scheme has zapped its membership costs!
Tuesday, 9 August 2016
We:cycle, the community-based electric bike hire project, is offering a cut price membership rate this summer.  The new electric Raleigh bikes, stationed in hilltop villages around Hebden Bridge, are available to hire for £1.50 an hour.  Local residents who join will have access to the scheme for just £28, which now lasts them till 30 June 2017.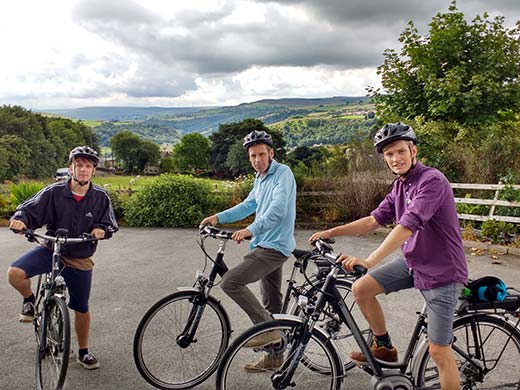 The new e-bike hubs are in place at four sites in the upper Calder Valley – Old Town, Heptonstall, Colden and Booth.  Visitors to the Valley can also book the e-bikes through local accommodation providers for £3.00 an hour.  Booking is a simple online process through the website www.wecycle.org.uk and allows hirers to use the e-bikes between 8.00am and 8.00pm, 7 days a week.
Anyone interested in becoming a member of the scheme, wanting to find out more or keen to have a go on one of the e-bikes, should get in touch with the we:cycle team on 01422 842121 or info@wecycle.org.uk.
Project manager Paul Forrest said, "We've got about 30 members so far but we'd like to see many more local people join and make use of the e-bikes.  They are ideal for quick trips into the valley, as well as longer day trips out on the moors – a full battery will take you over 30 miles.  We call them our 'Smile e-bikes' because that's the first thing you notice when a new user returns to base."
We:cycle is being delivered by the Alternative Technology Centre and is supported by the Department of Transport and Calderdale Council.  It is one of 12 projects that are piloting the use of electric bikes across the UK.
Previously
HebWeb News: Electric Bike launch in Old Town 28 April 2016
HebWeb News: Electric Bike Revolution Begins! 18 March 2016
HebWeb News: eBikes on the Hill Tops 15 December 2015