Northlight build on art course success
Tuesday, 30 August 2016
It has been a busy Summer for Northlight after a full on Summer School programme.  The art studio cooperative is now gearing up for the start of their 12 week autumn term starting on 12 September.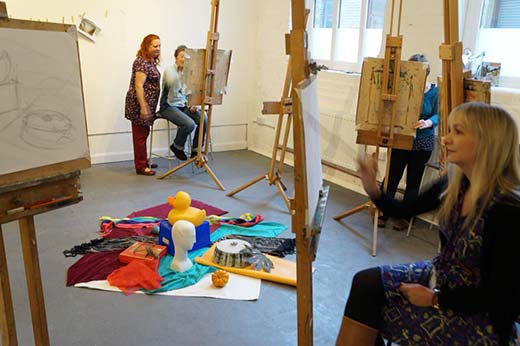 Northlight Art Education are offering a record 18 regular weekly courses covering painting, drawing, stained glass, ceramics and textiles, calligraphy, watercolour and Folk art plus regular Young Northlight sessions for young artists aged 9-15.  There is also a packed term of Day and Weekend workshops on offer that include lino printing, ceramics, willow sculpture, paper crafts, book binding and even interactive electronic textiles!
Courses are filling up fast but there are places available for Creative Textiles, Life Drawing, Learning to Draw, Painting workshops, Watercolour painting and the new additions to the programme: Calligraphy and Folk Art and an extra evening session of Art for the Terrified!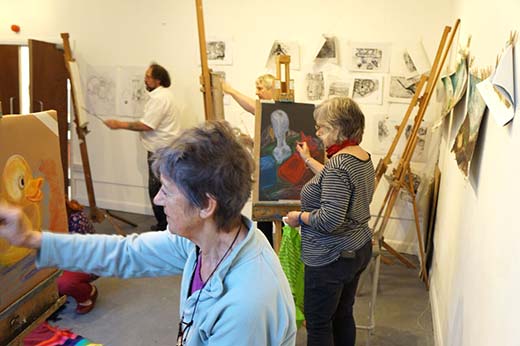 "Northlight has now become an established course provider in the creative sector.  We like to think we have something for everyone and our fantastic teaching team are passionate about encouraging the creative side in us all!" says Don Myers, the project's coordinator.
He adds, "We've seen our programme increase each year and this year we're aiming for 200 regular weekly students! We're also really pleased and excited about the growth of our Young Northlight sessions where young artists can work with professional artists and really explore their art interest."
Joining a Northlight course will also gain access to an enrichment programme that includes gallery visits, talks and social events. 
The new term starts on Monday 12th September and there are finding out and enrolment days with Don on Saturday 3rd September from 11am - 4pm and Weds 7th Sept 6 - 8.30pm.
More details can be found on the Northlight website - by emailing or phoning 01422 843519.
Previously, on the HebWeb
HebWeb News - Terracotta Army comes to Hebden Bridge! (Dec 2015)
HebWeb News - Northlight launch new Autumn term programme of Art and Craft courses (Aug 2015)
HebWeb News - A new term and new premises at Northlight (Dec 2014)
HebWeb News - Northlight Launches its Autumn Term programme of creative Courses (Aug 2014)
HebWeb News - A Summer of Artistic opportunity at Northlight Studios (June 2014)
HebWeb News - New Spring Term of Creative courses and big news from Northlight (Dec 2013)
HebWeb News - The 'Back Door' at Northlight Art Studios - an art studio for the community! (Aug 2013)