Tuesday, 10 October 2017
Greenwode to Gibson to National Trust
Speaker: Trevor Moody, a National Trust volunteer
U3A Todmorden were recently lucky to secure the services of Trevor Moody, a National Trust volunteer speaker, to tell us about Gibson Mill and Hardcastle Crags.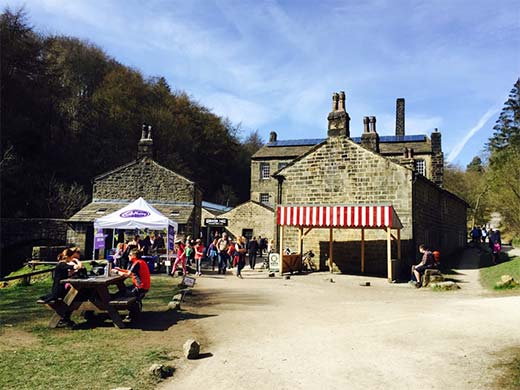 Trevor gave us a talk that entertainingly embraced etymology, social history, geology, engineering, manufacturing, holidaying, photography and composting toilets. 

Trevor often amusingly intertwined fact and anecdote. Thus the fact that the Norman Wyomarus de Greenwode was the first landowner of Greenwood Lee in Hardcastle Crags was enlivened by the story of the drunken auction in 1764 that transferred ownership to the Gibson family.

Or the fact that the navvies who built the Walshaw Dean reservoirs were housed in wooden huts is memorable because the settlement became known as Dawson City, a reflection of the energy and lawlessness of the Yukon Gold Rush town.

But much of the talk concentrated on the Gibson family and their development of the land round their mill. Cotton manufacture required a weir, a millpond, the mill (opened by the second Abraham Gibson in 1800), and a 72 hours-a-week workforce (in 1833).

It also required transport and Trevor's display of old photographs of the different specialized carts for wood or stone used in the Hebden area was exceptional. The fever van was a specialised item too.

By 1899 the mill was closed. The area then became an immensely popular recreation centre, the brainchild of Ernest Greenwood. There were cafes and dance halls, swing boats, boating ponds, camping and holiday chalets.  In 1946, these holiday enterprises closed and in 1951 Lord Savile gifted 250 acres at Hardcastle Crags to the National Trust to prevent the building of another reservoir.

From 1984-2006 the Trust renovated the property, garnering occasional windfalls from films such as 'Nicholas Nickleby' and 'Death Comes to Pemberley'. And, of course, the Trust now carries on the fine tradition of providing recreational facilities for those who want fresh air and fine countryside.

Trevor is very much to be thanked for reminding us of this wonderful facility on our doorstep.

Our showcase speaker this month was Anthony Peter who convenes the 'Novel Appreciation' group. This good-humoured group tackles novels that have some depth and serious purpose, considering whether or not they can be judged as good literature. Calderdale Library Services provide most of the books and a meeting room for free, so the group annually buys a set of a novel they don't have by way of thanking them. 

Mary Findon, convenor of the Craft Group, mentions that some time ago The Craft Group made a square to represent Todmorden on the National 'Walkers are Welcome Towns' wall hanging.   The whole wall hanging will be on show at Todmorden Library (by the Hall Street entrance) until Friday 13th October. 

U3A Todmorden's next meeting will be held on Thursday, 19 October in the Central Methodist Hall in Todmorden at 1.45.  The meeting is an unusual one: Sheila Antrobus, local antiques expert, will be giving a short talk titled 'Don't Chuck It, Check It', accompanied by a brief evaluation of objects brought by our members. 

This meeting has very particular arrangements which must be adhered to; details are available on our website under News / October's Monthly Meeting. Please check them rather than turn up and be disappointed.
Our contact details are (website) www.u3atod.org.uk, (email) enquiries@u3atod.org.uk, or (phone) 01706 812015.

Many thanks to Anthony Peter for this report
Previous U3A reports on the HebWeb
HebWeb News: Music for Pleasure and Food for Thought with speakers Neil Smith and Geoff Tansey (13 Aug 2017)
HebWeb News: The Political and Social satire of Gilbert and Sullivan (7 July 2017)
HebWeb News: Professor Scott Scores a Euro-Hit with speaker Professor Derek Scott of Leeds University (10 May 2017)
HebWeb News: Old Flames and Steamy Memories. With speaker Granville Dobson (9 April 2017)
HebWeb News: Titus Salt – Philanthropic Paternalist or Capitalist Villain? With speaker Maria Glot (2 March 2017)
HebWeb News: Shaking Hitler's Hand (by proxy) - with speaker Alun Pugh (12 Feb 2017)
HebWeb News: Masterclass on Gilbert and Sullivan at U3A Todmorden - with speaker Bernard Lockett (28 Oct 2016)
HebWeb News: Moses Holden, Autodidact of Preston - with speaker Steve Halliwell (7 Oct 2016)
HebWeb News: Volunteering in Palestine and Guatemala - with speaker David Gilman (9 Aug 2016)
HebWeb News: Snow, Permafrost, Insects, Iron - with speaker Dr Frank Nicholson (7 July 2016)
HebWeb News:Stranger in a Strange Land - with speaker Gill Russell (7 May 2016)
HebWeb News:Life with polio and a career as a TV and Radio presenter. with speaker Jane Shepherd (12 June 2016)
HebWeb News:Small in a Tall Person's World with speakers Hamish Willis and Penny Dean OBE (31 March 2016)
HebWeb News:In the Footsteps of Norbert Carteret (22 February 2016)
HebWeb News:Gallivanting on Public Transport - a Bus Pass from Berwick to Land's End (30 September 2015)
HebWeb News: Magna Carta - A (Mostly) Light-hearted look at 800 Years of History (1 September 2015)
HebWeb News: Summat a' Nowt - talk by Steve Murty (28 April 2015)
HebWeb News: My Convict Ancestors (12 April 2015)
HebWeb News: Aquaponics Lab - A Radical Solution (16 January 2015)
HebWeb News: British Professional Cycling – Tykes and Le Tour de France (11 December 2014)
HebWeb News: Life in La Serenissima, Venice - Kathryn Ogden (9 July 2014)
HebWeb News: University of the Third Age: The Machine that Changed the World (25 February 2014)
HebWeb News: University of the Third Age: Music and the Deaf (12 February 2014)
HebWeb News: University of the Third Age: Psychology and You - Part Two David Groves made a welcome return as a speaker at the October Todmorden U3A (26 October 2013)
HebWeb News: Hebden Bridge Little Theatre, A Short History was recounted by Ray Riches to the University of the Third Age. (28 Aug 2013)
HebWeb News: John Sheard, retired land agent to the Duke of Devonshire, gave his third talk to members of the U3A, this time on Sir Joseph Paxton, Knighted Gardener (26 July 2013)
HebWeb News: Off Stage Choices: Andrew Rawlinson recounts his theatre experience from Tod Operatic to General Manager of a leading Theatre Group. (18 July 2013)
HebWeb News: The Story of the Hebden Bridge Calendar (April 2013)
HebWeb News: Changing Times in the Press (March 2013)
HebWeb News: Cancer from Both Sides (Nov 2012)
HebWeb News: Steve Halliwell outlined the history of the Woodland Trust (Sept 2012)
HebWeb News: Ray Riches talks on Walking the Pacific Crest Trail (Aug 2012)
HebWeb News: Pitch and Pythagoras - Pulse and Prison (July 2012)
HebWeb News - Lord Shutt explains the workings of the House of Lords (May 2012)
HebWeb News - Claire Benedict talks acting to Todmorden U3A (April 2012)
HebWeb News - Kate Moreton-Deakin spoke about her day job as Associate Director - Corporate Social Responsibility with Calderdale and Huddersfield NHS Foundation Trust. (Feb 2012)
HebWeb News - Fair Trade Movement (Feb 2012)
HebWeb News - Fancy a cruise to the Antarctic? (Feb 2012)
HebWeb News - Gail Allaby, U3A's Queen of the Underworld (Dec 2011)
HebWeb News - September meeting report - Report of meeting about Walking the Pacific Crest Trail
HebWeb News - August meeting report - Bolton Abbey
HebWeb News - May and June meeting report - Keep Learning: Live long and prosper and the role of the Lord-Lieutenant
HebWeb News - April meeting report - Belt and Braces - An Everyday Guide to Risk and Chance
HebWeb News - March meeting report - Growing Old in the Twenty-First Century