Sunday, 24 June 2018
Tuesday, 19 June 2018
Handmade Parade this Sunday!
A travelling fair will be whirling and waltzing through Hebden Bridge on Sunday, when the 11th annual Handmade Parade takes place.
Thousands of people from across Yorkshire and beyond are expected to watch the Parade when it takes to the streets of Hebden Bridge on Sunday.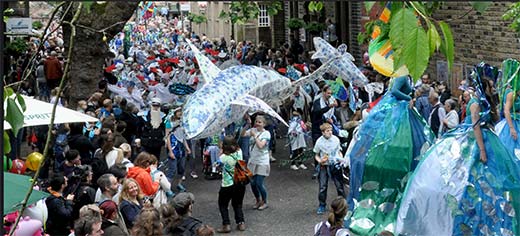 The parade features giant puppets made by professional artists, colourful costumes and community art made at open workshops by hundreds of participants.
Live parade bands, bespoke street theatre and stilting pizzazz combine to make this the summer parade of the year.
The theme this year is Roll up! Roll up! Watch out for crazy rides, weird and wonderful sideshows and circus like you've never seen it before.
The parade, complete with bands Drum Machine, Handmade Samba Band, Skiband, Dales Jam, Juba do Leao, Orixa Bloco and Les Panards Dansants as well as dancers, stilters and street theatre, will set off at 11.30am from the Handmade Parade workshops in Victoria Road.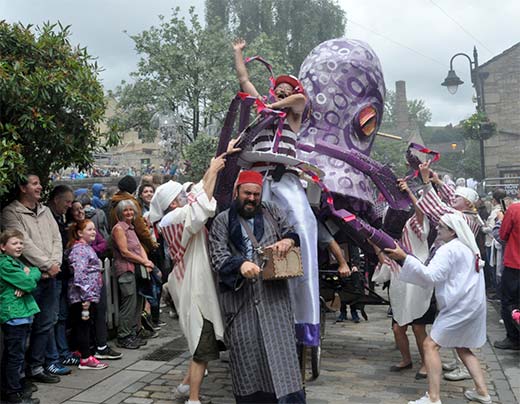 The Parade continues along Valley Road, through George's Square and Bridge Gate to Holme Street and finishes in Calder Holmes Park, where there will be a mini-festival with live bands, dancing and food stalls from local vendors until 3.30pm.
Handmade Parade Artistic Director Kerith Ogden, said, "This 11th year is really exciting – we've picked a crazy theme, have hundreds of participants and have really brought people together. It's going to be fantastic!"
Hundreds of people have made their costumes for the parade at open workshops run by Handmade Parade's professional artists. Participants are asked to be at the parade workshops at 10.45am on Sunday for the line-up, with the parade starting at 11.30.
Those taking part are asked to walk to the workshops, use public transport or park near the train station as parking around the workshops will be extremely limited.
Organisers are urging visitors to this year's parade to get to the park early and watch the parade from the comfort of your picnic blanket to avoid congestion on the streets.
There will be traffic delays on the A646 Halifax Road between 12.00 and 12.45pm.
For more information about this year's parade please go to the website