Friday, 16 November 2018
Little Theatre:
The 39 Steps

by Patrick Barlow
Directed by Ray Riches
Monday 26 November
- Saturday, 1 December
7.30pm
Tickets £6-10,
available here
The Little Theatre's last production of the year is The 39 Steps, Patrick Barlow's stage adaptation of John Buchan's novel and Hitchcock's film. It follows the adventures of hero Richard Hannay who is forced to go on the run from a gang of international spies after he becomes aware of top secret plans which might win the war for Germany.
In this spoof version four actors take on the challenge of playing all the parts, portraying over 100 roles between them. Quick changes are achieved by a cunning use of props, costumes and sound effects – how else do you get a train and the Forth Bridge on such a small stage? It all adds up to considerable mayhem and general hilarity.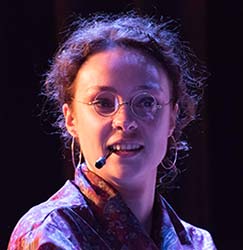 Making welcome returns to the theatre are Simon Reece, as the death-defying hero Hannay, and Sharon Kelly, playing several reluctant heroines.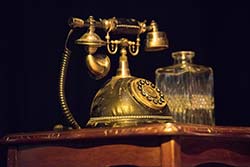 The two 'clowns' who are responsible for most of the rapid-fire changes, are Phoebe Farrington and Richard Lucas, who demonstrate their extreme versatility, playing all the other parts. Richard is making his debut with the theatre, but holds his own amongst a very talented and experienced cast.
Winner of an Olivier Award for Best Comedy and described as a 'joyous version of the Hitchcock classic', it makes for a perfect end to the season.
The play runs from Monday 26th November to Saturday 1st December, at 7.30pm.
Get your tickets now, at Innovation or online at www.hblt.co.uk.