Saturday, 9 November 2019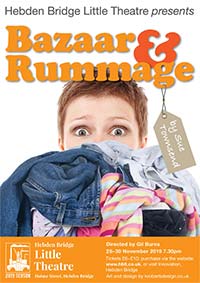 Little Theatre: Bazaar and Rummage
Monday to Saturday,
25-30 November
Hebden Bridge Little Theatre Theatre's final production of the season is Sue Townsend's heartfelt comedy Bazaar and Rummage, which tells the story of a group of agoraphobic women, as they attempt to overcome their social anxieties, by running a jumble sale.
Gil Burns, the director, appealed for a largely female team, to support the all-female cast. This 'Jobs for the Girls' recruitment has encouraged four new members to act with the Little Theatre for the first time, and six newcomers to help out backstage.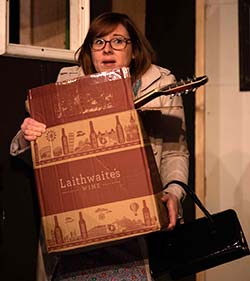 Gil is delighted with her cast, and how rehearsals are going:
'I'm having such a blast in rehearsals. I'm the luckiest director to have such an incredible team on board! The cast are already making me wet myself with laughter and cry with sadness. It's already very special.'
The three agoraphobic women, Katrina, Margaret and Bell-Bell, are played by regulars, Trish Ellis and Rachel Doyle-Richards, and newcomer, Gemma James. Gemma studied Music and Drama in Liverpool and went on to complete a Master's degree in composing. She is now a peripatetic-music teacher, teaching high school and primary school children piano, ukulele and voice. She loves attending the theatre and also performs in an all-female Ceilidh band called The Beau Dillies.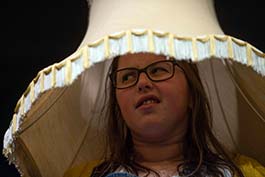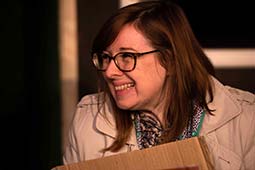 Moni Noszkay, another actor familiar to Little Theatre audiences, and new member, Katie Kendall, take the parts of Gwenda and Fliss, the group's social workers. Katie has an impressive theatrical CV, which includes a First Class Honours Degree in Community Theatre and Performance, performing professionally, and teaching drama.
The other two newcomers in the cast are Sobhia Jones and Rhiannon Thomas, both of whom have wide experience of performing. They share the small role of the police officer, but as the play revolves around a jumble sale, and is consequently very prop heavy, they are also enjoying helping out with props and scene-shifting.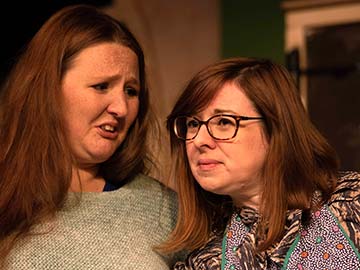 Bazaar and Rummage will be performed from Monday to Saturday, 25-30 November, at 7.30pm. Get your tickets now, online at www.hblt.co.uk, or in person, at Innovation, Hebden Bridge.
Rehearsal photos by Bruce Cutts.