Monday, 18 November 2019

Home, An Outward Journey Inward
Hebden Bridge Film Festival is hosting a special screening of the documentary Home, An Outward Journey Inward, on Saturday 23 November at Hebden Bridge Picture House.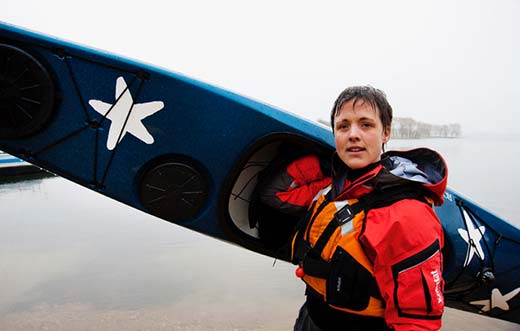 The event includes a live Q&A with Sarah Outen, an adventurer, bestselling author and motivational speaker. Between 2011 and 2015, Sarah travelled the world by bike, kayak and rowing boat, covering over 20,000 miles. This documentary captures her fascinating journey.
Winner of the prestigious Banff Exploration & Adventure award, Home is directed by filmmaker Jen Randall (Psycho Vertical) using footage filmed by Sarah as she completed the London2London: Via The World expedition.
Louise Wadley, Hebden Bridge Film, Festival director told the HebWeb, "Home follows Sarah's epic journey and tells her inspirational story of struggle and triumph. This is a perfect showcase for what Hebden Bridge Film Festival is all about, daring to be different!"
This screening is presented by Hebden Bridge Film Festival and advance sale film passes for the 2020 festival (providing access to all screenings and events) will be available at the event before going on wider release at Film Festival website and Calderdale tourist information centres.
The 2020 festival will take place from Friday 27 to Sunday 29 March with new films from the UK and around the world.
The 2019 inaugural Hebden Bridge Film Festival attracted attendance over the weekend in excess of 2,250 with guests including Maxine Peake and Jessica Hynes. Details on films and guests for the 2020 festival will be announced in the new year.
For further information about the film festival visit the Film Festival website.
Previously, on the HebWeb
HebWeb News: The first Hebden Bridge Film Festival was an great success (1 April 2019)
HebWeb News: The first Hebden Bridge Film Festival is this Weekend (22 March 2019)
HebWeb News:Film Festival Programme launched. (8 March 2019)
HebWeb News: Film Festival Launch on Friday 8 March (26 Feb 2019)
HebWeb News: Award-winning Carmen and Lola added to Film Festival (21 Feb 2019)
HebWeb News: Jessica Hynes directing debut 'The Fight' (12 Feb 2019)
HebWeb News: 'Being Frank' confirmed for Hebden Bridge Film Festival (3 Feb 2019)
HebWeb News: Wild Rose announced as Hebden Bridge Film Festival opening film (Jan 2019)
HebWeb News: Hebden Bridge Film Festival - with Maxine Peake as patron (Dec 2018)