Wednesday, 24 February 2021
The Humour and Art of the Picture Postcard
Speaker: Dr James Taylor FRSA
Last Thursday the Todmorden U3A welcomed Dr James Taylor FRSA who gave a fascinating insight in the history of the picture postcard as an art form, as a mode of communication, as propaganda and as a vehicle for humour. James told us that postcards are a mirror to society, especially at times of conflict like the First and Second World War when humour was used to ease the concerns of the public, for propaganda purposes and of course to attack our enemies.
It can be said that postcards originated with the British, by Theodore Edward Hook, who produced the earliest humorous artist drawn postcard, poking fun at the scribes of the General Post Office. Stamped with the Penny Black he sent it to himself in 1840. The card itself was sold by auction in 2002 for £31,750.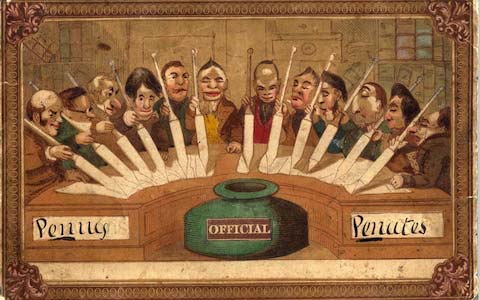 In 1894 the monopoly of the Post Office was broken and many companies began designing postcards, and by 1899 Britain fell in line with other countries and the standard size that we still use today 5.5 x 3.5 inches came into use. In 1902 the modern postcard format came into being with the divided back so that you can put the message and the address on the same side.
In the early 20th century there were hundreds of printers and publishers of postcards, including many in our area from Scarborough to Blackpool, but probably the one that resonates with us most is Bamforth & Co of Holmfirth. They started off in the 19th century producing movie backdrops and by the early 20th century were producing 20 million cards per year.
In the early 20th century there were multiple postal deliveries a day, so you could send postcards back and forth with thoughts and epithets over long distances, perhaps a little bit like the social media of today!
A well-known character of the time was Bonzo the Dog created by George Studdy. The pup quickly rose in popularity during the 1920s and even featured in films. Giving human qualities to animals was also a feature of the work by Louis Wain and now his cards fetch £40-£50 at auction. Another artist of note that can fetch good prices is the Frederic George Lewin, he produced nearly 750 postcards designs and he is probably best known for his wartime vicar cards.
Mabel Lucie Attwell did many cards showing ladies with exaggerated limbs and she was also known for her cute, nostalgic drawings of children. She went on to illustrate books and even have her designs appear on chinaware.
Probably the best-known humorous postcard artist was Donald McGill, and although he looked like an avuncular bank manager, he was hopeless financially, because he took a fee upfront, whereas artists like Mabel Lucie Attwell took a royalty on the number of cards sold. Even at the height of his fame he only earned three guineas a design and his estate was valued at just £735 on his death.
His cards mostly feature an array of attractive young women, fat old ladies, drunken middle- aged men, honeymoon couples and vicars. He ranked his output according to their vulgarity as mild, medium and strong, with strong being much the best sellers. His family, however, was steadfastly respectable and today his original artwork can fetch thousands of pounds.
McGill fell foul of several local censorship committees, which culminated in a major trial in Lincoln on 15th July 1954 for breaking the Obscene Publications Act 1857. He was found guilty and fined £50 with £25 costs. The wider result was a devastating blow to the saucy postcard industry; many postcards were destroyed as a result, retailers cancelled orders and some companies were made bankrupt. In the late 1950s, the level of censorship eased off and the market recovered. In 1957, McGill gave evidence before a House of Commons select committee set up to amend the 1857 Act.
Whilst many of us appreciate the quality of artistry in seaside postcards they no longer form the staple of our holiday messages of "wish you were here". The demise of the postcard was assisted by increasing postal charges, the arrival of the telephone and of course the mobile phone with inbuilt camera. Today we can take constant images of our holidays and forward them to our friends back home with ease in seconds and of course no obvious cost.
The next Todmorden U3A Monthly Members Meeting by Zoom will be on Thursday 18th March 2021 at 1.45 p.m., open to all fully paid-up members.
Our presenter for March will be Georgina Ferry with a talk entitled, 'From Diamonds to DNA'.
Not yet a member? You can attend one talk free by requesting an invitation to this zoom event. We're always delighted to welcome new members.
Our contact details are www.u3atod.org.uk (website), info@u3atod.org.uk (email), or 01422 886021 (phone).

Many thanks to Michael Astrop for this report
Previous U3A reports on the HebWeb - click here