Monday, 7 February 2022
A Touch of Danger
Hebden Bridge Little Theatre's February play is A Touch of Danger by Francis Durbridge, directed by Steve Hirst.
In this deft thriller, Max Telligan, a popular novelist, returns to his London apartment, from a business trip to Munich, to find his evening newspaper containing a report of his violent death. A succession of mysterious visitors appear, looking for a pocket sized calculator, threatening him with a poison tipped walking stick and showing him photographs of his wife in flagrante delicto. Max has, it seems, unwittingly become embroiled in the activities of an international terrorist group!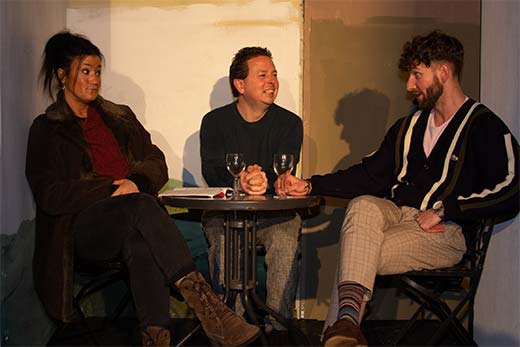 An excellent cast, features three newcomers, Fergus Kitchen, Joel Dowson, and Heather Wilson, alongside experienced players, Matthew Parker, Stuart Hought, Gilly Walker, Marie Briggs, and Kate Shackleton. The last three all appeared in When We Are Married recently, whilst Matthew was last seen, starring in 'Allo 'Allo! Stuart has not acted for the Little Theatre for many years, but will be familiar to many as St George in the Heptonstall Pace Egg play.
Steve says cast and crew are working hard to produce a slick and entertaining production that will keep the audience on the edge of their seats!
The play runs from Monday to Saturday, 21-26 February 2022. If you prefer to socially distance, the Wednesday performance has reduced seating, with only 50% of seats available. 
Get your tickets now, online at www.hblt.co.uk, or in person, at Innovation, Hebden Bridge.