Above: Police called as students walk out of lessons to demonstrate outside Calder High School this morning in support of the two suspended teachers - see below - 11 March
SECOND TEACHER SUSPENDED
A second highly respected and popular teacher, Steve Cann, has been suspended from the Calder High School. When the Hebden Bridge Web contacted Calder High, they refused to give us any information about their reasons. It is widely believed to be connected with the furore around the earlier suspension of Ms Rustamova or "Rusty" as she is affectionately known. See discussion on Hebweb Forum and the Facebook group Save Miss Rusty's Job which currently has 750 members. More info as it comes into the Hebweb - 10 March
Alarm grows over plans which may disturb Acre Mill's deadly asbestos - new group outline their fears to the HebWeb. Read more - 10 March
PROPOSED DEMOLITION OF CENTRAL LIBRARY AND ARCHIVES building in Halifax - see news item. (updated, 9 March) Professor Pat Hudson has written to the Hebweb in the hope of mobilising local opposition to plans to demolish the Library and Archives building in Halifax, See Forum -
WHEELIE BINS AND KERBSIDE: "We'll see you in Court" says Kerbside. (See Courier article). Paul Brannigan of Kerbside calls for community action. Other correspondents to the Hebweb Forum are threatening a "dirty protest" of non-cooperation. Read more - 1 March
| | |
| --- | --- |
| A call for cycling ideas from from the Sustainable Transport Group: Read more - 2 March | |
Wheelie Bins - Hebweb correspondent receives response to Freedom of Information request. Read more - 27 Feb
"Fustian Knife" type art for Mytholmroyd Square - artists invited to suggest ideas - 27 Feb
Council tax to rise by under 2% - see news - 24 Feb
Civic Trust - speakers at AGM. Read more - 16 Feb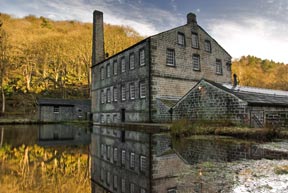 Thanks to Anthony Bowler for sending this stunning photo which we are using to illustrate our feature on Gibson Mill. To see more Hebden Bridge Web features click here
| | |
| --- | --- |
| Quinteto Mambo Jambo at the Trades | |
KERBSIDE CRISIS: Calderdale Council have finally decided to launch an independent inquiry into the issuing of the Sita contract and how Kerbside was sidelined. - 20 Feb
Crime in Hebden Bridge - report of Tuesday's 6 weekly ward meeting - 18 Feb
PARKING: have your say! See report of Thursday's consultation and the opportunity to comment. - 14 Feb
The search for Yorkshire's green champions, and government support for rail service improvements. See news - 11 Feb
Hebden Bridge's Ian Coates has been travelling around the world on his Honda for ten years now. Latest photos and messages - see Hebweb feature -

22 Feb
RIVERSIDE WINS PRAISE FROM OFSTED
"a good school . . . with a rich and varied curriculum . . . strong links with the local community." Read more, including Hebweb news from 1997 to show how different it was then. - 11 Feb
Credit Crunch casualties: Laughing Gravy and Hebden House close- See news and forum
Wheelie Bins and Wheelie Bin Roadshows are on the way. Read more - 10 Feb
Those attending the Hebden Bridge Arts Festival Open Meeting were the first to hear that Mark Steel has been booked for this year's Festival. - 4 Feb
Calderdale/SITA cut refuse collections to once a fortnight, and attempt to bypass Kerbside. Wheelie bins - even for those living on steep hills. Read more - 5 Feb - see also recent Forum messages on Kerbside and wheelie bins
Handmade Parade 2009 - read more
Hebden Bridge Shops closing - see Forum - 11 March

St Patrick's Day Shenanigans at The Trades
Read more - 9 March
Kerbside's Paul Brannigan to fight election

Read more - 4 March
Transfer of Town Hall to community ownership one step closer. Read more -

4 March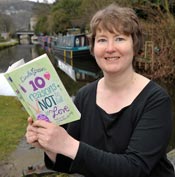 Hebden Bridge plays starring role in the new novel from Linda Green: 10 Reasons Not to Fall in Love Read more - 3 March
New Valley Fibres group - see events or news
Join the Handmade Parade Samba Band: beginners welcome! Read more - 3 March
Calder High Teacher Suspension - one of the characters featured in the offending book has written to the HebWeb Forum about the "ill-treatment of a loved teacher". Read more and see FaceBook group Save Miss Rusty's Job which now has over 600 members.
BIG GREEN WEEKEND - This year's BGW will be bigger and better than ever! And include a Big Green Debate between parliamentary candidates Read more about some of the activities planned - 24 Feb
New section - Hebweb site map
Central Street Saga - Hebden Royd Town Council are urging people to write to Calderdale about the long needed repairs to this corner of our town. Read more - 21 Feb

New Station Road car park may be free on Saturdays - more info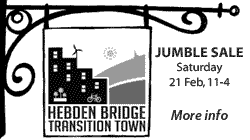 | | |
| --- | --- |
| Boxing Awards scheme launches in Hebden Bridge - don't worry, no hitting or being hit. Read more - 17 Feb | |
CALDER HIGH TEACHER SUSPENSION
The Facebook group Save Miss Rusty's Job taken down temporarily after pressure, is now working again with over 600 members - 8 Feb
The Hebweb and several of our contacts have been phoned and emailed by the Mail on Sunday who say they are "working on this story". We understand the Mail reporter is having problems finding someone prepared to talk. - 6 Feb
Students demonstrate as popular teacher is suspended for publishing book to help young people to read. See Forum thread. - 3 Feb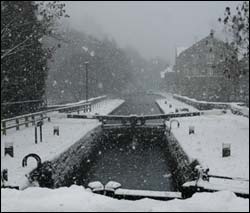 The canal - Monday, 2nd February
Click image to enlarge
| | |
| --- | --- |
| 2010 will mark the 500th anniversary of the Packhorse Bridge. Click here to see projects planned or already underway | |
New on the Hebden Bridge Web:
Local Bloggers - including the very moving accounts from by Sharyn Lock of Hebden Bridge who is helping out in Gaza and currently four others.