Number Twenty-two of the regular HebWeb column from local writer and story-teller, George Murphy.
---
Murphy's Lore 22 - Monday, 27 May 2019
---
On the road
Twenty years old, £7 saved up. My friend Ollie had £13. We decided to blow it all in London. We hitched down and stayed on my dad's floor for a few nights. He worked as a Commissionaire at the BBC. We bought T Shirts from Carnaby Street, visited Soho, watched 2001, Space Odyssey, bought what we thought were drugs (but weren't) and got stopped and searched by the police near the bandstand in Hyde Park. I wrote in my diary that my dad must have thought what a boring life he'd had compared to us.
Reading my diary a few years later, I realised my dad was fighting against the Japanese army in Burma when he was twenty.
There is a Happy Land
I remember reading Willis Hall's playscript for The Long and the Short and the Tall, late at night for one of my school exams and the eerie bit where the English radio operator finally gets a response to his request for reinforcements when his radio crackles into life, only for a Japanese voice to boom out, 'English Johnny … Hello, English Johnny … We are coming to get you!'
I once saw Hall's friend and collaborator, Keith Waterhouse in a Soho pub and passed a note scribbled on the back of a beer mat to his female companion as they were leaving. I thanked him for his novel, There is a happy land - which wasset in the Leeds of his childhood. There's a child murder in that book and everyone unjustly assumes the murderer is a vulnerable man who cycles through the streets making quacking noises.
Stefan Kiszko
The murder of Lesley Molseed on Rishworth moor in 1975 was the first murder case we followed when we came to Calderdale. The 11 year old was abducted whilst walking to a shop near her home. Lesley, who had learning difficulties, had once had open heart surgery.  She weighed three stones at the time of her death. She was sexually assaulted and stabbed a dozen times with a knife.
Police pinned the crime on Stefan Kiszko, a physically and intellectually disabled man. They supressed evidence that didn't fit in with the case they presented. Four girls came forward ('for a bit of a laugh') and gave false evidence against the accused man.
Thanks to the efforts of Kiszko's mother and the Salford and Todmorden solicitor, Campbell Malone, Kiszko was cleared after sixteen years in gaol (during which time he was attacked by other inmates on four occasions). Stefan only lived for one year after his release and died before receiving any compensation. His mother died six months later.
Judith Malone has sent a note: 'A thing I found very poignant was that his mother planted a tree in her back garden on every anniversary of him being imprisoned. On his release there were 16 trees. And she never gave up hope. A wonderful woman whom we got to know well.'
In 2005 Ronald Castree, a part time taxi driver, was arrested on suspicion of raping a prostitute. The case never came to court, but a 'cold case' review team found that a swab of his DNA was an exact match with samples retained from the Lesley Molseed case. 54 year old Castree was eventually sentenced to a life sentence of at least 30 years before being considered for parole.
Butter side up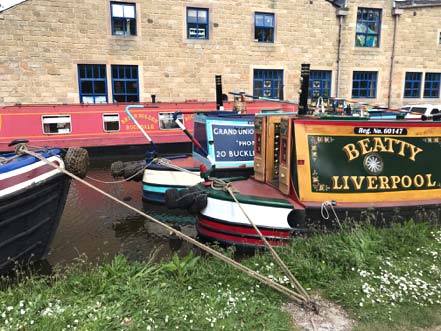 This week the Murphy toast goes to the organisers and participants in the Canal Pop Up Festival. Our waterway has been jammed with a colourful mixture of old and new narrowboats. As my ancestors include navvies who dug out the network of canals, I feel an affinity for these people who have brought life back to our inland waterways. 
A second slice of toast to Hebden couple, Debbie and Amanda Elwen, who were invited to the Queen's Garden Party, as a reward for their good deeds, especially their support for women's refuges.
The Blackpool Grand National
The junior members of the family are off to Blackpool for the day. These days, if they go to the Pleasure Beach they should all be safe. 
Back in the mid 60s, I went to Blackpool for a day out with my mate. The lad chewing gum and taking the tickets for The Grand National Ride was not much older than us. With his long hair and headband and Hawaian shirt, he affected a Blackpool via San Francisco look. It was the first roller coaster I'd been on and the lad was too cool to tell us us to pull the safety bar back. Or perhaps he thought we had enough nous to work that out for ourselves. I didn't.
I sat in the front carriage and Tony sat behind me. First climb we went over, I shot into the air for a death defying moment, too terrified to scream, before landing neatly in the footwell. I sat on the carriage floor for the rest of the journey, shutting my eyes and gripping the safety bar for dear life, much to the amusement of my mate.
Afterwards we noticed a few men sidling into Melinda's Striptease Show: you paid your two shillings, you nipped in and then the Full Melinda was revealed. Tony hovered hopefully at the back of the line, but when the bored old guy collecting the coins came along, he said, 'Come back when your balls have dropped, Sunshine.'
The Naked Rambler
We were driving past the White Lion when we saw The Naked Rambler swing into view. It was just spitting on to rain. Given the downturn in the weather, Present Wife was impressed that his assets hadn't depreciated more. He was arrested on Bridge Gate, perhaps whilst considering the menswear items in the Fat Face window display. On HebWeb, retired hippies, freethinkers, libertarians and burlesque artistes bemoaned this affront to Hebden's reputation.
That weekend there was a topless protest on the old bridge - which was perhaps a braver gesture from the women than from the men.
Skinny Dipping
Wild swimmer Kate Rew in The Guardian has rated Lumb Falls in the top 10 skinny dipping locations in the country.
Back in the early 80s our friends from Foster Clough took us there one baking summer day when it was as crowded as a London Lido. Before health warnings about skin cancer curbed the hippy fondness for naturism, most of the swimmers swam and sun bathed in pink skinsuits.
Team Murphy, being non swimmers, slipped their shoes and socks off, dangled their toes in the water and tried not to gaze too fixedly at the bare bums and bits that bounced before them.
Why the sirens stopped singing *
(or Fishing for nymphs)
An extract from a mini opera..
This story recalls when nymphs at Lumb Falls, with their siren songs could ignite passions strong. Nymphs loved young men if they could catch 'em, then they loved them again, then despatched 'em. These rum going on seem properer, set to classical music and opera
(The story so far: in order to each capture a captivating water nymph, three bachelors, Tom, Dick and Harry, have used tar and wool to stop up their ears - successfully blocking out the mesmerising song of the Sirens.)
Thanks to t' plans they had hatched
Two o t' brothers wor matched.
But young Harry would say..
Harry
T' biggest catch got away!
…Infamy, infamy…
(moves centre stage)
I've not got a nymph for me!
Narrator
And one morning, when out on a ride,
Dick's nymph jumped in a cesspit … and died…
And Dick in his hurry, fell into t' same slurry,
And they were interred, side by side.
From water, Tom kept his nymph away,
For t' requisite year and a day.
And their offspring, daytripping,
All loved skinny dipping,
A tradition that lasts to this day!
Note:
This opera should be performed by:
a) singers and burlesque artistes, accompanied by a medium sized symphony orchestra.
Or
b) a monologue performer in a wig.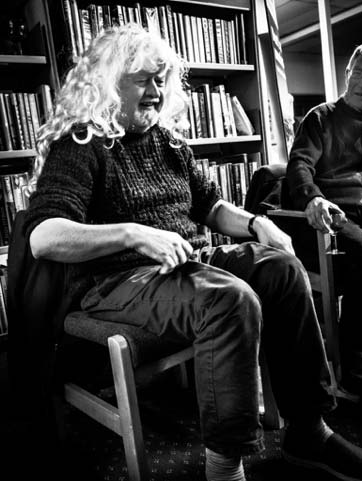 * You can read the whole story and many others in Hippy Valley, a secret history (2018) Fantastic Books, or in an ebook (2014)  from Pennine Pens.

---
If you would like to send a message about this piece or suggest ideas, email George Murphy
---
Previously