After the floods, the sun shone on the Parade
Sunday, 1 July 2012
Hebden Bridge showed that it knows how to party as well as mop-up on Saturday when the postponed Handmade Parade brought a much needed boost to the town.
Nearly 700 people took part in the parade and several thousands more lined the route to enjoy amazing giant puppets, dazzling artwork, a riot of colour and toe-tapping music.
Just one week on from the floods which caused so much damage to homes and businesses, the town was awash with colour and a party atmosphere with many shops able to reopen in time to welcome the influx of visitors.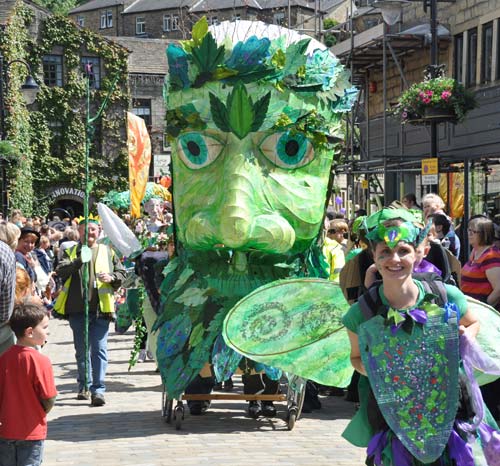 Parade organisers thanked Hebden Bridge Arts Festival and the Mytholmroyd Gala for rescheduling events to allow the Handmade Parade to take place on the same day. Thankfully the parade itself managed to stay dry and even the afternoon downpour didn't dampen spirits at the finale and festival in Calder Holmes Park.
The theme this year was The Enchanted Wood and the parade was split into four sections following the unique walking wood through summer, autumn, winter and spring. Among the creations which thrilled the crowds were a wild boar by Kerith Ogden, a leaf dragon by Andrew and Kathy Kim, a green man by Fran Sierevogel and a giant hedgehog by Lisa Gort.
The parade culminated in a finale performance in Calder Holmes Park which involved stilting trees, a giant digger and a Trojan hedgehog full of lots of little hedgehogs.
After the finale, parade artists took some of their giant puppets along to the Mytholmroyd Gala to entertain the crowds and say thank you to the gala organisers for altering their schedule to allow both events to go ahead.
Parade organiser Rebecca Dearden said: "What an amazing day. I can honestly say it was the most awe-inspiring parade yet. The atmosphere of energy and creativity in the workshops and outreach sessions in the month beforehand was wonderful to be a part of.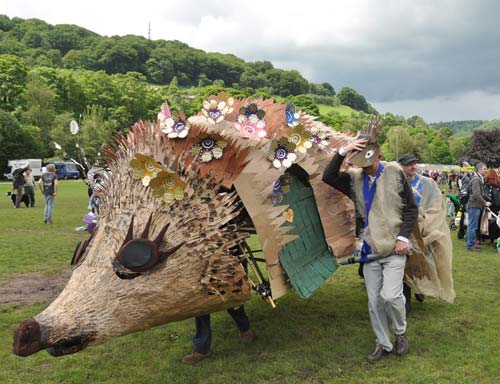 "We don't make this parade - it's those hundreds of people who come to create costumes and help the fantastic parade artists with the giant puppets. A huge thanks to all those people who worked with us to bring the parade back to the streets after the floods. Can't wait for next year."
Organisers will be making a donation from the street collection on the day to those affected by the flooding in the Calder Valley. Photos and a video of the parade will shortly be up on the Handmade Parade Website
2012 Parade Photos and footage
See HebWeb Gallery of photos 2012
Guardian - Hebden Bridge Handmade Parade - in pictures
YouTube Video x 4 from Fran Robinson of the Mytholmroyd Net
ITV Calendar: Flood carnivals attract record crowd
Photos
See HebWeb Gallery of photos 2011
HebWeb Photos of Handmade Parade 2010
HebWeb Photos of Handmade Parade 2009
HebWeb Photos of Handmade Parade 2008
See also
HebWeb News: Handmade Parade will lift town's spirits (June 2012)
HebWeb News: Prepare to be enchanted by the biggest and best Handmade Parade yet (June 2012)
HebWeb News: Handmade Parade 2012: Come and make magic in The Enchanted Wood (29 May 2012)
HebWeb News: Handmade Parade 2012: Join the skills classes (1st May 2012)
HebWeb News: Parade Spark Day is a Hit (March 2012)
HebWeb News: Handmade Parade to go ahead on 23 June
HebWeb News: The Fabulous Feast delights Hebden Bridge - June 2011
HebWeb Forum thread - June 2011
HebWeb News: Handmade Parade: Get ready to make some mouth-watering food art - 7 June 2011
HebWeb News: Handmade Parade: Get ready to make some mouth-watering food art - 24 May 2011
HebWeb News: Handmade Parade will be a 'Fabulous Feast'
HebWeb News: Which will come first - the giant chicken or the eggs? - March 2011
HebWeb News - Feb-March 2011