Working from home in 1825
Wednesday, 20 March 2013
Working from home is not a new concept, Malcolm Heywood told members of the Hebden Bridge Local History Society on Wednesday, 13th March.
In 1825 William Greenwood of the small Stansfield settlement of Pudsey in the Cliviger Valley wrote a diary.  William was at that time a handloom weaver who supplemented his income by maintaining several different occupations. He was a teacher on Sundays and Wednesday nights, a small scale money lender and he involved himself in other aspects of the home based textile industry, paid as a "twister in".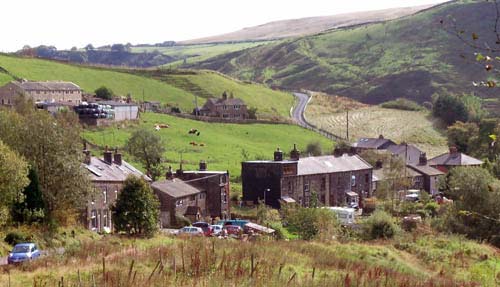 But history is not just measured in 'pieces' of calico. He was a perceptive diarist and as a result of the moderate upturn in trade his diary chronicles what he did with his less regimented time.
He drank in "The Roebuck" at Portsmouth and walked over the hill passed the farm of "Brown Birks". Here he wooed the occupant, but she was having none of it and closed the shutters on him! An intimate detail that adds to walking in the area.  
He went to look at a swarm of bees. Perhaps they were intended for the Bee Bolls at his family house. At one point he walked up to the Long Causeway to Hawkstones where for 4/6d he had his shoes soled. As his total income for the year was about £20 clearly the shoes must have been quite something.
Another day he and his companion walked over to Nodale Dam, perhaps to view Gamaliel Sutcliffe's alterations. This was entertaining and factual lecture by one of the joint authors of "A History of Todmorden".  It is a pity though that the diary has not been published or at least preserved in facsimile.

Previously, on the HebWeb
The Grave of Robin Hood: mysterious goings-on in Calderdale. Kai Roberts told the local history society about Robin Hood in Calderdale and especially the monument known as Robin Hood's Grave. Read more (11 March)
Todmorden Weavers and the Great War. Alan Fowler, former lecturer in Economic and Social History, told a meeting of the Hebden Bridge Local History Society that the local Weavers' Association had 4000 members at its peak. Read more (19 Feb)
Our Railway Station in the 19th century. David Taylor told a meeting of the Local History Society about how the early railway developed in Hebden Bridge. Read more (28 Jan)
Untold Stories: A glimpse into the lives of local people - Tony Wright has for the past ten years been collecting personal life stories on film and audio tape. Read more (18 Jan)
City in the Hills - Corinne McDonald and Ann Kilbey told a meeting of the Local History Society of Dawson City, the building of the Walshaw Dean Reservoirs and the publication of a new book. Read more (16 Dec)
Lament for the Mills - Robert Cockcroft, poet and academic told of his childhood spent close to mills owned and operated by his grandfather, John Cockcroft and his father, Keith. Read more (2 Dec)
How much thought do you give to a war memorial? - Mike Edwards told a meeting of the Local History Society, war memorials can be found in many forms and in unusual places. Read more (17 Nov)
Clubhouses: self help and co-operation - A small row of houses in Old Town, called Clubhouses, encapsulates some of the history and spirit of the Calder Valley explains Julie Cockburn. (30 October 2012)
Small Town Saturday Night - The story of a love affair with rock 'n roll at its peak in the 1950s and 60s from speaker Trevor Simpson.
The world of Cornelius Ashworth, speaker Alan Petford, Local History talk of 10 October 2012
Hebden Bridge Local History Society