Monday, 19 May 2014
Hebden Bridge Arts Festival - 2014 programme published
George Monbiot, Martin Parr, John Shuttleworth, Simon Amstell, Kevin Rowland, and Tiger Lillies are just some of the artists helping Heben Bridge Arts Festival celebrate its 21st birthday.
As well as big name acts the festival, which kicks off on Friday 27 June, offers special community events, including two days of free street entertainment from world class artists, and events tied into Le Tour's Yorkshire Festival.
Festival director Helen Meller said, "21 is a significant anniversary, which we would never have made without the support of our community, so we wanted to offer a programme that not only had some special one off events, but reflected the strengths of our town.
"This year thousands of people will be in town as Le Tour comes through Hebden and the spectacular street entertainers we have booked will give them something exciting to see as they wait for Sir Bradley and the Peloton"
Former Never Mind the Buzzcocks presenter turned stand up Simon Amstell plays a one off gig at the town's historic Picture House on Wednesday 2 July, and the same night Dexy's Midnight Runners frontman Kevin Rowland is in conversation with Hacienda DJ Dave Haslam at the Trades Club.
Fans of the macabre will enjoy a bespoke greatest hits set from Tiger Lillies, who are fresh from a sell-out season of Lulu - A Murder Ballad at West Yorkshire Playhouse, on Friday 6 July in the Picture House.
Hebden Shorts is a showcase for six local writers who have created 15 minute plays performed by professional actors in the town's Little Theatre fromriday 27 June.
Internationally acclaimed photographer Martin Parr began his career in Hebden Bridge and the festival has a free exhibition in the Town Hall of his photos chronicling Hebden when it was in decline after the local mills closed. On the flipside, John Shuttleworth presents his spoof documentary 'It's Nice Up North' at the Trades Club on Monday 30 June.
Guardian writer George Monbiot offers his views on the world in the Hope Baptist Church on Thursday 3 July, and dance fans can groove along to world music with Live Aid presenter Andy Kershaw at the Trades on Friday 27 June.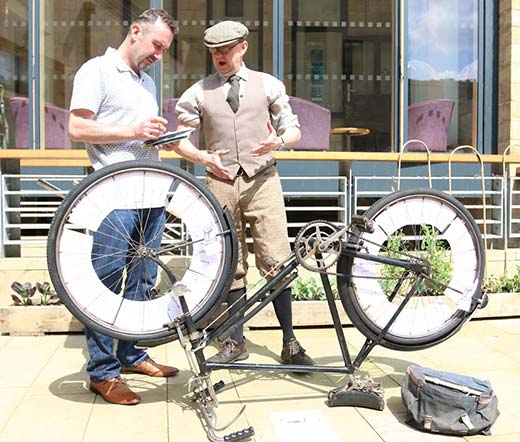 The Yorkshire Festival event includes Bicycle With Barefoot in the Town Hall on Saturday 28 June, Hebden-based Stumbledance Circus' Cart Before Horse on Sunday 29 June and Bike Story in Calder Holmes Park the same day.
The Arts Festival is also giving Young Producers a chance to make their mark with #YourFest on 28 June.
"We wanted to mark our 21st birthday by opening our doors to all - we've a whole range of free family and community events including Dancehall of Dreams for the over 60s - alongside one-off shows from some fascinating artists," says Helen Meller. "Over the eight days there is something for everyone from political debate to silliness on the streets which reflects the non-conformist nature of our town."
For a full programme of events and to book tickets go to hebdenbridgeartsfestival.co.uk
Previously, the Festival on the HebWeb