Handmade Parade:
Come Fly With Us!
Tuesday, 2 June 2015
Is it a bird? Is it a plane?
Is it an alien space ship over Calder Holmes Park?
In fact, it will be all of those things when the 8th annual Handmade Parade flies into Hebden Bridge on Sunday 7 June.
Thousands of people are expected to watch the parade and the theme this year is Come Fly With Us! Watch out for aviators in crazy flying machines, space rockets, giant dragon-flies and washing lines of enormous pants blowing in the wind.
Parade Timetable
11.00: Parade line up
12noon: Parade leaves Victoria Road workshops
1pm: Parade Finale at Calder Holmes Park
1.20pm: Handmade Samba
1.40pm: Peace Artistes
2pm: Juba do Leao (samba and dancers)
2.20pm: Skiband
2.40pm: Drum Machine
3pm: Les Panards Dansants (Breton folk)
3.20pm:Circle Dance
Plus some surprise street theatre: 1:30-4pm
See below for map
The parade, complete with bands Drum Machine, Handmade Samba Band, Skiband and a women's dance ensemble, will set off at 12noon from the Handmade Parade workshops in Victoria Road and head down Valley Road, through St George's Square and Bridge Gate to Holme Street and finish in Calder Holmes Park, where there will be a mini-festival with live bands, dancing and food stalls from local vendors until 4pm.
Handmade Parade Artistic Director Andrew Kim told the HebWeb, "People often tell us the parade is out of this world and this year it really will be with an alien invasion planned for Hebden Bridge. You'll also be able to see some of the weirdest flying machines try to take to the air and if you're wondering where that pair of big pants have gone from the washing line, we might just have the answer.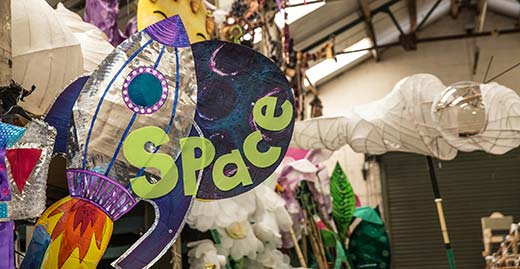 "We're so pleased to be able to continue bringing this event to our community and the boost it provides the whole town. Please give generously to the pigeon donation collectors in the parade who will be collecting for this and future Handmade Parades."
Hundreds of people have made their costumes for the parade at open workshops run by Handmade Parade's professional artists. The final workshops at Victoria Road, Hebden Bridge, will be held on Thursday (4th) from 4pm-6pm with an extra evening session for teens and adults from 7pm-9pm.
Participants are asked to be at the parade workshops at 11am on Sunday for the line-up, with the parade starting at noon. Those taking part are asked to walk to the workshops, use public transport or park near the train station as parking around the workshops will be extremely limited.
The Handmade Parade brings thousands of visitors to the town to see the giant puppets made by professional artists and the colourful costumes and community art made at the workshops. Last year's event was featured on the flagship BBC children's programme Blue Peter.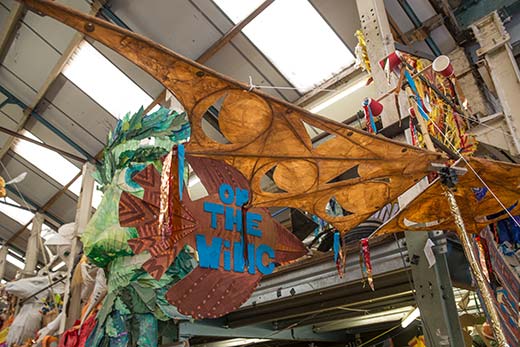 Organisers are urging visitors to this year's parade to walk or use public transport if at all possible and to choose vantage points away from St George's Square and Bridge Gate in order to get a better view and keep the parade moving smoothly. There will be traffic delays on the A646 Halifax Road between 12.20pm and 1pm.
Jude Wadley, Event Producer and Outreach Co-ordinator for Handmade Parade, said, "The best vantage points to view the parade will be in Valley Road and Holme Street, where it tends to be quieter, and spectators are urged to arrive early and make a lot of noise!
"If people haven't had a chance to get to workshops but still want to be involved we need volunteers to help set up and pack up in the park - 8am till 10am and 3.45pm - 6pm.  and also people to help carry large puppets and art in the parade. They can email me about helping set up and wander down to the workshop to see us about carrying parade art."
Previous parade themes have included a Deluge of Delights, the Glorious Garden Party, a Hop, Skip and a Jump, the Fabulous Feast, the Enchanted Wood, Myths, Mysteries and Mayhem and the Endangerous Expedition and have inspired creations such as bees on scooters, fluorescent aliens, stilt-walking geese and a mechanical spider.
For more info on the parade go to www.handmadeparade.co.uk