Monday, 22 June 2015

Street Sundae Photos
Below: a few shots to give a taste of Street Sundae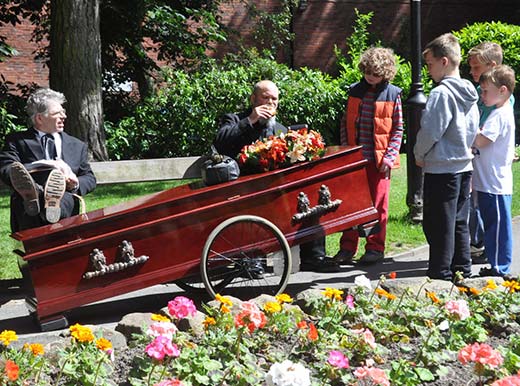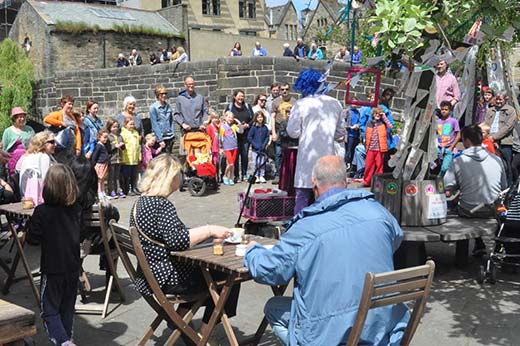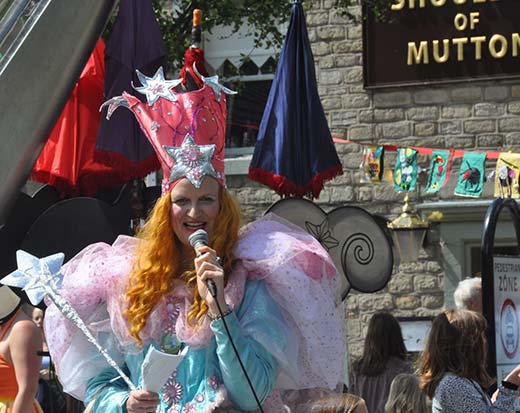 Arts Festival Street Sundae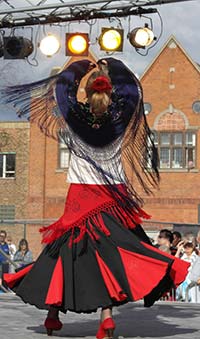 Hebden Bridge throws open its doors on Sunday for its annual Street Sundae festival that attracts thousands of spectators for a feast of free fun.
Thanks to Hebden Bridge Arts Festival they will get a chance to see the cream of the UK's street performers who will joined by some top local entertainers across three areas.
The main performing area in St George's square - hosted by the inimitable Glinda the Good Witch of the North - will feature sets from noon by Mr Wilson's Second Liners, the Fairly Famous Family asking 'Anyone for Tennis?', The Wind and the Sun by Tell Tale Hearts & In Situ Circus, and our very own Hebden Flamenco troop.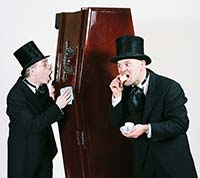 A short stroll takes you to the Wavy Duck Steps to find Crazy Scientist Professor Pumpernickle, Blackburn People's choir, incompetent undertakers Potts and Fowler who are lost, Calderdale Youth Guitar Ensemble, Singspiration choir and some drama from Halifax Playhouse Stage youth ensemble.
Down at Marina you can get a bite to eat from La Pop-up Creperie and Rim Nam Thai while watching Blueberry Pie, Flamenco!, Kim Metcalf playing Handpan, Leeds Comedy Society and Stuff and Thing's The Lost Funeral. There are also plenty of hands on activities with local partners Incredible Edible and the Canal and River Trust.
If that wasn't enough the festival has again partnered with the community owned Town Hall for Young Producer led Our Space events including craft workshops by Alanna Heston, film competition viewing room by Bea Goddard, and Playhouse Stage Trainings free acting workshop in The Space. Plus live songs from Singspiration, Blackburn People's Choir and Claire Kingsley. Blah Blah Blah Theatre Company are putting on their interactive show 'Rummage' for kids aged 5 to 8 and encourages them to think about what happens to things we discard.
Once the town centre fun has finished it's a chance to join Mr Wilson's open procession to Calder Holmes Park to watch Hype Dance Company's new show Savage Beauty at 4pm. This free show where dance, music and boxing come together is inspired by the famous Sheffield based The Ingle Gym that produced numerous boxing world champs. Fighters and dancers meet in the ring to fuse boxing footwork patterns with contemporary hip-hop dance theatre quite spectacularly with a repeat performance at 5,30pm.
The festival's Artistic Director Helen Meller said told the HebWeb, "Street Sundae is our annual thank you to the town for their support, where we fuse some internationally renowned performers with the very best local talent, and it's completely free. Last year during Le Tour's Street Sundae you could barely move round town and we expect it to be very popular this year so get down early!"
The first of the festival's two Street Sundaes is on Sunday 28 June running from 12npon to 4pm in the town centre, followed by Savage Beauty from 4pm in Calder Holmes Park. More details and performance times can be found at on the festtival website.
Previously, the Festival on the HebWeb