Tuesday, 28 June 2016

A weekend of free street fun
Hebden Bridge is set for a weekend of free fun in the streets as some of the UK's top performers come to town.
The free street entertainment days have become an annual part of Hebden Bridge Arts Festival bringing hundreds of visitors into the town to watch anything from a clowning acrobat to a community choir.
Arts Festival Artistic Director Helen Meller said: "It's been a really tough year for Hebden Bridge so more than ever these free days will give locals and visitors alike to chance to be moved, amazed and amused by some of the best acts in the country.
"It's also a chance for the cream of our local talent to work alongside the visiting acts, and we know that people who come from out of town spend money in local businesses so everyone benefits."
Family entertainment starts at 9.30am with Read it! Laughter, tall tales and silliness with children's author Curtis Jobling, Phil Earle and Anthony McGowan in The Town Hall.
The street weekend kicks off with Mike Hancock and Dave Ford compering and first up will be George Orange who is an eccentric clown and slack-rope dancer from Chicago. He will on Bridge Gate performing gravity defying comedy routines to music including some contortionism and bottle balancing.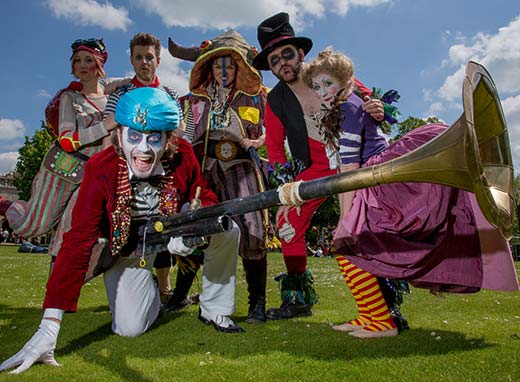 He will joined by the amazing Imaginary Menagerie as Dr Longitude and his team of 'experts' guide the crowd through a puppet-packed, ludicrously lyrical and magically musical tour of their finest exhibits including a Decapus leg and a cow that looks like Brian May.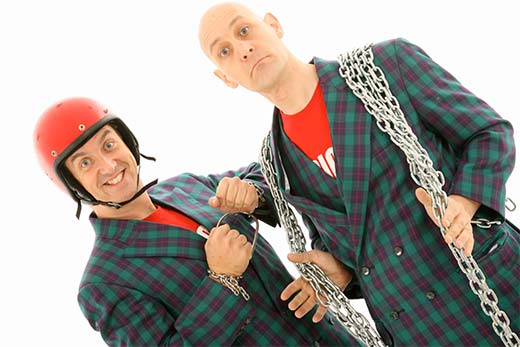 The spectacular Maniax show has twice won the prestigious 'Street Entertainers of the Year' award and this spectacle of chains, padlocks and stunts taking place on their 8 foot high platform is not to be missed.
Hebden Bridge Junior Brass Band will play in St George's Square alongside the AJ Family Circus, and sax quartet Saxocalypse.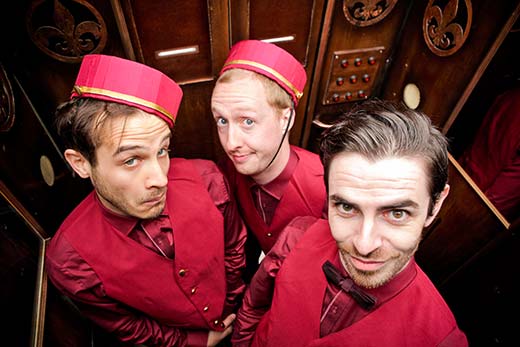 The chaos continues on Sunday 3 July with The Lift as an elegant elevator on wheels arrives, accompanied by three bellhops, with the audience invited to step inside and choose a scene by selecting one of nine different 'floor' buttons.
The Wheel House will be trundling round town as an acrobatic-theatre show unfolds in and around a stunning circular home as the audience walks alongside.
Glinda Good Witch is back to spread her magical good cheer and will be in charge of the Oz themed Ruby Slipper Slide for a touch of escapism for kids big and small.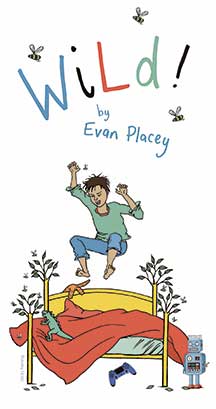 Since their storming appearance last year brass band ravers Mr Wilson's Secondliners have been playing their unique versions of '80s club classics all over the country. They are back this year ending their show with a special collaboration with young musicians in the Calder Valley Brass Band.
Sunday is also the day local acts show off their talents as Flamenco Dancers, Intermediate Brass band, Calder Valley Voices and Helen Willman School of Dance all perform with George Orange and Saxocalypse also making a welcome return to the cobbles.
Away from the street fun Tutti Frutti are staging their critically acclaimed new children's show WiLd! in The Town Hall at 12pm or 5pm.
Fun on both days runs from 12 noon to 4pm at various sites round Hebden Bridge and to find out more check out the programme.
More info at www.hebdenbridgeartsfestival.co.uk and the box office is open daily at Hebden Bridge Town Hall.