Thursday, 5 November 2020

Hebden Bridge Film Festival Announces Short Film Programme
Hebden Bridge Film Festival has announced they will run their 2020 short film programme for free and online. The nine selected short films will be available to stream for an exclusive 24-hour window from midday on Thursday 19 November.
The programme includes the world premiere of Joy Uncensored, about 63-year-old rapper Joy France, who was featured on BBC Breakfast earlier this year.
There will be a live streamed Q&A with the film makers, followed by a special performance by 'rapping nana' Joy France and the announcement of the short film prizes on Thursday 19 November at 8.30pm.

The event is free but everyone is encouraged to donate to support our wonderful cinema, the Hebden Bridge Picture House, where the Festival would have taken place in March 2020 if not for the pandemic.

Free tickets are available at www.hebdenbridgefilmfestival.org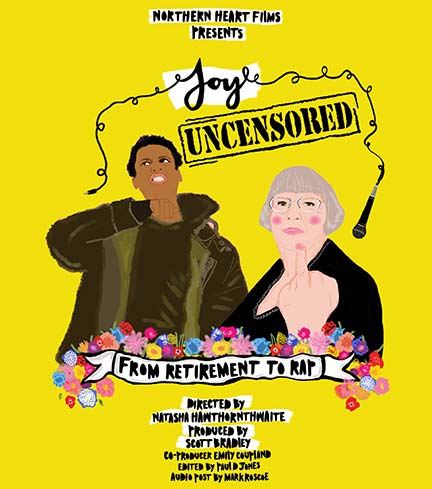 The nine shorts are:
WE ARE ALL HERE - When Glasgow rapper Lumo takes his own life, his family and friends uncover hidden messages in the lyrics and video diaries he left behind.

THE GODS OF TINY THINGS - We are dancing at the end of time. A collaborative collage animation contemplating environmental and political threats to life itself.

DRIVING LESSON - According to Iranian law, Bahareh must have her traditional, chauvinistic husband accompany her driving lessons so she and her instructor will not be alone.

JAYBIRDS - Three moments seen through the eyes of someone frustrated and underwhelmed by their surroundings.

7 PLANETS - A space-obsessed girl realizes that in cosmic matters, it's all about the long game.

STRIPEY SOCKS - The true story of a young girl dealing with teenage pregnancy, navigating her way through secrecy, blame and catholic school.

DOMINQUE - On a small island at the mouth of the Amazon River, we meet Dominique, whose mother raised her and her three transgender sisters.

MARY OF EXETER - Mary, a heroic pigeon, flew messages across the English Channel in WWII. Youth groups and volunteers produced 1000s of mono-prints to animate this true story.

JOY UNCENSORED (WORLD PREMIERE) - 63-year-old Joy France takes on the male dominated rap battling world by going head to head in her first rap battle competition.

Louise Wadley, Director of Hebden Bridge Film Festival said, ""Although we are very disappointed not to be able to have a live screening of these nine fantastic short films, we are delighted that everyone will be able to see them online. This special one-off event is to say thank you to all our wonderful supporters and to honour the filmmakers who submitted their films a year ago. This is the perfect way to support emerging film makers during this terrible year.
"We will have a great Q&A and a special performance, so this is one not to be missed. For those that can, we encourage them to donate to help make sure we keep our wonderful cinema."

Previously, on the HebWeb
HebWeb News: Australian Dream Online Q&A to explore Racism in Sport (11 June 2020)
HebWeb News: And Then We Danced to close Hebden Bridge Film Festival 2020 (19 Feb 2020)
HebWeb News: Misbehaviour to open Hebden Bridge Film Festival 2020 (3 Feb 2020)
HebWeb News: Home, An Outward Journey Inward (18 Nov 2019)
HebWeb News: The first Hebden Bridge Film Festival was an great success (1 April 2019)
HebWeb News: The first Hebden Bridge Film Festival is this Weekend (22 March 2019)
HebWeb News:Film Festival Programme launched. (8 March 2019)
HebWeb News: Film Festival Launch on Friday 8 March (26 Feb 2019)
HebWeb News: Award-winning Carmen and Lola added to Film Festival (21 Feb 2019)
HebWeb News: Jessica Hynes directing debut 'The Fight' (12 Feb 2019)
HebWeb News: 'Being Frank' confirmed for Hebden Bridge Film Festival (3 Feb 2019)
HebWeb News: Wild Rose announced as Hebden Bridge Film Festival opening film (Jan 2019)
HebWeb News: Hebden Bridge Film Festival - with Maxine Peake as patron (Dec 2018)