Health Centre offers online appointment making and prescription ordering - but only for those who have verified their identity in person with two forms of ID! More info - 3 Sept

Blackshawhead Village Fete - latest info
Walking Weekend: No less than thirty walks will be on offer, ranging from short strolls around the town to all-day hikes in the surrounding hills and moors. Those interested in archaeology and history will be able to visit Bronze Age settlements and the site of a medieval deer park, there will be riverside walks woodland walks for families and more - 1 Sept


More info about new term of creative courses at Northlight Art Studios Cooperative, Valley Road
Hebden Bridge Library goes Incredible Edible - more info - 27 August
Police and the community meeting - report - 21 August
| | |
| --- | --- |
| Life Class by Glyn Hughes. New work, featuring the Calder Valley from the award winning local author author of Millstone Grit, Where I used to Play on the Green and others. More info | |
Have your say on the future of our transport system at "discussion session" in Halifax - 18 August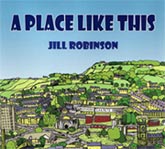 Mytholmroyd author Jill Robinson brings out third Berringden Brow book - the location is strikingly familiar - more info - 18 August
Park railings facelift thanks to Community Payback
Hebden Bridge Coop - will "Exciting New Look" satisfy Facebook critics? (27 July)
Hebweb photos: see recent galleries. Arts Festival, Handmade Parade, Big Green Weekend, Pace Egg plays and much more
Police target drunken behaviour in Hebden Bridge - see news (20 July)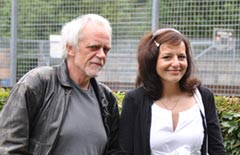 Picnic for Rusty and Steve - on Thursday, 16th July to "thank them for all their hard work and care as teachers, counsellors and friends during their time at Calder High." More info and photos
Small Ads "Hebweb comes up trumps again. Within a week of advertising my house I've had several enquiries and found two couples as suitable tenants." Steve F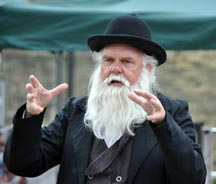 Charles Darwin (aged 200) was seen around Hebden Bridge and Mytholmroyd today as part of the HB Arts Festival - 4 July
Police and Communities Together - meeting report: CCTV failure, anti social behaviour and drug taking around Nutclough, Street Angels' first days - 24 June
Bowling Green at Calder Holmes Park is available free July and August - see news
| | |
| --- | --- |
| Luddenden's annual Mayor Making will take place on Saturday 12th September. More info | |
Motion Theory, Salsa, Quiz and 20/20 Cricket among events at the Trades this week. More info

Central Street - the saga continues. See Forum
Small Ads "Choosing to advertise the house for rent on the Hebweb was incredibly effective. The perfect tenants were found within 48 hours" - Jason E, (12 Aug) Ads currently include houses wanted and to rent, car for sale, help wanted, carer seeks work, first aid for outdoors, yurt for hire, Indian cooking and more.
Central Library and Archives: latest info and background as part of Calderdale's consultation. - 18 August
Updated: Hebweb directories of local websites. See alphabetical or by category including: services, therapists, shopping, leisure, community, music and more
Women only singing group at the Little Theatre - see news - 12 August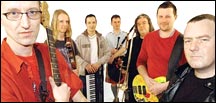 Celtic rock kings Peatbog Faeries,
and other events this week at the Trades.
Peatbog Faeries now sold out
500 words on Hebden Bridge in the run up to 500 years of the HB pack horse bridge. Two more contributions in the past few days. - 7 August

Above: Question Time at the Trades - read report
Arts Festival - planning to start for 2010. More info for those wishing to get involved.
Benefit gig for Palestine with short talk by Gaza activist and blogger Sharyn Lock. More info (14 July)
Former Hebden Royd mayor Stewart Brown pleads guilty to downloading child pornography - see news (14 July)
School Crossing at Mytholm - excellent discussion going on in the forum which raises important traffic issues for our whole area. (13 July)
'Zero Carbon' homes for Hebden Bridge (9 July)
Colden Valley's "Enchanted Forest". A Sculpture Trail created by the children of Hebden Royd Primary School. More info and photos

(9 July)
Former Adult Education Building in Pitt Street for sale again. Asking price: £275,000. See Hebweb News from February 2005: Pitt Street Squatted - 2 July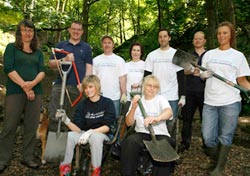 Nutclough Woods gets corporate help
| | |
| --- | --- |
| Pen Fayre - residents raise money to help with application to have land recognised as a Village Green | |
Central Street breakthrough! - the Hebden Bridge Web has learned that the Calderdale Cabinet has this evening provisionally given its support to the improvement scheme. More info - 22 June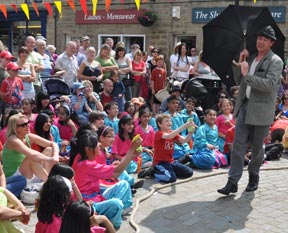 ARTS FESTIVAL LAUNCH - a great day of sunshine and street events in the square - see gallery of photos