Outer Zeds Haiti Benefit, Bridget St. John, Reggae and more at the Trades

Local dubmeisters Chapter Four are launching their new green and gold website on Friday 9 April promising a right royal skanking knees up.
As always Bass Culture is hosted by Daddytone, Slackears and Dillenger P playing their favourite roots, ska and dancehall vinyl classics from across the Caribbean.
To mark the launch of their new website early bird punters will get a free mix tape and funky clothes and records will be on sale courtesy of Irie Stores.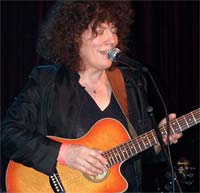 Folk veteran Bridget St. John has makes the long trip across the Atlantic from her New York base to play Steve Tilston's Trades Roots night on Thursday 8 April.
Bridget has one of the most distinctive voices the British folk scene has ever produced that is both deep and melancholic and her classic debut ' Ask Me No Questions' was the first ever release on John Peel's eclectic Dandelion label.
In the mid 1970s at the height of her fame she quietly decamped across the Atlantic resisting all offers to tour until a few years ago. Her third tour of the UK sees her teaming up with Trades Club favourite Michael Chapman and the 'old white blues guy' is the perfect guitarist for such a distinctive vocalist.
The club has already hosted a successful Haiti fundraiser and on Saturday 10 April it is the turn of local legends Owter Zeds to do their bit for the people left homeless by the earthquake.
Their riotous 25th anniversary show at the club was the gig of the year in 2009 by a local band and their utter commitment to ska, ska and more ska raised the roof. Daz and Dave take to the wheels of steel after the band.
"All of us at the club are mightily impressed with Chapter Four's new website and we are equally impressed by their vast knowledge of reggae which always guarantees a big crowd," Trades Club spokesperson Paul Clarke told the Hebden Bridge Web.
"Steve Tilston is on a roll at the moment and managing to persuade a legendary vocalist like Bridget St John to come to the valley makes Trades Roots a must see event for any self respecting local folk fan."
More info from 01422 845265 or Trades Club Box Office
Listen/watch now