Handmade Parade Dig Deep Appeal
Wednesday, 26 September 2012
Handmade Parade organisers are urging people to dig deep to help make next year's parade even more spectacular.
For every £10 donated to the Handmade Parade from September 25th onwards, the Government backed Local Giving scheme will double it and add the tax on top if you're a UK taxpayer. So you donate £10, and the parade gets £22.50.
Handmade Parade organiser Hannah Merriman explained: "What we would really love to do is to invest in something we can use year after year - super mega re-useable float bodies. What this will allow us to do is create huge spectacular hand-driven pieces of parade art, massive puppets, show-stopper structures that will make Hebden's parade even more exciting and stunning. Then, the best part is, we'll keep the base and use it again for the following year!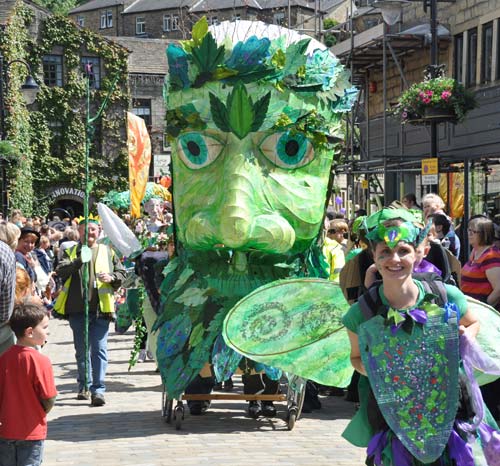 "We've already started reusing puppet frames and carts from various parades but as our build up time is very short and there are a lot of workshops to teach, our artists don't have the time and budget to really make permanent, reusable structures. The big, bad monster digger from last year's parade did make it to the end of the parade but alas, the little bicycle wheels could not handle all its badness and collapsed in the park!"
The cost of a basic reusable float body is about £500-700 (steel, wood, sturdy wheels, artists' time). Organisers would love to make three of various sizes.
Hannah added: "If you only give £10 to us in an entire year, or in fact ever, Tuesday 25th September is the time to do it. Your name will be on a special thank you page on the parade website and we'll email you a high quality photograph of the structure you'll have helped to create.
"We don't know the theme for the parade next year yet so we can't tell you what it will be for the first time, but it will help us make things like the Monster Digger, only it'll be badder and strong enough to make it back to the parade workshop to fight another day!
"And every year you'll get to see some fantastic "thing" - whatever it may be - go by down the street and know you helped to create it."
To donate, on Tuesday go to Press the 'Make a Donation' button and donate £10. Click on "UK tax payer" (if you are one) and write in your contact details. The scheme only lasts until their allotted budget runs out so the earlier in the day you do it, the better.
2012 Parade Photos and footage
See HebWeb Gallery of photos 2012
Guardian - Hebden Bridge Handmade Parade - in pictures
YouTube Video x 4 from Fran Robinson of the Mytholmroyd Net
ITV Calendar: Flood carnivals attract record crowd
Photos
See HebWeb Gallery of photos 2011
HebWeb Photos of Handmade Parade 2010
HebWeb Photos of Handmade Parade 2009
HebWeb Photos of Handmade Parade 2008
See also
HebWeb News: After the floods, the sun shone on the Parade (July 2012)
HebWeb News: Handmade Parade will lift town's spirits (June 2012)
HebWeb News: Prepare to be enchanted by the biggest and best Handmade Parade yet (June 2012)
HebWeb News: Handmade Parade 2012: Come and make magic in The Enchanted Wood (29 May 2012)
HebWeb News: Handmade Parade 2012: Join the skills classes (1st May 2012)
HebWeb News: Parade Spark Day is a Hit (March 2012)
HebWeb News: Handmade Parade to go ahead on 23 June
HebWeb News: The Fabulous Feast delights Hebden Bridge - June 2011
HebWeb Forum thread - June 2011
HebWeb News: Handmade Parade: Get ready to make some mouth-watering food art - 7 June 2011
HebWeb News: Handmade Parade: Get ready to make some mouth-watering food art - 24 May 2011
HebWeb News: Handmade Parade will be a 'Fabulous Feast'
HebWeb News: Which will come first - the giant chicken or the eggs? - March 2011
HebWeb News - Feb-March 2011