John Billingsley - A Case of Witchcraft in the Upper Calder Valley
Sunday, 27 October 2013
As the make-believe witches come knocking on our doors it is worth remembering that to our ancestors witchcraft was very real indeed. John Billingsley, a folklorist and author of many books on the subject, told members of the Hebden Bridge Local History Society about one local case of accusations of witchcraft, thirty four years after the famous Pendle Witch trials of 1612.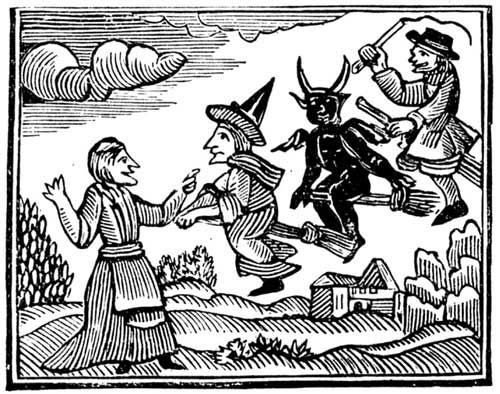 On this side of the Pennines too, beliefs about witchcraft were part of the way the world was seen.  Women and men valued for their skills in healing or fortune telling could very easily find themselves the focus of suspicion if they were thought to have spoken a curse with malicious intent.
This happened to Elizabeth Crossley, a woman known for her witching skills, when she went begging at the home of Henry Cockcroft of Heptonstall. Being dis-satisfied with her reception there, she was seen to 'go off muttering', and when the Cockcroft's two year old child fell suddenly ill Elizabeth was accused of causing his death through her curses.
Others were also implicated, including a certain Mary Midgley who at first admitted to 'witching a little' then pointed to Elizabeth and her daughter Sarah.

At the trial in 1646 it was revealed that Elizabeth Crossley had also been suspected of causing the death of another child two years previously, again following her rejection when begging.  Sadly, historical research doesn't always offer storybook conclusions: no record remains of the decision of the court about the guilt of Elizabeth Crossley.

This talk followed the Local History Society's AGM which saw Frank Woolrych, president for more than a decade, step down from his role. His successor Barbara Atack thanked him for the enormous contribution he has made to the society.

At the next meeting of the society, to be held at the Methodist Hall Hebden Bridge at 7.30 on Wednesday 13th November, Shirley Daniel will be talking about Withens Reservoir.
Details from the Local History website

Previously, on the HebWeb
Local History talk on Mytholmroyd's Moderna: Joan Laprell spoke to the Hebden Bridge Local History Society where she recalled the village within a village that was the Moderna Blanket Factory in Mytholmroyd, where she worked for ten years. More info (12 Oct)
Local History talk on maps: The first meeting of the new season of lectures for the Hebden Bridge Local History Society was launched by Tony Morris speaking about the history of maps and map-making as well as cartographic crime. More info (30 Sept)
Bridge Mill: History on our doorstep. Justine Wyatt, with the support of the mill's current owner David Fletcher, has uncovered more of the story of the building, and gave a fascinating talk to the Hebden Bridge Local History Society. Read more (3 April)
Working from home in 1825; Working from home is not a new concept, Malcolm Heywood told members of the Hebden Bridge Local History Society. William Greenwood's described his several different occupations. Read more (20 March)
The Grave of Robin Hood: mysterious goings-on in Calderdale. Kai Roberts told the local history society about Robin Hood in Calderdale and especially the monument known as Robin Hood's Grave. Read more (11 March)
Todmorden Weavers and the Great War. Alan Fowler, former lecturer in Economic and Social History, told a meeting of the Hebden Bridge Local History Society that the local Weavers' Association had 4000 members at its peak. Read more (19 Feb)
Our Railway Station in the 19th century. David Taylor told a meeting of the Local History Society about how the early railway developed in Hebden Bridge. Read more (28 Jan)
Untold Stories: A glimpse into the lives of local people - Tony Wright has for the past ten years been collecting personal life stories on film and audio tape. Read more (18 Jan)
City in the Hills - Corinne McDonald and Ann Kilbey told a meeting of the Local History Society of Dawson City, the building of the Walshaw Dean Reservoirs and the publication of a new book. Read more (16 Dec)
Lament for the Mills - Robert Cockcroft, poet and academic told of his childhood spent close to mills owned and operated by his grandfather, John Cockcroft and his father, Keith. Read more (2 Dec)
How much thought do you give to a war memorial? - Mike Edwards told a meeting of the Local History Society, war memorials can be found in many forms and in unusual places. Read more (17 Nov)
Clubhouses: self help and co-operation - A small row of houses in Old Town, called Clubhouses, encapsulates some of the history and spirit of the Calder Valley explains Julie Cockburn. (30 October 2012)
Small Town Saturday Night - The story of a love affair with rock 'n roll at its peak in the 1950s and 60s from speaker Trevor Simpson.
The world of Cornelius Ashworth, speaker Alan Petford, Local History talk of 10 October 2012
Hebden Bridge Local History Society