Say "No" to Sainsbury's.
Say "Yes" to Hebden Bridge
Tuesday, 24 February 2015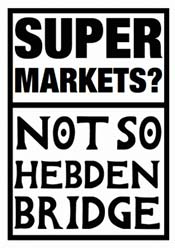 Save our Shops (SOS) are hosting an event at Hebden Bridge Town Hall next Sunday 1st March at 1.30pm which aims to remind people the Sainsburys issue could still reignite, to bring together the different communities within the Hebden Bridge area and to send out a clear message that Hebden Bridge wants development that clearly benefits rather than undermines the vitality of the town.
Sainsbury's appeal deadline comes up March 17th. If they appeal we need to be ready to respond fast. Here is an opportunity to share your hopes, dreams and visions:
For the Old Fire Station site?
For Hebden Bridge?
New government plans mean we have more say in what goes on in our town. Come and meet groups who are passionate about making Hebden Bridge a great place to be for all ages, now and in the future.
Ask questions
Join the discussion
Share visions
Refreshments
Sponsored by "SOS Hebden Bridge"
Free entry – donations welcome
See also:
HebWeb News: Save our Shops "Post boxes" (17 Feb 2015)
HebWeb News: Hebden Bridge head to head with Sainsbury's (16 Sept 2014)
HebWeb Forum - Sainsbury's planning meeting (Sept 2014)
HebWeb News: The Alternative to Sainsburys in Hebden Bridge (8 September 2014)
HebWeb News: Sainsbury's Plans resubmitted - without Retail Impact Assessment (15 July 2014)
Calderdale Planning: Application Summary
HebWeb News: Sainsbury's plans now online (30 Jan 2014)
HebWeb Forum - Sainsburys and Tescos survey (Feb 2014)
HebWeb News: Protests as Town Council discusses the Sainsburys bid (8 Jan 2014)
HebWeb Forum - Sainsburys and Tescos
HebWeb News - Jamie Oliver in Hebden Bridge. Hecklers question the wisdom of using Hebden Bridge to advertise a supermarket chain which puts small shops out of business. (October 2009)