Handmade Parade flies into Hebden Bridge sunshine
Monday, 8 June 2015
More photos from the HebWeb
Hebden Bridge was vibrant and energised by Sunday's Handmade Parade, with thousands lining our sunny streets to watch all sorts of colourful and wonderful creations soar above their heads.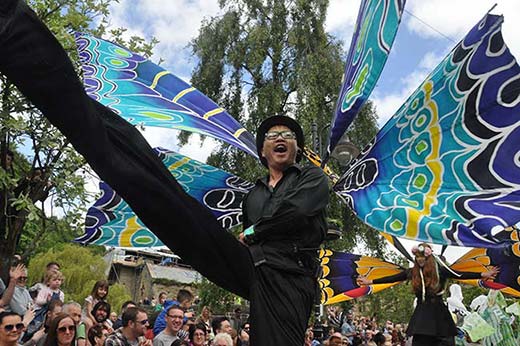 This year's theme was Come Fly With Us! and spectators were treated to magnificent flying machines, an invasion of aliens and pairs of bloomers billowing in the wind.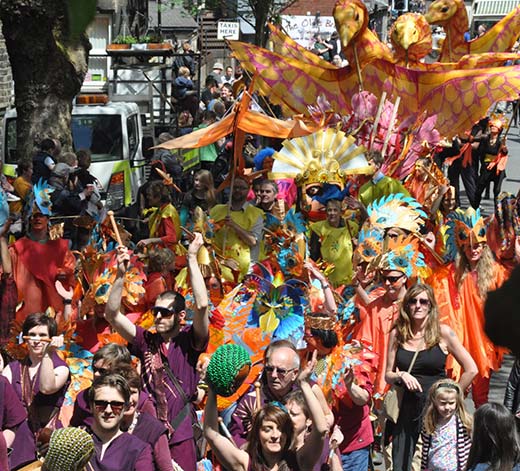 The 8th annual Handmade Parade featured giant puppets made by professional artists and colourful costumes and community art made at open workshops by hundreds of participants.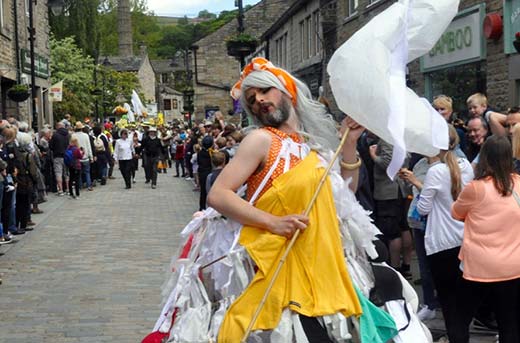 The parade, complete with bands Drum Machine, Handmade Samba Band, Skiband and a women's dance ensemble, set off at 12noon from the Handmade Parade workshops in Victoria Road and headed down Valley Road, through a packed St George's Square and Bridge Gate to Holme Street and finished in Calder Holmes Park, where there was a mini-festival with live bands, dancing and food stalls from local vendors.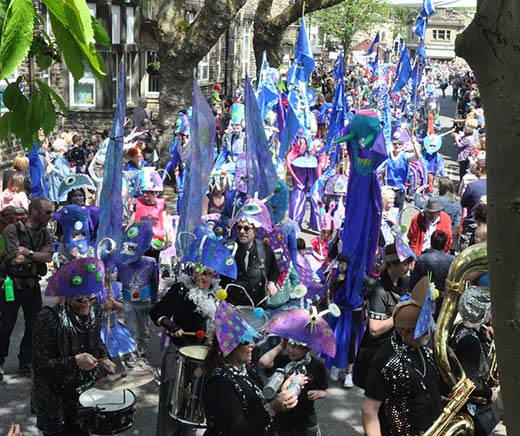 Stars of the parade were an eagle made by Artistic Director Andrew Kim, three giant dragonflies  made by lead artist Kerith Ogden, a launching space rocket made by lead artist Fran Sierevogel and a huge flying machine made by lead artist Sue Walpole.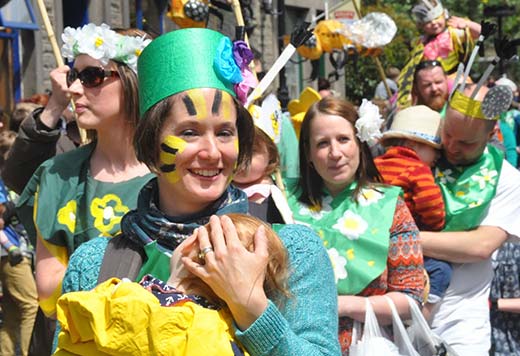 Handmade Parade Artistic Director Andrew Kim, said: "I'm humbled by how much creative expression comes out of our community; it's not just the numbers of costumed paraders but the level of finish and detail. Yes we make the big parade art but I think my favourite thing we do is create the occasion and the opportunity for Hebden Bridge to show the world how bright we can sparkle."
Crowds made the most of the good weather and the fantastic food on offer from local vendors in the park, to stay on and make a day of it. They were entertained by sets from Handmade Samba, Peace Artistes, Juba do Leao, Skiband, Drum Machine, Les Panards Dansants and Circle Dance.
Karen Hickton from Hebden Bridge, who took part in the parade with her family, said, "It was fantastic, we all loved it. You could really see how much energy and dedication all the volunteers and artists have put in."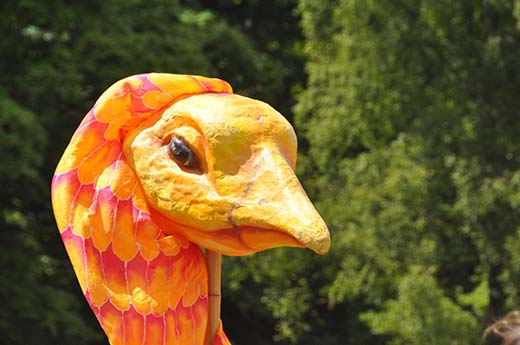 Organisers would like to thank everyone who volunteered, took part and lined the streets to watch for making it such a special day
Handmade Parade Chair Linda Green said, "The sun shone, the wind died down enough to ensure granny's bloomers weren't blown from our washing line and everyone who participated and watched had the most fantastic time.
'Huge thanks to our amazing professional artists and the ever-growing band of volunteers who make it happen. A special thanks to Hebden Royd Town Council, Calderdale Council and Arts Council England for their funding and to all those who gave generously to our pigeon collectors on the day."
For more info on the parade go to www.handmadeparade.co.uk
More photos from the 2015 Parade
HebWeb Gallery: Handmade Parade 2015
Ian Hodgson's Handmade Parade Flickr page