Tuesday, 7 July 2015

Street Sundae - 2nd Sunday photos
Thanks to Paul Clarke for the following photos taken on Sunday 5 July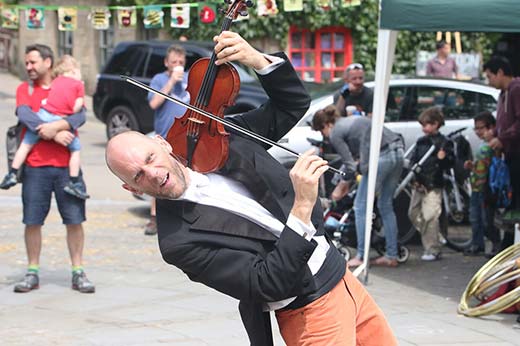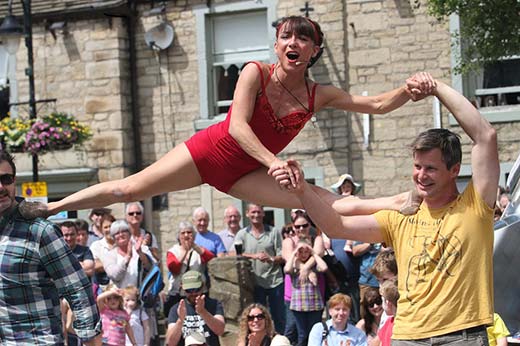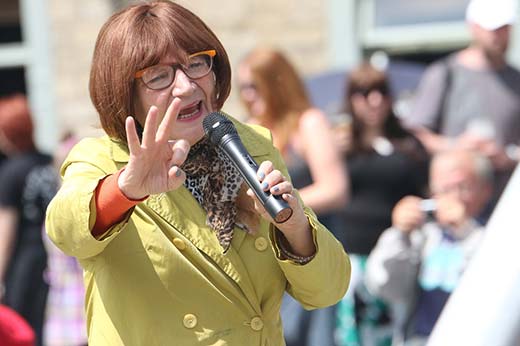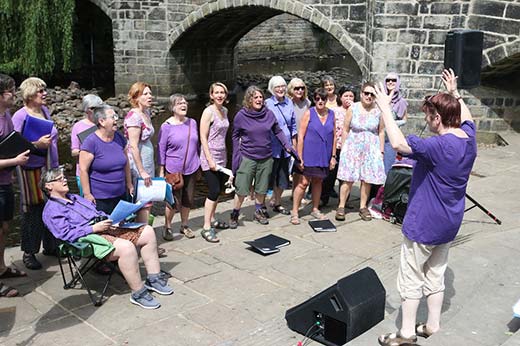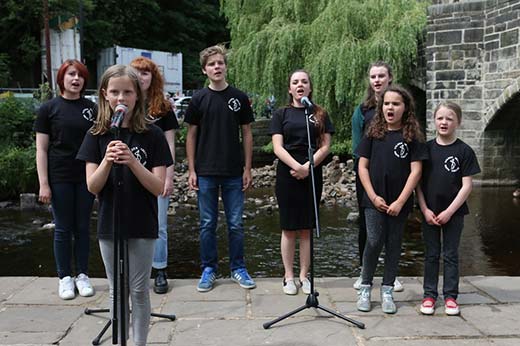 Wednesday, 1 July 2015
Phoenix Nights star joins Street Sundae cast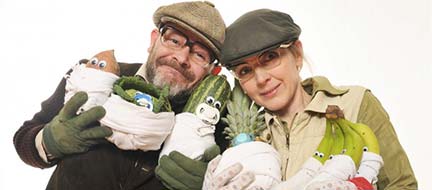 Street Sundae - 2nd weekend
Phoenix Nights star Janice Connolly is one of the street acts performing in the second free Street Sundae event in Hebden Bridge on Sunday, Phoenix Nights star Janice Connolly
Peter Kay spotted Janice doing standup before casting her as Holy Mary in the cult Channel 4 comedy and this weekend she is performing as her alter ego cheeky housewife Babara Nice leading the crowds in laughs and daft mass games around St George's Square.
George's Square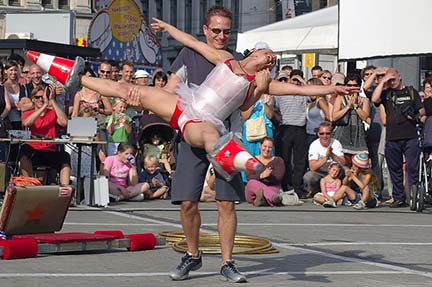 Some of the nation's top street performers also joining in the fun, produced by Hebden Bridge Arts Festival, include madcap violin genius Sid Bowfin, Plungeboom's Vegetable Nannies who will be roaming the streets and agile Abigail Collins tickling your funny bone in Une Femme Exposée, the story of a fallen diva who has lost everything.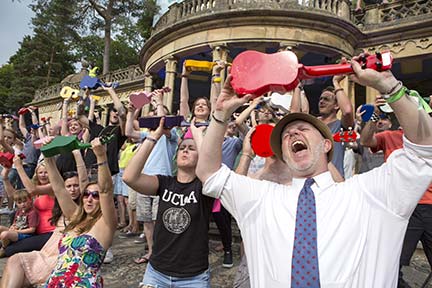 Former Beatle George Harrison loved playing the Ukuele and wandering vagabond Gary Bridgens is a virtuoso on the ever popular instrument, If you fancy a go on the Ukulele Gary is offering a free, fifty minute workshop at 1.25pm where there's room for forty folk of any age who will then perform en masse by the duck steps.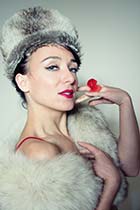 There's more local talent on show than ever before this weekend including moves from Outta Place. OB Fushion and the Helen Wilman School of Dance, music from Catfish Skillet and Sleepers, Hebden Bridge Junior Brass Band and Calder Valley Youth Theatre, and spoken word from Leeds Young Authors and Threadbare Theatre.
Marina
Down On the Marina there's some great hands on activities with Wild Goose, Treeresponsibility and the Source Collective alongside tasty food and drink stalls.
Town Hall

As if that wasn't enough at the Town Hall you can check out the Remains of Elmet exhibition, the Trouser Town audio sewing machine, face painting, and an art installation in the courtyard with mask making activities.
"Street Sundae is once again made possible thanks to our stewards and exceptionally talented local performers of many ages who give their time for free in order to make a day to remember," Sara Robinson, Chair of the Festival and Producer of the Street Sundaes told the HebWeb.
"Our thanks also to Hebden Royd Town Council and many of our local shops for supporting this event making it free and open to literally anyone. So come and join us, and see you on the square for some finale fun and games!"
Street Sundae takes place around Hebden Bridge town centre from 12 noon til 4pm on Sunday 5th July.
Previously, the Festival on the HebWeb