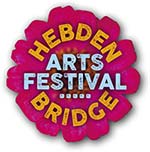 Friday, 8 June 2018
Win an original John Hegley cartoon
Win an original John Hegley cartoon - Hebden Bridge Arts Festival have booked poet john Hegley for two special shows and he has created a hand drawn cartoon for Hebweb.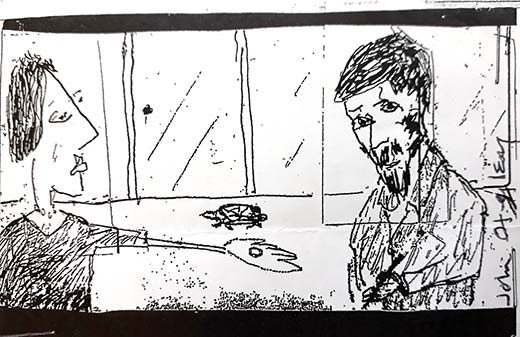 To win the above cartoon and a pair of tickets for his evening show all you have to do is suggest a caption for it and send to helen@hbaf.co.uk by midnight on 17 June.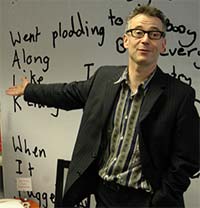 Hegley is also an occasional DJ, dancer and workshop leader, using drawing, poetry and gesture. That makes him the perfect person to lead an offbeat Family Workshop on Saturday 23 June in Hebden Bridge Town Hall from 3pm. It's an opportunity for anyone who has ever been 7 years old to draw some ship shapes and the crew and passengers there upon.
You can also expect songs about sea birds and poems about sea creatures. In the evening Hegley is back in the Town Hall from 7.30pm for New and Selected Potatoes reading new work and at least a dozen classics from his Genius Collections 1984-2013.
There will be songs, poems, drawings and joining ins devised with adults in mind but acceptable to many nine year olds wearing spectacles. Tickets from Hebden Bridge Town Hall or on the Festival website
Previously
HebWeb News: Non-conformist singers needed for Arts Festival - 8 June 2018
HebWeb News: Landscape scores rediscovered - 4 June 2018
HebWeb News: Hebden Bridge Labels wanted - 1 June 2018
HebWeb News: Non-conformists head to Hebden Bridge Arts Festival - 7 May 2018
HebWeb News:Café Culture is back thanks to generous grants- 2 May 2018
HebWeb News: A Cosey night out at the Arts Festival- 30 April 2018
HebWeb News: DJ Dave Haslam is in the hot seat - 31 March 2018
HebWeb News: Top comic Bridget Christie plays Hebden Bridge Arts Festival - 21 March 2018