Juno winner James Keelaghan visits Trades
Sunday, 13 September 2009
Award winning Canadian singer/songwriter James Keelaghan headlines the latest in Steve Tilston's popular Trades Roots nights on Thursday 17th September.

James picked up a Juno which is the Canadian equivalent of the Brits for his best selling album 'My Skies' and brings his trio over from his home in Winnipeg for a sell-out UK tour.
His influences include traditional Irish music with a dash of Neil Young thrown in winning praise from Edmonton Folk Festival director Terry Wickham who described James as 'the complete artist, a brilliant tunesmith, one of the most engaging performers of our time.'

The Chapter Four crew return from a long festival season on Friday September 18th with another feast of reggae gems drawn from the vaults of the top Jamaican studios.

Slackears and Dillenger P have tunes for every taste tucked away in their bulging record boxes and playing at festivals across the UK guarantees some fresh sounds.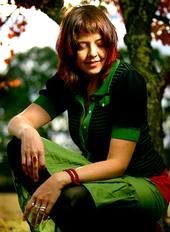 Chloe Hall brings her trio to the club for the first time on Saturday September 19th as part of a massive tour of Canada and Europe.

She is plugging her well-received new album 'Outside' and comes to the valley with a growing reputation as an engaging, intriguing and charismatic performer.

Critics have described Chloe as one of the most gifted songwriters of her generation creating songs where tragedy is met with grace and loneliness is met with a wry humour.

"Over the past couple of years Steve Tilston has brought some of the best folk performers to the Trades and James Keelaghan is yet another top class booking who has a deserved worldwide reputation for quality songwriting," Trades Club spokesperson Paul Clarke told the Hebden Bridge Web.

"Chloe Hall comes to us with a growing fan base who appreciate her as a songwriter of the highest order and her live shows have won rave reviews as she has travelled far and wide across Canada and Europe."
More info from 01422845265 or boxoffice@tradesclub.info
---
Listen now
---
Previously on Hebweb
We try to make sure that the Hebden Bridge Web news is correct,
but if you are aware of any errors or omissions, please
If you have comments on Hebweb news please make
a contribution to our
© Hebden Bridge Web