ELECTION - VOTE TODAY
- after reading discussion on the Hebweb and the Calder Valley Election Forum - 6 May

ELECTION - local activist Jason Elliott issues a YouTube video statement on why he can't vote Labour this time.

ELECTION NIGHT, quiz and other events at the at the Trades Club this week. - 3 May
| | |
| --- | --- |
| | - Eye-catching new signs have gone up at both ends of Hebden Bridge, welcoming people to our creative hotspot and to the 500th anniversary celebrations. Read more - 3 May |

ELECTION - Friends of the Earth seek climate change pledges from candidates - Read more about which candidates have responded and which ones haven't - updated 5 May
Annual Town Meeting - for electors of Hebden Royd, not politicians, and is for us to say what we think should be happening in Hebden Royd. Read more - 30 April

ELECTION - Labour's controversial candidate now in third place in Calder Valley according opinion poll analysis. See Calder Valley Election Forum - 29 April

ELECTION VIDEOS: Jason Elliott has interviewed three of the four main election candidates: Green candidate Kate Sweeny, Conservative candidate Craig Whittaker and Lib Dem candidate Hilary Myer. Watch them here on the Hebweb. Labour's Steph Booth is "too busy" to be interviewed. - updated 27 April

CANDIDATES FOR CALDERDALE ELECTIONS - As well as the general election, on 6th May each of the 17 wards in the Calderdale area will have the opportunity to vote for a Calderdale councillor. Read more - 20 April
Police and community report - details of crimes and concerns around Hebden Bridge, including anti-social behaviour and police priorities. Read more - 23 April
Hardcastle Crags are going bats at the White Lion next Thursday. See What's on - 23 April

ELECTION 2010: Tuesday (20th) is the last day to register your vote. Click here to register now online.
Seedy Saturday - Bring along any unwanted seeds or plants (or just yourself and a willingness to grow things) and swap them for new ones to fill up your garden. Read more - 18 April

ELECTION 2010: "Voters in Calder Valley have 2.79 x more voting power than the UK average." Read more - 17 April
Small Ads currently include search for solar clients, job offers, accommodation wanted/offered, cycle hire.
Guardian's Northerner blog - refers to Hebden Bridge's "excellent local website, HebWeb" - 10 April
Town Hall Team appoint Project Worker: Hebden Bridge Community Association, the member-led charity which is taking over control of the Town Hall, has announced that it has appointed its first member of staff. Read more - 6 April

Big Issue article on Calder Valley as key election marginal - see this Forum thread - 5 April

ELECTION 2010 - as we have done for the past three general elections, the Hebweb has created a section for election news, editorial, comments and links. Update: news, links and video clips now added. - 8 April
caldervalley.org.uk
Duck Race 2010 - see more photos
BOOK NEWS - Top ten bestsellers for March, and all the latest news from our popular Hebden Bridge bookshop, along with featured titles. Read more - 1 April
TOWN HALL FINALLY BELONGS TO LOCAL COMMUNITY - Hebden Bridge becomes one of the first communities in Britain to take direct control of its Town Hall building this week.
Read more - 31 March
STUBBINGS PRIMARY SCHOOL LATEST - Interim Executive Board takes over from governors. The new Board will work alongside the Council to resolve difficulties which were first highlighted in an Ofsted inspection in February last year. Read more - 1 April
SHED YOUR TEARS AND WALK AWAY- A review by Jill Robinson of the first showing of the film in Hebden Bridge. Jez Lewis's debut feature, portraying the lives of alcoholics in Hebden Bridge, makes for harrowing viewing. Read more - 30 March

DON'T MISS THE FESTIVAL BUS! The Hebden Bridge Arts Festival is calling for artists to get on board their own Routemaster Fringe. The Festival has acquired an old London Routemaster bus all fitted out ready for performances. Read more - 30 March
Parking enforcement privatised - 30 March
Friends of Calder Holmes Park. More members needed. Come along to the AGM on 8 April. Read more - 29 March
How does your garden grow? - is a competition aimed at those who have a small garden or no garden at all. Read more - 26 March
STEPH BOOTH: Fresh allegations - Union organiser John Rhodes tells how Steph Booth wrote to his employer demanding he be "dealt with" after John complained about her bullying to the Labour Party. See this Hebweb Forum thread. - 24 March
500 Words latest: two more well crafted contributions - Star Reborn from Adrian Lord and The Bridge Parties from Brian Wellsfrom David Binns - 26 March
Council Tax down - Calderdale Council today claims to be the only Metropolitan Council in the country to have reduced Council Tax bills this year. Read more - 25 March
ACRE MILL PLANS THROWN OUT - The Planning Inspectorate has ruled that houses should not be built upon the land across the road from the old Cape Asbestos factory, Acre Mil. Read more - 21 March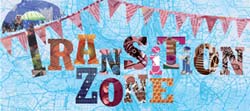 TRANSITION TOWN LAUNCH at the Big Green Weekend. Hebden Bridge is to become a Transition Town and will begin with working groups on issues such as food, transport, energy and health designing a blueprint of what a future sustainable Hebden Bridge would be like. Read more and get involved - 12 March
News from Calderdale - new section giving news from Calderdale MBC as it may affect Hebden Bridge and the surrounding area. First items are Empty homes issue to be addressed and Check your Council tax band for free Read more - 9 March
STEPH BOOTH TRIBUNAL: while ruling that the Labour Party candidate was unfairly dismissed, the Tribunal found that Steph Booth did coerce a junior member of staff into posting messages attacking Hebden Bridge's Cllr Janet Oosthuysen to newspaper websites. See news item and latest Forum thread - 4 March
LET US NOT WALK AWAY. Let us walk together this Saturday, 6th March. The recent deaths of brothers, Liam and Sam Jones, both to drugs and alcohol has prompted their sister Belinda, to hold a charity walk for Lifeline Calderdale. Read more
500 Words latest - "I want two queues!" from David Binns - 25 Feb
Bishop of Wakefield unveils sculpture in new Mytholmroyd Square - Read more and see report and video on the Mytholmroyd Net - 1 March
GREEN PARTY EXCLUDED FROM DEBATES. General election candidate Kate Sweeny writes to the Hebweb: "The wider issue here is whether the "main parties" should be allowed to carve up the political landscape as they please". See Forum
Hebden Bridge is number two hotspot for uninsured drivers - a list of towns based upon analysis of almost 3million car insurance quotes over 12 months. See news
More events planned for Hebden 500 - including Hebden Bridge in the Movies, Folk Roots Festival and a HB Band Heritage Weekend. Read more - 11 Feb
500 Words - those who have appreciated some of the creative contributions so far received will certainly enjoy the 500 words from Rachel Pickering, and from Chris Reason.

GENERAL ELECTION MEETING REPORT - a general election meeting with candidates was held on 2nd February in Hipperholme and Lightcliffe. A coach was hired to take people from Hebden Bridge after the Labour candidate Steph Booth pulled out of a similar meeting planned to take place in in our town. Read more - 3 Feb
LABOUR'S CANDIDATE STEPH BOOTH
accused of tantrums, teaching while unqualified and plotting against rival. Read more - 20 Jan
NEWS REVIEW OF THE YEAR: 2009 Highlights of some of the main issues and events of 2009 as they have affected Hebden Bridge and been reported on the Hebden Bridge Web. Read more
| | |
| --- | --- |
| | Wainsgate Chapel's summer programme starts off Sunday, 9th May with Ruby Wood's brand new solo project where she finds the freedom to let all her sweet melodies, vocal experimentation and unusual ideas out into the world. Read more - 6 May |
- Festival organisers are busy making the final preparations for the launch of the 2010 Arts Festival programme which takes place this Friday. Guests will get the first glimpse of the brochure at the launch event on May 7 and the programme will become available online and in brochure format over the weekend. (Photo: Martin Parr)

Read more - 2 May
History Societies hold joint meeting - The biannual joint meeting of two local history societies will be in Mytholmroyd Church Friday May 7th at 7.30pm. Free refreshments will be available. Read more - 1 May
Jez Lewis, Director of film "Shed Your Tears and Walk Away" has contacted the HebWeb with the news of another tragic death, of a young woman in Mytholmroyd this afternoon. See Forum - 29 April
| | |
| --- | --- |
| | Handmade Parade 2010 - If you fancy getting creative with feathers, flying machines or spaceships, the Hebden Bridge Handmade Parade will have it all. Read more - 29 April |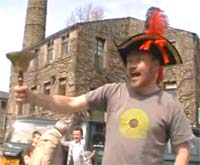 Town Crier Chris chosen
for Big Green Weekend.
Walking with Women's Suffrage - local historian and author of Rebel Girls, Jill Liddington leads walk in the footsteps of the local suffragettes. See What's on - 23 April
Lost Boys of Hebden Bridge: Hebweb correspondent forces The Times to correct its facts in respect of suicide and Hebden Bridge, with the active help of the Press Complaints Commission. More info - 22 April

ELECTION 2010: Tories remain bookies' favourites but outsiders Lib Dems see odds fall from 80:1 to 16:1 - More info

JAZZ CLUB - London-based jazz singer Sarah Ellen Hughes visits Hebden Bridge's HX7 Jazz Club for what should be a superb concert on Thursday 20th May 2010. Read more - 21 April
Letter from Palestine - Ron Taylor of Hebden Bridge is once again in Palestine, and has sent the Hebden Bridge Web this report - 14 April

ELECTION 2010: Tories the Bookies' favourite to gain Calder Valley at 12:1 on, with Lib Dems 80:1 against. More info

ELECTION 2010 - this section now includes statements from the Lib Dems and Greens, and links to the Guardian article on the Calder Valley - more info- 12 April
500 Words latest: Hebden Bridge Snapshot by Fenella Berry. ". . . happiness is sold in a recyclable bag . . .a visit to Hebden Bridge never disappoints. Well it wouldn't - it's so Hebden Bridge" - 10 April
PACE EGG PHOTOS
Pace Egg Play - Heptonstall
See Photo Gallery
Midgley Pace Egg Play
See Photo Gallery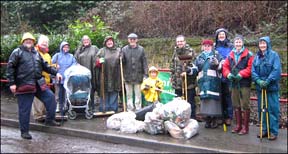 Spring Clean Up Report and Photos
Despite the return of terrible weather many community groups turned out this weekend to take part in Hebden Royd Town Councils annual Spring Clean. Read more - 22 March
Hebden 500 postcards - Why email when you can send a Hebden 500 postcard? As part of the Hebden 500 celebrations, a set of new postcards has been created to make sending and receiving a greeting a real pleasure. Read more - 18 March
Google Street View comes to Hebden Bridge - see Forum - 12 March
Civic Trust public meeting on allotments - report of the meeting held to discuss allotment availability, ownership and management in the Hebden Royd area. Read more - 11 March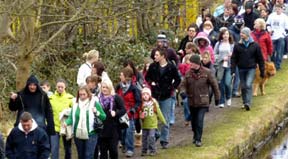 LET'S NOT WALK AWAY.
LET'S WALK TOGETHER
Hundreds walked through Mytholmroyd, Luddenden and Hebden Bridge today on a fundraising walk in the memory of Liam and Sam Jones, and the other young lives that Hebden Bridge has lost in recent years. Read more - 6 March
Pennine Horizons - The Pennine Horizons project has had several names - The Ecomuseum, the Pennine Museum and Pennine Inheritance have been 'working titles' for a new community resource and visitor attraction. Read more - 3 March
SUICIDE IN HEBDEN BRIDGE
now revealed to be lower "than the Calderdale and UK average" thanks to the diligence of Anthony Rae and other Hebweb correspondents. Headline claims made in recent features in The Times and Independent on Sunday now shown to be "not true; and not even remotely so". See Hebweb Forum thread on the Lost Boys of Hebden Bridge - 16 Feb
£350 raised for Haiti: Cass sparred for 120 rounds over 6 hours with more than 60 different people last Saturday, raising £350 for survivors of Haiti's earthquake. Read more - 10 Feb
THE LOST BOYS OF HEBDEN BRIDGE - another article on the dark side of Hebden Bridge, this time a 4 page feature in The Times: "So why does picture-postcard Hebden Bridge have one of the highest suicide rates in England? Local boy Mark Piggott, whose three best friends died in tragic circumstances, goes back home to find out what went wrong." See Forum thread to read Mark Piggott's reply to critics - 5 Feb
Former councillor faces criminal charges. David Chaytor MP, former Calderdale councillor, faces criminal charges over his expenses. He was Labour candidate for Calder Valley in the 1987 and 1992 election and Calderdale councillor from 1982 until 1997. See BBC news
FIVE HUNDRED WORDS - send us your words as part of the Hebden 500 celebrations. They can be comic, moving, surprising, quirky, biographical, romantic, poetic - just keep it to 500 words. Read more - 20 Jan
Town Talk - the latest news from Hebden Royd Town Council, along with names and contact info of our Town councillors
STEPH BOOTH ACCUSED OF DIRTY TRICKS The HebWeb has seen a copy of the statement which David Sutcliffe made to the Employment Trubunal, alleging Steph Booth coerced him to post deregatory messages against rival. Read more - 21 Jan

FIVE HUNDRED VOICES - Plans are under way to celebrate with 500 voices singing on and around the bridge. Read more - 20 Jan
Election Debate now cancelled after Labour candidate Steph Booth pulls out. Read more and see Forum - 12 Jan
2010: A Year of Celebrations to remember 500 years of the Hebden Bridge bridge - Read more