Cabaret and Dirty Fakirs at the Trades
Sunday, 25 April 2010
Local rock stars in the making the Dirty Fakirs bring their trademark heavy northern grooves to the Trades Club on Friday April 30.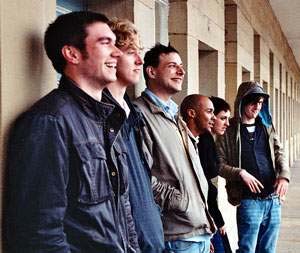 The Fakirs are back with a new line up after a year off the live scene packing in heavy funk, jazz, blues and even a bit of soul. Their fiercesome live reputation has seen them packing venues across the North of England and their MySpace page has had more 10,000 hits from fans keen to find out more about their forthcoming album.
The Charity Shop Cabaret invites you on a hilarious journey into Elspeth Garter's world of junk on Thursday April 29 promising a world of rummage, romance, jumble, bingo and the utterly bizarre.
Elspeth and her trusty volunteers Marion Startright and Leonard Barlin haven't had a customer in their charity shop for eight months so fill their empty days with high energy dance routines, titillating tea ceremonies and absurd frugal tips for these hard times. The show is written by Nick Whitby who was a writer on Channel 4's Smack the Pony and has had plays produced on Broadway and at London's Donmar Warehouse.
Monday May 3 is not only a bank holiday but is also International Workers' day so the Trades is hosting a celebratory lunch with national speakers invited to talk about how the interests of workers in Britain can be best represented in the 21st Century.
"We're delighted to welcome the Dirty Fakirs back to the biggest venue in town as they are the sort of band who at their very best in front of a big crowd blasting out their new tunes through a decent PA," Trades Club spokesperson Paul Clarke told the Hebden Bridge Web.
"Charity Club Cabaret is a must for all fans of Victoria Woods and although there is a deep undercurrent of desperation at the heart of Elspeth's life in the charity shop world there are also a huge amount of laughs as well as some inspired dance routines."
More info from 01422 845265 or Trades Club Box Office
Listen/watch now