Monday, 22nd December
Battle of the Bands winners Widgykeff
launch debut album at the Trades
- more info

Blood donor sessions in Hebden Bridge
Blood stocks run low at Christmas. Please give blood this festive season. The next session will be on Monday 22nd December, 10.30 to 12.30 & 13.30 to 15.30 at Riverside School. Please call 08457 711 711 to make an appointment
Christmas Eve
Carols in the Square
Assemble 6pm for 6.15 start
Wednesday December 10th 2008
Hebden Bridge Methodist Hall, Market Street at 7.30pm
Peter Thornborrow: The Vernacular Architecture of the Upper Calder Valley - an overview
Calderdale has one of the richest legacies of historic vernacular buildings, aisled halls and barns, and 17th century yeoman farmhouses with diverse detailing and decoration of any area in the country. Peter will be sharing with us some 30+ years research on this particular topic and area, and will hope to inspire the next generation of architectural students just as Edward Watson, Ralph Cross, and Frank Murgatroyd did for him when he first came to the 'Local History' meetings at Hebden Bridge.
Hebden Bridge Local History Society
Home Workers' Christmas Party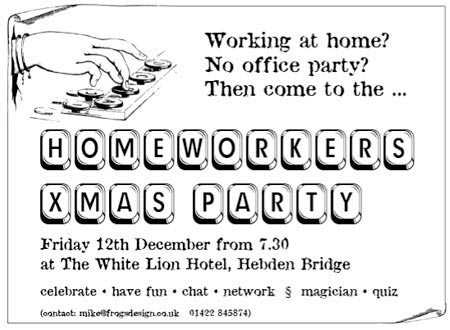 Trades Club
Friday, December 12th

Mercury Prize nominees Rachel Unthank and the Winterset return to the Trades Club in Hebden Bridge on Decmeber 12th for another dazzling display of clog dancing and traditional folk classics.
Reggae sunshine at Trades

Weekend kicks off Thursday December 18th

Northlight Art Studios
Saturday and Sunday, 6th-7th December, 11 am to 5 pm
CHRISTMAS OPEN STUDIOS
Ppainting, drawing, ceramics, printmaking, jewellery, glassware, textiles
Valley Road, HX7 7BZ
Climate Chaos Kitchen no.9
Sunday 7th December 2008

What is a Just Transition? Come find out @ the last Climate Chaos Kitchen of the year! Speakers from Manchester No Borders and Treesponsibility.
7pm-8pm: delicious veggie roast £4
8pm-9.30pm: speakers and discussion
The evidence is overwhelming: climate change will change all our lives dramatically. But will the harmful effects be shared equally? Climate chaos is a social justice issue because it is already killing people. It impacts hardest upon the poorest and most vulnerable, both nationally and globally, the people who are the least responsible for causing the problems.
It's up to us to bring about a Just Transition away from a fossil fuel economy. Co-operation between workers, environmentalists and communities is essential - how can we make the changes required fair and not cost workers or communities their health and well being?
Climate Chaos Kitchen is pleased to welcome – alongside the usual delicious veggie roast dinner – our guest speakers from No Borders Manchester, and Penny from Treesponsibility. They will be talking about just transition, what it is, why it matters and how it relates to climate change. Followed by lively discussions.
Monday 8th December 2008, 7.30 pm
Engaging in the Co-operative democracy
A review of the Societies recent Constitutional Review
White Lion
Hebden Royd Coop Members' Group
Sunday, 30 Nov. at 2:30pm and Monday, 1 Dec. at 10:30am.
Thingumajig Theatre performs at Square Chapel
Square Chapel Centre for the Arts, Halifax.
Italian Night For Overgate Hospice
Sunday November 30

Hebden Royd Mayor Susan Press is organising an Italian Night for Overgate Hospice at Il Mulino. The evening, which starts at 6.30pm, includes a quiz and buffet with glass of wine plus raffle. Quizmaster is Dave Boardman.
Tickets are £10.00 and the cost includes charity donation. Tickets from Hebden Royd Town Council (842181) or just turn up on the night. Coun Susan Press told the Hebden Bridge Web,"I pledged at the begining of my year as Mayor I would raise £4000 for Overgateand there is still a fair way to go to achieve that so I hope people will come along and support this. The food , wine and company will be excellent!"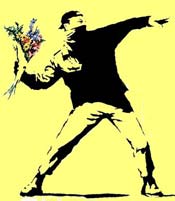 Sunday 30th November 2008
FREE RADICALS
Peter Good - Laughter Therapist.
"I'm a clinical mirthologist who happens to be an anarchist. I will talk about anarchism and somewhere in all of this, make you laugh." Just what the doctor ordered for these dark nights and days of economic recession.
Trades Club, 8pm, Food, 9pm
Tuesday, 2 December at 6.30 pm
Hebden Bridge Police ward meeting
Hebden Bridge Police Station, Hope Street, Hebden Bridge.
Saturday, 22nd November
John Fawcett Centre at the Hope Baptist Church
Community Open Day: 10am-4pm
Wednesday November 26th 2008
Hebden Bridge Methodist Hall, Market Street at 7.30pm
Bob Pegg: Calderdale Voices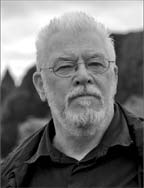 A selection of sound recordings made in the 1970s in and around West Calderdale, including reminiscence, custom and folklore. Lark singing, fortune telling, Pace Egging before World War I, local characters and Chapel Services – and more. The memories and sounds of a vanished world.
Bob, a one time oral historian at the Arvon Foundation, Heptonstall, now lives in the Scottish Highlands.
Hebden Bridge Local History Society

Thursday November 27th 2008
Hebden Bridge Methodist Hall, Market Street at 7.30pm
Halifax Friends of Palestine film show "Jerusalem...East Side Story"
Free entry
Water Street Gallery
Seasonal Selling Exhibition
31st October - 10th January Thurs - Sats 11am - 4pm
25 Water Street Todmorden OL14 5AB
Thursday 27 November 2008
The Trades Club is hosting a special Thanksgiving Day meal to celebrate the election of Barack Obama as US President-elect and the end of George W Bush. The Thanksgiving dinner is likely to be a very popular event so you can a book a place by contacting the Trades on 01422 845265. More info
Thursday 27 November 2008
The new Calder High Film Society is kicking off on Thursday 27 November with the Oscar Nominated film, Joyeux Noel. More info
Saturday, 29th November
10.30am
Kerbside Public Meeting
Good Shepherd Church, New Road, Mytholmroyd
Thursday, November 20
New town in Calderdale? - meeting in Hebden Bridge
The Local Development Framework for Calderdale will include future housing and building development guidelines for the next 20 years or so, and will be decided upon by 2011. A meeting to discuss this will take place from 1.30pm-7.30pm, on Thursday, November 20 at Hope Baptist Church. See Courier and Local Development Framework - 10 Nov
Wednesday November 19th 2008
Hebden Bridge Methodist Hall, Market Street at 7.30pm
General Society AGM
The Annual General Meeting of the General Society - Programme TBA
20 November, 6.30 for 7pm
Upper Valley Area Forum
Covering Todmorden, Calder, Ryburn and Luddendenfoot. At Ripponden J&I School, Halifax Road, Ripponden HX6 4AH - Need transport to get to your local Area Forum? Let us know and we'll be in touch.
Agenda
Open spaces and playgrounds
Planning - Calderdale's future
Health needs and well-being in the community
Parish Lengthsman - a local solution to improve our villages?
Open Forum for questions on any topic.
Thursday, November 6th
Curry Night and Quiz
Trades Club - proceeds to Mayor's Charity Overgate Hospice. 8.30pm.
Tickets £4 (includes food)
Saturday 8th November 2008, 10.30 am

Local food for local people
Featuring talks from Suma and Hughes Family bakery as well as samples from Hughes range of cakes

Salem Café

The store manager of Hebden Bridge Co-operative store and a

Co-operative Regional Council member will also be in attendance.

Hebden Royd Coop Members' Group
Wednesday 12th Nov – Sunday 7th Dec
Three Perspectives
An Exhibition of Photographs by Yan Preston, Paul Floyd Blake and Victoria Harley
ArtsMill Gallery, Hebden Bridge
Wednesday November 12th 2008
Hebden Bridge Methodist Hall, Market Street at 7.30pm

Allan Stuttard: A Houndhead in Hebden, Experiences in the Clothing Industry
| | |
| --- | --- |
| | A light-hearted look at working in the clothing industry in the 50s, 60s and 70s and its decline in the 80s and 90s; plus an introduction to the social life in Hebden Bridge to an offcumden. |
Hebden Bridge Local History Society
Saturday 1st November 2008
Gates open 4:00pm
Bonfire Lighting 6:30pm
Children's Fireworks 7:00pm
Main Fireworks 8:00pm
Tuesday 21 October 2008
Upper Valley Area Forum
The next Upper Valley meeting is on Tuesday 21 October at 6.30 for 7pm start at Todmorden Town Hall.
The agenda includes:
• Todmorden town centre development plans
• Housing needs
• Access to Council services
• Caldervale train service
• Open Forum for questions on any topic
Come along and bring your friends, neighbours or colleagues to these meetings especially if they would like to know more about what is happening in their area.
22-28 October 2008
Ted Hughes Festival - opens on 22nd October when Andrew Motion will present the Young Poets Award at the Ted Hughes Theatre in Mytholmroyd.

Wednesday October 29th 2008
Hebden Bridge Methodist Hall, Market Street at 7.30pm
Local History AGM
The AGM is followed by a short film introducing an exciting Coiners project
The Heritage of the Yorkshire Coiners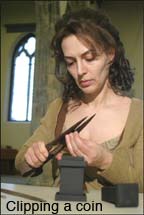 This project focuses on a unique aspect of the heritage of Calderdale – the Yorkshire Coiners. In the 1770s from the moors & hilltop farmsteads across Calderdale, men & women operated as a community of counterfeiters clipping and forging gold coins. While much is known about upper class society in the Georgian era, very little is known of the world of the rural underclass, theirs is a neglected history.
Building from a series of workshops planned to begin in autumn 2009, our project will produce a feature length drama film inspired by the Coiners and involving professionals and the local community. The project aims to bring all the elements of the Coiners period together in a comprehensive manner to raise the Coiners profile here and further afield through the legacy of film. A legacy that hopefully will stimulate further research and awareness in the future.
The project is produced by Duchy Parade Films in joint partnership with Square Chapel in Halifax and supported by Calderdale Council. You can follow the project's progress on their website at
www.thelastcoinermovie.com
and contact Diana Monahan to express an interest in knowing more or being involved in the project.
Peter M. Kershaw
Writer/director - Duchy Parade Films Ltd
Hebden Bridge Local History Society
2nd October 2008
Phoenix FM: Thursday morning(2nd), Anthony Rae will be will be chatting with Dave Boardman about the aftermath of the rejection of the Garden Street development, what the likelihood of an appeal is, and what we as a community can do. Click here to listen live on the net between 10am and 11.
Sunday 5th October 2008
Permaculture and Transition Towns

Trades Club, Hebden Bridge
Andy Goldring from The Permaculture Association talks about the
relevance of permaculture to a transition initiative

Permaculture is not just about gardening...

It is a design system for creating sustainable human environments, based
on observation of natural cycles. Whether it is applied to a yard, a
home or a community, it is a way of making any space into a self
contained system that supplies it's own needs, regenerates waste within
itself and creates abundance.

The original idea for Transition Towns came from a class of permaculture
students who wanted to apply their design skills to address how their
community could move from oil dependence to greater local resilience.
Our next event focusses on this concept that is at the heart of the
Transition Town idea.

Permaculture. Permanent Agriculture. Permanent Culture. Let's hear about
it from Leeds based Andy Goldring from the Permaculture Association.

Come at 7pm for tasty locally sourced roast dinner and the event begins
at 8pm.
Wednesday 8th October 2008, 7.30 pm
Fair Trade
A presentation on how Fairtrade makes a difference in the developing world
White Lion
Hebden Royd Coop Members' Group
Wednesday October 8th 2008
Hebden Bridge Methodist Hall, Market Street at 7.30pm
Keith Sagar: Ted Hughes and the Calder Valley - Remains of Elmet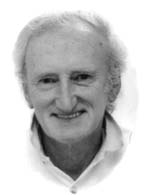 Though Hughes lived in the Calder Valley only for the first eight years of his life, it contributed greatly to the formation of his character and his poetic. Remains of Elmet, written in the mid-seventies in response to Fay Godwin's dramatic photographs of the area, charts the history of the valley from the Industrial Revolution to the present, not in terms of names and dates, but in terms of the dreams and the disillusionment in the hearts and minds of the people. In these poems Hughes evokes the spirit of the Calder Valley, its geology, climate, flora and fauna, and human culture, more deeply than any other writer.
8th October 2008
Hebden Bridge singer/songwriter Steve Tilston appearing at the opening night of Q Folk at the Victoria Theatre, Halifax on 8th October at 8.00pm. Tickets £12.00. Box Office 01422 351158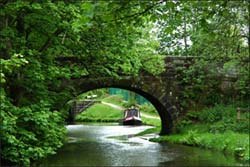 Looking critically at the Rochdale Canal,
our "linear park" - more info 18th Sept.
September 13th - 28th
See South Pennine Rail website for more info
Wednesday September 24th 2008
Hebden Bridge Picture House at 7.30pm
Nick Wilding: Hebden Royd at the Movies - 88 years of film-making in the upper Calder Valley
Nick Wilding takes us on a cinematic journey down our own local memory lane on a magical mystery tour through to some illustrious roots.

Normal Picture House prices apply to non-members; members pay only £2
Hebden Bridge Local History Society
Wednesday 24th September at 6.30 pm,
Riverside School
ALLOTMENTS
There will be a meeting at Riverside school on Weds 24th Sept at 6.30 for all the people who put their names down as intersted in taking an allotment. The purpose of the meeting is to update veeryone on progress and discussion on how to take things forward.
For anyone not able to attend, who would like to be updated and fill in a questionnaire, please contact Jane at the ATC on 842121 or info@alternativetechnology.org.uk
Thursday 25th September 2008
10am – 4pm
The West Yorkshire Forget Me Not Trust's
'CHILDREN'S HOSPICE DAY'
As part of 'National Children's Hospice Week', the Trust will be holding a day of fundraising and raising awareness for their cause at Old Fire Station, Hebden Bridge. Come along to see Punch & Judy, play games or just join in the festivities!
All proceeds will be donated to the West Yorkshire Forget Me Not Trust, who are raising money to build a Children's Hospice and Respite Centre for our area.
For more information on this event or National Children's Hospice Week please call 01484 489789 or email admin@forgetmenottrust.co.uk
27th September 2008 - 19th October
Hebden Bridge artists commissioned to create installations for Slow Art Trail opening in the Yorkshire Dales this month - more info -

12th Sept.
Free Radicals
Sunday 28th September
The Trades Club, Holme St, Hebden Bridge.
Doors open at 7.30pm for 8pm start
Who Will Save Us From The Future?
A presentation by the Free Association followed by discussion.
Who will save us from the future? Will it be climate campers, social centres and summit protesters? But how can they avoid being fenced off from the rest of the world? Will it be unions, parties and the organised working class? But how can they avoid their demands being trapped within capitalism? Or is there another way to think this through and help make new worlds possible? A presentation by the Free Association followed by discussion.
The Free Association, purveyors of fine analysis since 2001, are
involved in the magazine Turbulence: ideas for movement, whose most
recent issue was also titled "Who will save us from the future?"
Free Radicals is a discussion forum for those who want
serious change in how people run our world.
Monday 29th September 2008
GARDEN STREET PLANNING HEARING
A special meeting of Calderdale Council's Planning Committee is being held at 6pm on Monday, September 29th, at the Kings Centre, Park Road, Halifax. (See Google map)
It will follow the same format of all Council planning meetings and will be open to the press and the public.
At the meeting the item will be outlined by the planning officer before members of the committee ask questions. A ward or parish councillor and a representative of the objectors can then speak. Only the Chair has the authority to decide whether more than one representative from the objectors should be able to speak to enable further points to be raised. Members of the committee can then ask the applicant questions before debating the application. The matter is then put to the vote and a decision is taken on whether to approve the application refuse it or defer it to obtain further information.
Monday September 29th 2008
Upper Room, Hope Baptist Chapel, Hope Street, Hebden Bridge
The start of a Research Course:
Agriculture and History in the Pennine Landscape
Mondays 7.30pm to 9.30pm
Tutors Ian Bailey, David Cant, Alan Petford and Nigel Smith
Course fees per term:
£40 for Local History Society members, £50 for non members
This is an exciting opportunity to join a project which will explore neglected aspects of local history within the ancient parish of Halifax from the late 17th century to the mid 20th century. This course is about doing local history yourself. It will not only provide a very rewarding experience but also the opportunity to contribute to new historical research leading to publication.
For further details contact Nigel Smith
Tel No: (01422) 842847
librarian@hebdenbridgehistory.org.uk
Hebden Bridge Local History Society
Monday 15th September
Big Green Weekend Planning Meeting
Saturday, 13th September 2008
Heritage Open Day
As part of Heritage Weekend; events coordinated by the Civic Society and Friends of Hebden Bridge Station. Look out for further details of what is happening. "Participants include Hebden Bridge Station, Wainsgate & Hope Chapels, and the Hebden Bridge Local History Society exhibition in Hope". More info
Sunday 7th September 2008
The 4th Eastwood Festival - cancelled due to waterlogged site, and the prospect of rain on Sunday
A great day of free entertainment in a beautiful setting…..
Bridgeholme Cricket Club, Halifax Road, Eastwood
(approx half way between Hebden Bridge and Tod - look out for the signs!)
Live Music - Rock, world Music, Brass, & acoustic sets from local musicians including Geoff 'The Hurricane' Watson, Black Cat Bone and Pennine Chime.
Bar, Food - Veggie & meat BBQ, Home-made cakes etc.
Stalls - selling crafts, Jewellery, ethnic goods, fair-trade foods bric-a-brac etc.
Children's Activities - Huge bouncy castle, children's yoga, craft workshops, face painting.
(All profits to be used to fund local community facilities).

Monday 8th September 2008, 7.30 pm
Meeting to discuss changes to the Caldervale train services
Church of the Good Shepherd, Mytholmroyd
Monday 8th September 2008, 7.30 pm
What is The Co-operative?
A Regional Board Member will lead a discussion on the Co-op.
Salem Community Centre
Hebden Royd Coop Members' Group
Tuesday 9th September 2008
Next Area Forum
for the Upper Valley
Birchcliffe Centre
Saturday August 30 2008
Blackshawhead Village Fete
Anyone who would like to book a stall at this year's fete should contact Tim Cole on 01706 818300. Cancelled because of waterlogged field.
Sunday 31st August 2008
HEBDEN BRIDGE - TRANSITION TOWN?
Becoming a sustainable community
A day of open discussion about how Hebden Bridge can meet the challenges of climate change and the end of cheap oil.
Sunday 31st August, 10am - 4pm, Hope Baptist Church
Tea and coffee from 9.30
Tuesday, 2nd September
GARDEN STREET PUBLIC MEETING
(Plans available for inspection from 6.30pm)
Riverside School, Holme Street, Hebden Bridge at 7.30 pm
Speakers:
Adrian Rose, Calderdale Council's Regeneration officer, to explain the Development Brief
Andy Edwards, Calderdale Council's Acting Chief Planning Officer, to clarify the planning process
David Fletcher, on behalf of the Developers, to clarify the planning application
Anthony Rae, on behalf of the objectors, to summarise the objectors' concerns
Chair: Cllr Nader Fekri (Calderdale MBC)
All welcome!
For more information:
Cllr Janet Battye tel: 01706 815292
Emmerdale star directs Sue Townsend comedy
3rd September 2008 - Hebden Bridge Little Theatre
(tickets from Hebden Bridge Visitors' Centre)
The first production from this exciting new theatre company will be directed by Emmerdale actor Peter Martin (see photo). Peter is best known for playing Len Reynolds in Emmerdale, as well as roles in The Royle Family and Brassed Off.
The play, Groping for Words, centres around an adult literacy class lead by Joyce. Her pupils face the frustration and embarrassment of learning to read and write in adulthood. Complete with nursery classroom and Wendy House, we follow four mismatched people thrust together in one pursuit which is both touching and laugh-out-loud funny. Written with sharp wit and delightful humour in true Sue Townsend fashion, (Adrian Mole, The Queen & I).
2nd & 3rd August 2008
Vintage Cars Weekend
Calder Holmes Park
7th August 2008
Vigil for Tibet
9pm, George's Square
10th August 2008
BOOK SIGNING
Mark Piggott will be signing his novel at Bookthrift, Bridge Gate
More info about Fire Horses
16th August 2008
Concert for Tibet
Trades Club
26th July
Strawbale Building workshops come to Hebden Bridge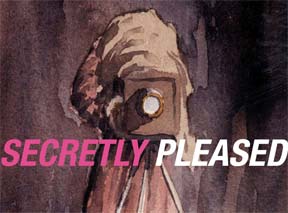 A play on the life of Alice Longstaff, Hebden Bridge photographer (1907-1992), by Anna Carlisle with Alexandra Mathie & Robert Garrett
Performances
Times 2 pm daily on 26 & 27 July
Tickets £10 (concessions £7, under 5s free)
includes tea and scones
Land Farm Garden from 1.30 pm
Tickets available in advance from the Festival Shop, Albert Street.
Telephone bookings and further information 01422 844901

Question Time at the Trades
Sunday 27th July 2008 - a new forum for political discussion
Talk on Theta Healing
July 23rd from 7 to 9 pm
Hope Centre in Hebden Bridge
"We have 'cured' cancer, leukaemia and other conditions in people and animals, and can prove it." More info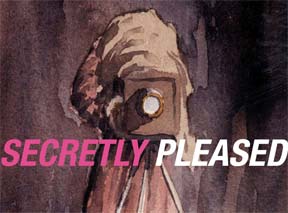 A play on the life of Alice Longstaff, Hebden Bridge photographer (1907-1992), by Anna Carlisle with Alexandra Mathie & Robert Garrett
Performances
Times 2 pm daily on 19 & 20 July
Tickets £10 (concessions £7, under 5s free)
includes tea and scones
Land Farm Garden from 1.30 pm
Tickets available in advance from the Festival Shop, Albert Street.
Telephone bookings and further information 01422 844901
Public meeting on the Green Belt
Tuesday 15th July: 7.30pm in Riverside School
The recent "eco homes" planning application at Blackshawhead raised questions about the status of the Green Belt: this is about to be considered as part of Calderdale council's work for the Local Development Framework (the successor to the UDP).
Cllr Janet Battye is therefore organizing this public meeting when the Planning Officers will talk about the Green Belt and explain the Local Development Framework process. All are welcome to attend!
July 16 – Mills of the Upper Colden Valley Walk.
Meet Justine Wyatt at 7pm outside the New Delight Inn for a moderate, circular walk, approximately 2 hours, visiting the sites of Land, Rodmer Clough and Edge mills. Parking permitted for patrons of the New Delight Inn. £2 / £3 non-members
Hebden Bridge Local History Society
Friday 18th July - 7.15pm till late
Sex in the City @ The Picture House
Celebrate in style the first night of Sex and the City's run at the
Picture House. Tickets £4.50 each.
Ice-cream tasting, fruit cocktail and after party at b@r place.


19 July 2008, 11 am
"The Hebden Bridge Handmade Parade will be a community-generated parade which celebrates the creativity, variety and the uniqueness of Hebden Bridge and its surrounding areas."
Second World on Your Doorstep Festival
19th-20th July
Calder Holmes Park
June 28 - Yorkshire Wildlife Trust Open Churchyard at Wainsgate Chapel - Open 2-5 pm. Refreshments available. See press for further details.
Hebden Bridge Local History Society
HEBDEN BRIDGE ARTS FESTIVAL
Saturday, June 28 to Sunday, July 13
Programme launch: 1st May
See website

June 28-29 - The First Hebden Bridge Brass Band
Heritage Weekend.
Saturday - Gala Concert at Hebden Bridge Picture House, with guest soloist Philip McCann. Sunday - A March and Hymn Tune Contest commencing at 12 noon in St George's Square with up to 20 bands taking part. Further details from Steve Gardner on 07813 110126. Summer Programme 2008
Proposed changes in rail services
A public meeting will be held on Monday 30th June 2008 at 7.30pm to discuss the proposed changes in rail services. The meeting is to be held in the Church of the Good Shepherd in Mytholmroyd.
Steve Butcher, Area Director of Northern Rail, with a number of his colleagues in attendance, will give a presentation and members of the public will then be able to ask questions and make comments about the proposals.
July 1st
Taste of Mongolia comes to Hebden Bridge
Sunday 6th July 2008 1pm – 4.30 pm
Guided Tour of Castle Carr Estate
Castle Carr Road , Upper Height Lodge,
Wainstalls, Halifax, HX2 7TR
Including a display of the spectacular fountain at 2pm
(by kind permission of the Schofield Family)
Helping Romanian Children
Fund Raising Event
Tickets: Adult £5 - accompanied children under 5 free, 5 -15 £3
Family Group (2 adults + children) £12
July 10 - Peel House Visit
Clive Lloyd will welcome you to his home with a 1hr lecture + house tour assisted by David Cant. Entrance free but a charge to non-members. We need to know in advance the approximate numbers for this visit so please contact Ann Kilbey on 01422 882858 for further information.
Hebden Bridge Local History Society
Calder Holmes Playground official opening
- Friday 11th July at 3.15pm - more info
Heptonstall Festival
12th July 2008
Weavers' Square
Mytholmroyd Gala
12th July 2008
Procession: approx 12.30pm
Saturday 12th July, 8pm
Land Farm Concert
The 'Classical Strings' concert on Saturday 12th July, is organised by Friends of Colden School, and will see Martyn Jackson accompanied by pianist Emily Smith. At the age of 20, Martyn who attends the Royal College of Music is already an accomplished solo performer, giving numerous recital and concerto performances throughout the UK and Europe. Tickets from the Book Case or call Julie 01422 844494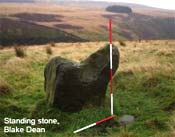 July 13 - Curiosities of the Ridge
10am – Join Dave Shepherd for a prehistoric and historic meander. Meet at lay-by above hairpin bends, Blake Dean, Hardcastle Crags SD 957 314. Walk over varied terrain, some rough, approx 5hrs. Lunch break at Packhorse Inn. Rock art, barrows, drainage systems, horse tramway, standing stones and circle. Non-members £3. Bring packed lunch, refreshments, suitable clothing.
Hebden Bridge Local History Society
Solstice with Cider
The 2nd International Cider Festival at the Stubbing Wharf
20-22 June - more info
FRIENDS OF CALDER HOLMES PARK
Public Meeting to discuss future developments
Monday 23rd June 7.30pm
Pavilion, Calder Holmes Park
June 18 - Recreation and Railways:
Join the Friends of Hebden Bridge Station and the Local History Society for a selection of films from the Yorkshire Film Archive on the theme of recreation and railways. 7.30pm at the Birchcliffe Centre; all welcome. No entrance fee but donations requested. Refreshments available.
Hebden Bridge Local History Society
Saturday 21st June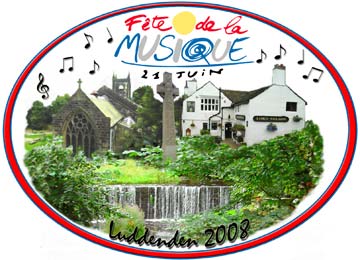 Fete de la musique, now in its 26th year, comes to Luddenden for the first time on Saturday 21st June. The international day of free music events, celebrated annually in over 110 countries worldwide, offers visitors and participants the opportunity to experience and enjoy a diverse range of music in a variety of informal, and often unusual, settings.
Supported by Luddenden Mayors Fund and Calderdale MBC's Community Services Small Grants Fund, the day will comprise upwards of 30 performances and events throughout the village.
All events are free. Venues include: The Lord Nelson, Saint Mary's Church and Grounds.
June 23 - Buildings of Hebden Bridge:
Guided walk with Alan Petford & David Cant, 7 pm. 25 max. £5 / £4 Members. Fully booked at time of going to press; if you would like to put your name on a cancellation list please contact Nigel Smith 01422 842847
Hebden Bridge Local History Society
24th June
Strawbale Building workshops come to Hebden Bridge
HEBDEN ROYD & DISTRICT
CO-OPERATIVE MEMBERS' GROUP
learning about the Co-operative way of doing business
engaging with fair trade and ethical shopping issues
lively discussion and positive action
Our next event:
A Fair Trade Wine Tasting And Social Evening
Wednesday 11 June, 7.30pm
Salem Community Café
(in the building set back next to the Co-op – a stair lift is available to the 1st floor.)
ALL WELCOME
(Co-op membership forms available at the event)
Royd Regeneration will be meeting at St Michael's Church Hall, Mytholmroyd, at 6 pm on Tuesday, 17th of June. Items to be discussed are: Royd in Bloom, the Our Car service, suggestions for improving Mytholmroyd and the playground at Brearley Bends. All welcome.
BIG GREEN WEEKEND
24th, 25th and 26th May
Police ward meeting in Hebden Bridge
Weds May 28th, 6.30
Hebden Bridge Police station
Hebden Bridge as a Transition Town?
Find out more - at the Trades Sunday, 1st June

Sunday 8th June 2008

WADSWORTH PARISH
BOUNDARY WALK
June 9 - Buildings of Heptonstall:
Guided walk with Alan Petford & David Cant, 7 pm. 25 max. £5 / £4 Members. Fully booked at time of going to press; if you would like to put your name on a cancellation list please contact Nigel Smith 01422 842847
Hebden Bridge Local History Society
HEBDEN ROYD & DISTRICT
CO-OPERATIVE MEMBERS' GROUP
Monday 12th May, 7.30pm
Hope Baptist Church, Hebden Bridge
(downstairs room, entrance via Hope Street)
Do you try to be an ethical shopper? Do you worry about how your food has been produced, and who has produced it? For a lively debate about the issues, and perhaps some answers to your questions, come to this next meeting.
The theme of the meeting is ethical shopping and we have a panel of experts to assist: Geoff Tansey, author of The Future Control of Food, Julie Thorpe of the Co-operative College and Jamie Johnson of the Vegetarian Society. We look forward to an interesting, informative and challenging discussion.
May 18 – Discover some of the history of Hebden Bridge.
As part of the Community Rail Weekend, meet Diana Monahan at 11am on the Leeds-bound platform of Hebden Bridge Station for an easy walk ending in the town centre. Less than 2 hours
Hebden Bridge Local History Society
Stop Violence against Women event
Sunday, 18 May 2008, Trades Club
Organised by Calderdale Amnesty Group
Guest speaker: Chris Green of the White Ribbon Campaign
Free - donations welcome
Friends of Hebden Bridge Station
Tuesday 20th May 2008 between 6.00pm and 9.00pm
Another Working Party to plant out plants around the Railway Station is going to take place on Tuesday 20th May 2008 between 6.00pm and 9.00pm.
Anyone who is interested in becoming involved in improving our station, do come along! New volunteers particularly welcome!
1st May 2008

Comedy coup for Arts Festival. Festival supporters who turned up for the Hebden Bridge Arts Festival open meeting were the first to hear - more info - 19 Nov
ANNUAL TOWN MEETING
7th May 2008
Little Theatre, 7:30 pm
Your chance to put your questions about Hebden Royd Town Council. The subject can be anything the elector wishes to raise because they feel it is important. Previous topics have been the Council Offices and other Calderdale owned buildings, St George's Square, the Marina area in Hebden Bridge and provision of allotments.
Clerk to Hebden Royd Town Council, David Dempsey has told the Hebden Bridge Web, "I find it quite curious that people will spend a lot of time writing to newspapers and websites to discuss matters which affect them, often critical of politicians and the decisions they make, but are absent when presented with the opportunity to present their case".
Chamber music at Wainsgate Chapel
The Enescu Ensemble presents An Afternoon of Chamber music 4pm on the 6th April at Wainsgate Chapel
Hebden Royd and District
CO-OPERATIVE MEMBERS' GROUP
Tues 8 April 2008, 7.30pm
White Lion, Hebden Bridge (upstairs room)
Meet the Co-op's area manager and get answers to all those questions you have been dying to ask.
Open to all Co-op members
For more information contact myra.james@3-c.coop;
Tel. 01422 845131
Hebden Bridge Handmade Parade
- planning and ideas meeting
White Lion, Hebden Bridge
Tuesday 15 April, 7.30pm
Hebden Bridge Handmade Parade, due to burst onto the streets this summer, is holding a public meeting of all would-be participants to brainstorm themes and ideas for the event.
All are welcome to the meeting, hosted by HEADS and Thingumajig Theatre: bring bright ideas and creative talents to put your stamp on the streets of Hebden this summer.

The parade will take place on Saturday 19 July and will arrive at Calder Holmes Park in time to open the World on Your Doorstep Festival.
For further details go to www.hebdenbridgeparade.org or contact HEADS 01422 846060 or email info@heads.org.uk
Friday 11th April 7.30pm Mytholmroyd Historical Society
Joint meeting at Scout Road Methodist Chapel,
speakers to be announced
Hebden Bridge Local History Society
A646 Project Group - more cycling, better cycling
Tuesday 4th March
8pm, at the White Lion, Hebden Bridge
Air Quality Management Area Action Plan
Public meeting
Tuesday March 11th, Council Chambers
Wednesday 12th March at 7.30pm
Hebden Bridge Methodist Hall, Market Street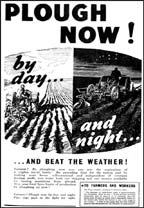 "Lazy & No Ambition"
Ian Bailey
In 1941-43, the Ministry of Agriculture undertook a survey of wartime farming, and this talk looks at how the upper Calder valley farmers fared in the report - generally a lot more positively than our title suggests!
Ian is an enthusiastic local historian, a Midgley resident, founder of the Midgley History Group, and co-author with David Cant, Alan Petford and Nigel Smith, of the recently published 'Pennine Perspectives, Aspects of the History of Midgley'.
Hebden Bridge Local History Society
JESTERS' MOOT
In Hebden Bridge
Town Square

At 12.45 midday
Thursday 13th March
Bunting, confetti throwing, flag waving
SPRING CONCERT - Rising up, up rising
Thursday, 13th March, 8pm
Methodist Church, £5 (£3)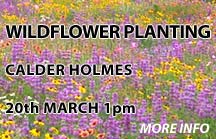 20th March, Little Theatre

Book Launch: The Backbone of England: Landscape and Life on the Pennine Watershed

with Andrew Bibby (author)
and John Morrison (photographer)

More info - added 5 March
Good Friday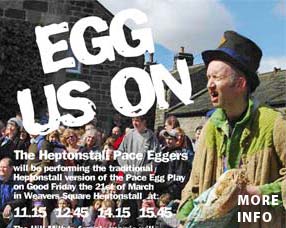 Easter Monday
Duck Race
Wednesday 26th March at 7.30pm
Hebden Bridge Methodist Hall, Market Street
William Holt – The All or Nothing Man
Cath Emberson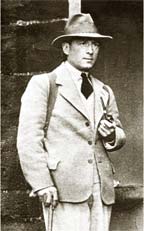 William Holt (1897-1977) – writer, artist, traveller and broadcaster – is mainly remembered as a 'colourful local character'. Cath makes a personal exploration of his adventurous life and achievements, through the focus of his autobiographical writings and novels. There is particular emphasis on the 1920-30s mill-town environment of the Calder Valley, which, Cath suggests, Billy Holt portrayed so successfully from an insider's viewpoint.
A Todmordian; born & bred. Cath Emberson, has for the past 8 years held the position of town clerk. She has spoken to a number of groups in Todmorden about William Holt and published a short biography on the subject for the Antiquarian Society's Millennium book, Todmorden Cameos. Cath is also interested in the lives and works of the Bronte family and over the last few years, jointly with husband Ian, have explored many local links resulting in journal articles and the publication of the Rev. George Sowden's recollections of the Brontes.
Hebden Bridge Local History Society
CO-OPERATIVE MEMBERS' GROUP
Tues 19 February 2008
7.30pm – 9.00pm
Salem Community Centre
(next to the Co-op)
The Hebden Royd and District group has now been formed, following an animated, successful meeting on 19th January.
---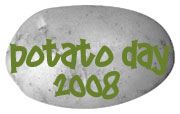 Saturday Feb 23rd
Church of the Good Shepherd, Royal Fold, Mytholmroyd, 10am to 4pm
More info from Calder Valley Organic Gardeners 07977 929684
---
| | |
| --- | --- |
| | Local broadband coop to debate its future at this week's general meeting. Wednesday, 27th Feb White Lion 7.30pm |
---
Wednesday 27th February at 7.30pm
Hebden Bridge Methodist Hall, Market Street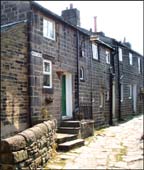 Billy Pit, Widow Dixon, Andrew Stuttard
and the Stoneshey Gate connection.
Justine Wyatt & Elaine Beach
The Stoneshey Gate papers list hundreds of names of handloom weavers employed by George Sutcliffe and other members of the Sutcliffe family, and include the names of places where the weavers lived and worked. This illustrated talk begins to explore the connections between these people and places.
Justine Wyatt works for Hebden Bridge Alternative Technology Centre and was Leader for the recently completed Power in the Landscape project. She is also an active committee member of the Local History Society. Elaine Beach is a retired teacher.
Hebden Bridge Local History Society
---
BURNS NIGHT AT THE TRADES
We're asking you to support this event on Sunday 27th Jan and raise funds towards re-furbishment of the Trades which starts on Monday. Top of the bill are Peadar and Tim, two of the finest multi-instrumentalists in Yorkshire.
The night kicks off at 8pm with half an hour from the Holme Street Band, followed by the piping in of the haggis, to be served with neeps, tatties and onion gravy, to the accompaniment of a recitation or two from the great man, then hit the dance floor to the pipes and strings of Peader Long and Tim Moon. We'll finish up with one or two contributions from the floor. There's a veggie haggis for those of that inclination. Oh, and a free tot of whisky for anyone turnning up in a kilt.
Please join us.
Pete Lazenby
GARDEN STREET PROPOSALS
Civic Trust meeting: 28th January, 7.30pm
Council offices
Fair wages for a Fair Trade Town
Wednesday 6th February at 6pm in the Trades Club
LABOUR PARTY QUIZ & CURRY NIGHT
Thursday 7th February 2008 - 8-30pm
At the Trades Club
As a gesture of international solidarity the curry will be replaced with scouse a traditional hotpot much loved by Liverpudlians (Blind Scouse - a veggie version will also be available).
Come as a team or join one on the night. Great food, great fun and great company. £4.00 plus the obligatory raffle gets you all the fun you can handle in one night
Wednesday 13th February at 7.30pm
Hebden Bridge Methodist Hall, Market Street

Members Evening
Part One of the Members' Evening will feature short papers (5-15 minutes) on members' own work; members engaged in research are invited to let the Society know if they would like to take this opportunity to let others know about their area of interest.
Part Two will be a 'History in the Making' session. The Society will look back over the last 5 years and discuss what events or developments in that time may be considered historic for the area. Please let us know in advance, if possible, what you would nominate as History in the Making, so we can establish a schedule; bring along any photographs or other material or details about that event(s).
---
Until the end of January, 2008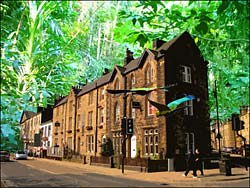 Hebden Bridge 2032 - exhibition at the ATC
Fundraising event for Palestinian Village
for At-Tuwani, a village under attack
on Jan 11th 2008
A screening of films about Palestine at Hebden Bridge Trades Club on Sunday 20th January at 8pm, admission £3 (at least!)
A short recently-made film about At-Tuwani, followed by 'Avenge But One of My Two Eyes'.
Wednesday 9th January at 7.30pm
Hebden Bridge Methodist Hall, Market Street
Bat & Ball
Cricket In Hebden Bridge & District c.1850-2000
Peter Davis
Peter's talk will focus on the social history of cricket in the Hebden Bridge area, with reference to all the local clubs (current and defunct) and key 'community' themes such as links to churches, mills and public houses, and the contribution of women.
Peter Davies is a lectuer in History at the University of Huddersfield and in 2004 received a grant of £43,400 from the Heritage Lottery Fund to explore the history and heritage of cricket in Calderdale and Kirklees. The project has been running 3 years and is now ongoing and permanent - with many public outcomes already (including exhibitions, schools packs, heritage trails, website). He is also a Lancastrian and a keen Lancashire CCC fan! Well I suppose someone has to be.
Hebden Bridge Local History Society
Keeping it Local
New Economics Foundation workshop in Hebden Bridge
on Jan 11th 2008
Wednesday 23rd January at 7.30pm
Hebden Bridge Methodist Hall, Market Street
Medicine & Magic
Traditional doctoring and remedies in and around the Pennines
Peter Watson, BA (Hons)


'Alternative' remedies, magical healing and folk medicine from the 10th to early 20th century. The talk will look at 'medicine' in a non-scientific age, including magical processes, charms, contemporary protective remedies, Anglo-Saxon herbalism and magical combinations, and 20th century 'magic'.
Magical charms for healing and protection, both used in Lancashire/Yorkshire for hundreds of years.
Peter, based in Bacup, is a freelance researcher into lore and tradition in Pennine and other parts of Lancashire. He is a frequent speaker at local history and other societies, been on Radio Lancashire and has also written for the Dalesman, Cumbria, Northern Earth, Yorkshire Magazine and other periodicals.
Hebden Bridge Local History Society