Local History Talk: Anne Kirker tells of Sam Hill of Making Place, Soyland
Sunday, 22 December 2013
"Top British Manufacturer dies in Soyland, Business turnover worth millions. Lawyers gather in anticipation of protracted litigation as thousands of jobs are at risk".
When Sam Hill of Soyland died he was described as "one of the greatest manufacturers in the kingdom" but this was in 1759 not in the Victorian era and Hill's extensive business and property empire was based not on the Dickensian dark satanic mills but upon the coordination of hundreds if not thousands of handloom weavers.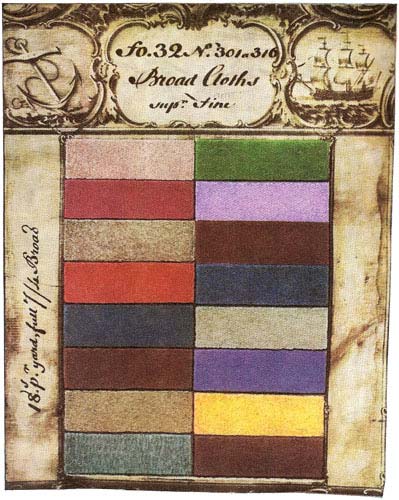 As Anne Kirker told the Hebden Bridge Local History Society, Sam Hill's business interests are well documented and have been much referred to by textile historians as well as supplying the background to Phyllis Bentley's 1941 novel "Manhead". Anne continues the trend of mining this invaluable historic resource and her caveat "work in progress" more truthfully would be described as "news from the front".
In an extremely well scripted and beautifully illustrated lecture Anne sought to put over a more rounded portrayal of Sam. This focussed on both his civic activities and on the fate of his extensive property interests.
Who would have thought that a prime minster received his business education at a college in Soyland? The vivid colours of his textile samples must surely inspire even the least historically inclined textiles artist in Hebden Bridge.
The lecture underpins one of the Calderdale Heritage Walks that are available for private groups. (See www.calderdaleheritagewalks.org.uk)
Hebden Bridge Local History Society lectures begin again on 8th January 2014 when Alan Gardner, specialist in historic building conservation, will share his thoughts on historic buildings and their repair. All welcome at the Methodist Hall at 7.30.
Details from the Local History website

Previously, on the HebWeb
Local History Talk: A Postcard from Sunny Bunce's, a local destination that became known as the playground of the north. Read more
Withens Reservoir, the subject of the latest Local History Talk, was part of a fascinating story . . . not so much Cragg Vale's reservoir as the property of distant Morley. Read more (19 Nov)
Local History talk on Witchcraft in the Upper Calder Valley: As make-believe witches come knocking on our doors John Billingsley, folklorist and author of many books on the subject, told members of the Local History Society that to our ancestors witchcraft was very real indeed. More info (27 Oct)
Local History talk on Mytholmroyd's Moderna: Joan Laprell spoke to the Hebden Bridge Local History Society where she recalled the village within a village that was the Moderna Blanket Factory in Mytholmroyd, where she worked for ten years. More info (12 Oct)
Local History talk on maps: The first meeting of the new season of lectures for the Hebden Bridge Local History Society was launched by Tony Morris speaking about the history of maps and map-making as well as cartographic crime. More info (30 Sept)
Bridge Mill: History on our doorstep. Justine Wyatt, with the support of the mill's current owner David Fletcher, has uncovered more of the story of the building, and gave a fascinating talk to the Hebden Bridge Local History Society. Read more (3 April)
Working from home in 1825; Working from home is not a new concept, Malcolm Heywood told members of the Hebden Bridge Local History Society. William Greenwood's described his several different occupations. Read more (20 March)
The Grave of Robin Hood: mysterious goings-on in Calderdale. Kai Roberts told the local history society about Robin Hood in Calderdale and especially the monument known as Robin Hood's Grave. Read more (11 March)
Todmorden Weavers and the Great War. Alan Fowler, former lecturer in Economic and Social History, told a meeting of the Hebden Bridge Local History Society that the local Weavers' Association had 4000 members at its peak. Read more (19 Feb)
Our Railway Station in the 19th century. David Taylor told a meeting of the Local History Society about how the early railway developed in Hebden Bridge. Read more (28 Jan)
Untold Stories: A glimpse into the lives of local people - Tony Wright has for the past ten years been collecting personal life stories on film and audio tape. Read more (18 Jan)
City in the Hills - Corinne McDonald and Ann Kilbey told a meeting of the Local History Society of Dawson City, the building of the Walshaw Dean Reservoirs and the publication of a new book. Read more (16 Dec)
Lament for the Mills - Robert Cockcroft, poet and academic told of his childhood spent close to mills owned and operated by his grandfather, John Cockcroft and his father, Keith. Read more (2 Dec)
How much thought do you give to a war memorial? - Mike Edwards told a meeting of the Local History Society, war memorials can be found in many forms and in unusual places. Read more (17 Nov)
Clubhouses: self help and co-operation - A small row of houses in Old Town, called Clubhouses, encapsulates some of the history and spirit of the Calder Valley explains Julie Cockburn. (30 October 2012)
Small Town Saturday Night - The story of a love affair with rock 'n roll at its peak in the 1950s and 60s from speaker Trevor Simpson.
The world of Cornelius Ashworth, speaker Alan Petford, Local History talk of 10 October 2012
Hebden Bridge Local History Society