Sainsbury fight back with a judicial review
Friday, 10 July 2015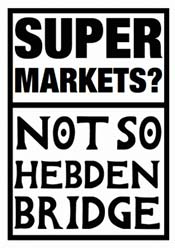 Despite the application to build a Sainsbury store in Hebden Bridge being rejected by Hebden Royd Council, by Calderdale Council and by the Planning Inspectorate Eshton Gregory, the developers are still fighting back.
Their latest attempt to ignore the wishes of the town takes the form of an application for a judicial review of the Planning Inspector's decision to refuse their appeal against Calderdale's decision.
In an application to the court they are claiming the Inspector acted illegally and are seeking to have her decision set aside. They argue several points including the fact that she did not use the test that an application can only be turned down if there is likely to be SEVERE, rather than an inconvenient disruption to traffic flow.
If the Planning Inspectorate decide to defend their decision this could drag on for months. If they decide to concede then a new Inspector will be appointed to once again consider the appeal. That inspector might confirm the original decision or grant the appeal in which case the developers will have finally got their way. The battle to stop Sainsbury is not over.
Hebweb have learned that the Hebden Bridge Partnership had been planning to meet the developers to persuade them of the kinds of developments on the Fire Station site that might get community support. Faced with this intransigence on the part of Eshton Gregory the meeting has been called off until they finally run out of options.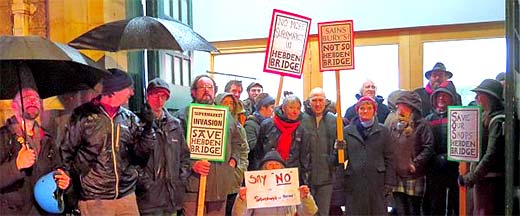 See also:
HebWeb News: Sainsburys Loses Appeal (22 May 2015)
HebWeb Forum - Questions about Sainsbury's (May 2015)
HebWeb News: No public hearing for the Sainsburys Appeal (24 March 2015)
HebWeb News: Say "No" to Sainsbury's. Say "Yes" to Hebden Bridge (24 Feb 2015)
HebWeb News: Save our Shops "Post boxes" (17 Feb 2015)
HebWeb News: Hebden Bridge head to head with Sainsbury's (16 Sept 2014)
HebWeb Forum - Sainsbury's planning meeting (Sept 2014)
HebWeb News: The Alternative to Sainsburys in Hebden Bridge (8 September 2014)
HebWeb News: Sainsbury's Plans resubmitted - without Retail Impact Assessment (15 July 2014)
Calderdale Planning: Application Summary
HebWeb News: Sainsbury's plans now online (30 Jan 2014)
HebWeb Forum - Sainsburys and Tescos survey (Feb 2014)
HebWeb News: Protests as Town Council discusses the Sainsburys bid (8 Jan 2014)
HebWeb Forum - Sainsburys and Tescos
HebWeb News - Jamie Oliver in Hebden Bridge. Hecklers question the wisdom of using Hebden Bridge to advertise a supermarket chain which puts small shops out of business. (October 2009)