Wednesday, 22 March 2017
Wellies wanted for Open Gardens
Old and much loved wellies are needed to create a sea of flowering boots as part of the Open Gardens celebrations across Hebden Bridge in July.
The Open Gardens weekend is part of Hebden Bridge Arts Festival who have brought in gardening experts Her Indoors to help people plant their boots with whatever plants they want, and they will also dropping off some of their own creations at secret locations around town.
Reinvent your wellies
Locals are being encouraged to drop off their pre-owned wellies at the Town Hall and Her Indoors have created a step by step guide to help people reinvent the much loved outdoor boots.
Festival theme: water
Arts Festival Artistic Director Helen Meller said, "The theme of this year's festival is water, and when the town flooded most of us spent weeks tramping round town in our wellies, so we thought it would be fun to recycle spare boots people have lying round the house.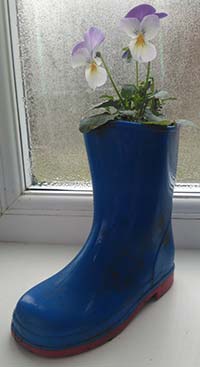 Get your boots
"We are also encouraging people to come and get a pair of boots they can plant with bright flowers to decorate whatever open spaces they have from window boxes to backyards. We are still welcoming applications from more people with big or small gardens to open their gates to the public."
Open Gardens and Open Studios
The same weekend art lovers will be able meet nearly 100 artists as part of the annual Open Studios programme after they decided to join forces with Open Gardens to offer an extra weekend of culture and horticulture.
Working with the Open Studios has given the Arts Festival team the chance to reinvent the Open Gardens circuit after it took a break in 2015 and continues their move to year round activities.

Hebden Open weekend runs from 7-9 July 2017 and is a free event. If you want to open your garden up email info@hbaf.co.uk by March 31 and there are no size restrictions