News, Features and Upcoming Events
Hebweb upgrade - most of this year's pages have now been updated to the new format. We are continuing to work on older sections. 3 Aug
Woven in the Fabric - A play on the lives of suffragettes Lavena Saltonstall of Hebden Bridge and Martha Crossley of Halifax. See "What's on" section - 4 Aug

Book News - Top ten bestsellers for July, and all the latest news from our independent Hebden Bridge bookshop. Read more - 3 Aug
Ian Coates update: Ian has phoned home - from the Ukraine - see forum - 16 July
Police And Community Report - details of crimes and concerns around Hebden Bridge, including anti-social behaviour and police priorities. Read more - 29 July
Five hundred words about Hebden Bridge - see latest entry from Lynn Breeze: Seedy river had fun, along with a YouTube video of Jason Elliott interviewing project's sponsor.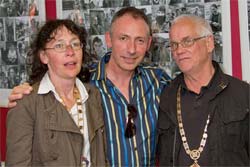 Claudine King
Former well-known Hebden Bridge resident Claudine King died last week in Huddersfield Hospital, following a long period of declining health. See Lives Remembered - 25 July
New Trusts set to become first sustainable transport buildings. Two Yorkshire community-led trusts are pioneering a novel way of ensuring high standards of sustainability in building design. More info - 22 July
FESTIVAL FORTNIGHT A GREAT SUCCESS: Selling more than 3000 tickets for over 50 events across 19 venues, organisers are thrilled with the response. Read more and see photos - 20 July

Leopard stolen from a local children's Sculpture Trail. Head teacher Ms Gretyl Young appeals for the leopard's safe return. Read more - 12 July
SMALL ADS
recent updates include: dress agency; double rooms to let; electrician on bike; cleaners wanted; rental property wanted/ offered.
Below: 500 VOICES - choirs from our region gathered around the bridge today to celebrate the 500th anniversary of the Packhorse Bridge. The rain held of most of the time but arrived on cue for Calder Valley Voices' Singing in the Rain. The event ended with a new song by Daniel Bath: Crossing the River. More photos

Ian Coates contacts the Hebweb from Ukraine, still riding round the world on his Honda - no explanation for the missing six weeks. See HebWeb Feature for latest. 4 Aug
The Stations and other events at the Trades. More info - 3 Aug
Local Blogs section - now updated
Hebden Bridge Trio to Scale Kilimanjaro to give African school kids a 'second chance'. The team hopes to scale the mountain in six days raising £3000 for their charity – enough to set up and fund an entire school for a year. Read more - 29 July
Hebden Bridge Station Exhibition - the two waiting rooms now hosts exhibitions on the history of the railway in and around the Upper Calder Valley with prints and photos from 1845 to 1965. Read more - 27 July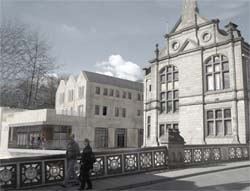 Town Hall Development Plans and photos go to Calderdale - Detailed plans have been given to Calderdale's planning department. More info - updated 24 July
Reg Godwin
The Friends of Hebden Bridge Station report that "Reg Godwin, the ever-cheerful and helpful booking office clerk at the station, died last Friday from pancreatic cancer. His funeral will be at 2.00pm on 2nd August at St Paul's Methodist Chapel, Sowerby Bridge. Typically of Reg, he requested that bright and cheerful clothes be worn." - 22 July
Producers of a new Channel 4 series provisionally titled The Village are looking for individuals, couples and families who would like to start a new life in the countryside. They will have the chance to win a 3 bedroom cottage located. Read more - 22 July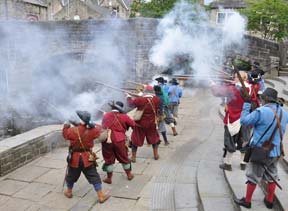 Above: The Battle of the Bridge - the local Civil War was re-enacted today, thanks to the Hebden Bridge History Group. Read more - 11 July
GARDEN STREET AGAIN? Revised planning application? But the development agreement with the Council is definitely cancelled! More info - 5 July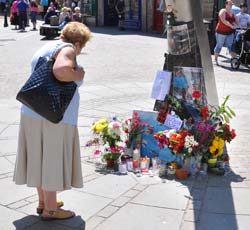 Flowers and candles in the square for Sarah Royle whose death has saddened our whole town. See Yorkshire Post, HebWeb Forum and Lives Remembered
2nd July is Action Mesothelioma Day - locally hundreds have died from this asbestos disease. See Mytholmroyd Net news and the HebWeb Feature
THOUSANDS TURN OUT FOR HEBDEN BRIDGE HANDMADE PARADE and launch of the Hebden Bridge Arts Festival 2010.
See photos
Read News Report - 28 June

All Aboard the Festival Bus!- During this year's Festival, audiences will get on board a 1965 Routemaster bus for daytime events by local writers and performers. More info - 28 June

Jason Elliott's 500 Faces of Hebden Bridge is now complete. See web gallery of all 500 faces - 30 June

EcoTeams project: Calderdale and the Alternative Technology Centre are once again running an EcoTeams project in our area to help people reduce their impact on the environment. More info - 28 June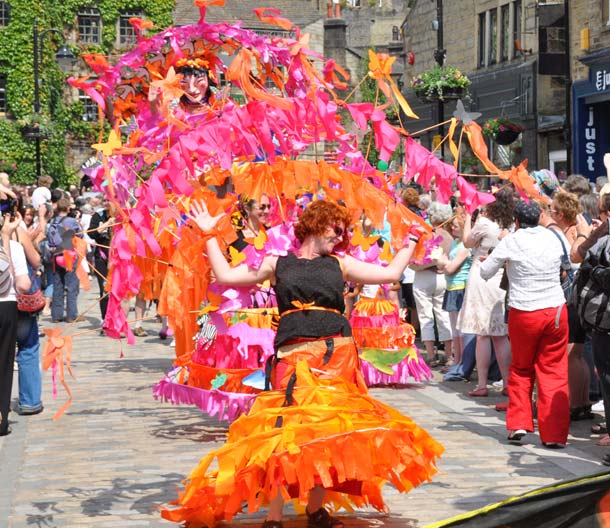 Hebden Bridge doctor elected Vice President of the Royal College of Physicians. Dr Linda Patterson OBE who has lived in Hebden Bridge since 1984 has been elected as the Vice President of the Royal College of Physicians. Read more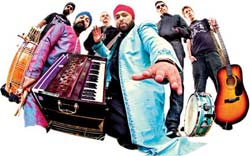 Ginger Genius and Festival events at the Trades Club - Read more - 22 June


HAPPY BIRTHDAY BRIDGE - with buns, bangs and bands. On June 19, to mark the 500th anniversary of the Packhorse Bridge, the streets of Hebden will be ringing to the sounds of mediaeval music, horses' hooves and some loud bangs. More info - 14 June

Craig Whittaker's maiden speech - included mention of Chris McCafferty, Donald Thompson, Bernard Ingham, Ted Hughes and his MP's charity, which will be established to to help improve the educational achievement of children in care. Read the whole speech - 11 June
Yet more from Studio Baad: this time it's Mayroyd again. See Planning Watch
Studio Baad strike again, this time with plans for Walkleys Clogs - part demolition and part "what passes for modern architecture grafted on to a traditional building" - See Forum and Planning Watch
Five hundred words - see latest entry from Gill Smith, "aging hippie from the Isle of Wight"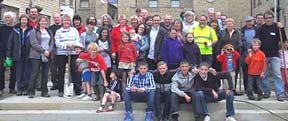 Mytholmroyd Memorial Gardens Planting
Read more - 18 June
Shed your Tears and Walk Away - reviews in the national press. See 6 reviews of this film about Hebden Bridge. Hebden Bridge is a "madhouse fuelled by drink and drugs" … is a haven for achingly trendy bohemians. Read the full reviews from the Telegraph, Guardian, Mirror and Financial Times - updated 13 June
Hebden 500 - Visitors from Hebden Bridge's twin towns have presented local people with birthday gifts to mark the 500th anniversary of the packhorse bridge. Read more - 13 June

More from Hebden Bridge Web