Martin Stephenson, Rhythmbridge, World Music and more at the Trades
Sunday, 18 April 2010

Former Daintees frontman Martin Stephenson steps into the valley on Thursday 22 April with a huge reputation as one of Britain's finest songwriters.
Martin made his name as leader of The Daintees who were Kitchenware label mates of Eighties legends Prefab Sprout and their brilliant album 'Boat to Bolivia' was one of the best selling independent albums of that decade.
But like many great artists Martin turned his back on the limelight decamping to the North of Scotland shunning the arena gigs his talent demanded preferring to play intimate shows to perfect his craft.
Since then albums like 'High Bells Ring Thin' and 'Down to the Wood' have been underground hits with their clever mix of folk, pop, blues and a dash of rockabilly.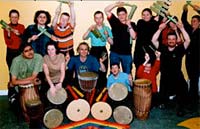 World music makes a welcome return to the club on Friday 23 April thanks to local drumming ensemble Rhythmbridge creating a new club night dubbed Afrobrazilla.
Rhythmbridge's Paul Dear will join The Kajamor Family from Senegal who are masters of the serouba which are the traditional drums of that African nation.
Then it's off the South America with Papajaca on an extraordinary journey through Brazilian music including samba, maracuta, ijexa, samba, reggae and baiao. DJ John Tree completes the night with an eclectic set of world and Latin grooves.
The final Cabaret Heaven of the season on Saturday 24 April is headlined by Rajest who is one of the Bollywood's top lounge singers. Rajest is the fabulous creation of actor and comic Anil Desai who was a regular on Goodness Gracious Me.
Rajest is joined by Harrsion 'The Perceptionist' who might have magic powers or might just be a fake, but it's all fascinating stuff as he read minds, sees blind and does stuff most of us can't even imagine. Regular hosts Peggy and Bernard will as usual try to keep some sort of order.
"This year we've already some top singer/songwriters and Martin Stephenson is up there with the very best from his days in the mighty Daintees who could have one of the biggest bands in the world if he'd chosen that route," Trades Club spokesperson Paul Clarke told the Hebden Bridge Web.
"It's good to see world music make a welcome return thanks to Rhythmbridge who have booked two of the best live bands on the circuit and I'm not even going to try to predict the mayhem at Cabaret Heaven as they celebrate the end of another hugely successful run."
More info from 01422 845265 or Trades Club Box Office
Listen/watch now