Tuesday, 23 April 2013
Handmade Parade 2013: Myths, Mysteries and Mayhem
Pigs might fly, sea monsters could be spotted and trolls may appear from under the bridge in this year's Handmade Parade.
Organisers have announced that the theme of this year's parade, which takes place on June 22, will be Myths, Mysteries and Mayhem. Organisers were bowled over with the quality and quantity of ideas for this year's theme which were submitted through suggestion boxes at the Co-op and Hebden Bridge Library and in person at the parade's recent Spark day.

But after much consideration they decided to go with a myth-based parade, split into four sections of earth, fire, air and water, so combining two of the most popular suggestions. Among the ideas for giant puppets, artwork and costumes now being considered are floating islands, all manners of winged creatures in the air and possibly flying pigs. There may be appearances from Rochdale canal mermaids, mixed up creatures such as Minotaurs and vegan vampires!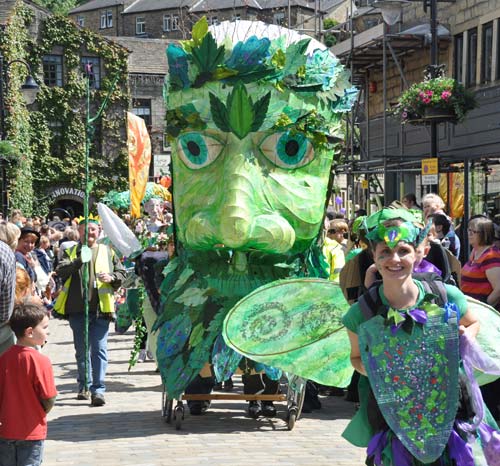 Handmade Parade Co-ordinator Hannah Merriman said: "After a fantastic Spark Day and some amazing contributions from the suggestions boxes we can't wait to get our teeth into this year's theme. Which mythical creatures will appear from through the mists ... cruel cupids, sea monsters, trolls, fire dragons - maybe even a poo fairy!"
The parade, now in its sixth year, will begin at 12noon on Saturday, June 22, helping to kick-off the celebrations for the Hebden Bridge Arts Festival launch, and will wind its way through town to Calder Holmes Park for a spectacular finale which will be followed by lots of arts festival entertainment. There will also be a Bridge the Gap youth arts event in the park.

Open workshops will be held from June 1 to 20 and there will also be parade skills classes for teenagers and adults who want to get stuck into a new skill – from stilt-walking, joining the samba or making giant willow sculptures.

For more information about classes or if you'd like to volunteer to help out at the parade ails go to www.handmadeparade.co.uk