HEBWEB REVIEW OF THE YEAR 2014
TOUR DE FRANCE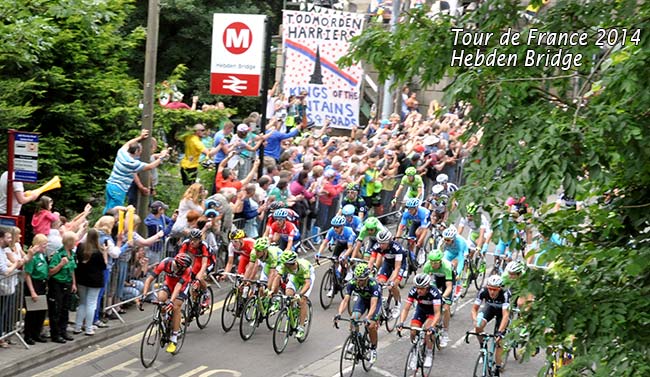 TOUR DE FRANCE
2014 will be remembered for years to come as the year the Tour de France not only came to Yorkshire but, more importantly, Hebden Bridge. Councils, community groups and thousands of locals and visitors conspired to make 6th June 2014 a most memorable day. See our Tour de France section to capture all the excitement and events leading up to the great event.
Grand Piano hauled up
Cragg Vale by Bike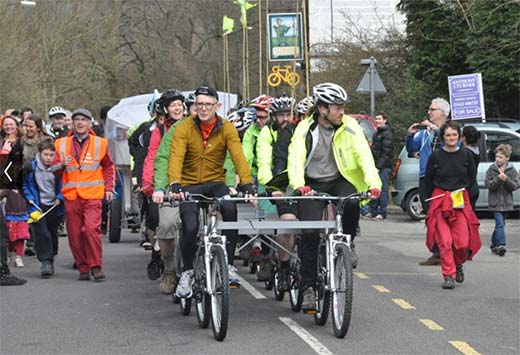 Hundreds crowded the streets of Mytholmroyd and Cragg Vale on Saturday, 5 April as 18 cyclists hauled a grand piano and playing pianist up the longest continual incline in the country.
As well as being an enjoyable and madly, fun event it served to advertise the following weekend's Piano Festival, Mytholmroyd Gala and give a taste of what was in store for our area when the Tour de France arrived on 6 July.
Could Hebden Bridge be
the UK's second city?
In a BBC article, Evan Davis quotes David Fletcher, "Hebden Bridge is an inverted city with a greenbelt centre and suburbs called Manchester, Leeds and Liverpool." Read article

Stoodley Pike bicentenary
Marking the 200th year since the Treaty of Paris, which inspired the building of the original monument on Stoodley Pike. its successor is still listed now as one of the oldest towers dedicated to peace in the world.
Update: See Photos from the day
Pigeons, puppeteers, a samba band and even a brass band performed high up at the summit of Stoodley Pike at 2pm on Saturday 3rd May and the Calder Civic Trust invited people to join the French people visiting from Todmorden's twin town of Roncq to celebrate the significant Anglo-French anniversary of the Treaty of Paris in May 1814.
HebWeb News: Bicentenary Celebration on Stoodley Pike
Threatened Closure
of Halifax A&E
Throughout the year the shadow of the closure of Halifax A&E has loomed over the Upper Valley, making a long, potentially dangerous trip to Huddersfield the only option.
On Monday 24 March, Josh Fenton-Glynn, prospective Labour candidate, walked the 20 miles from Todmorden to Huddersfield A&E to highlight the distances local people will have to travel if the closure at Halifax goes ahead.
Calderdale Council Liberal Democrat Group Leader Cllr Janet Battye said, "Two weeks after the proposals became public, information is still dribbling out but with no real explanation or dialogue with local people. All we've been offered so far is 'engagement' over the summer and consultation at some vague time in the future. A real consultation process needs to be put in place as a matter of urgency."
HebWeb coverage of the A&E campaigns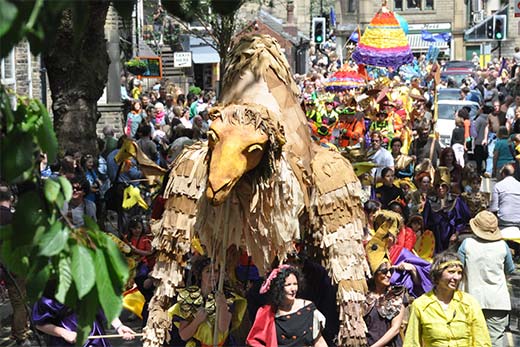 Handmade Parade
Hebden Bridge Handmade Parade: Another superb Handmade Parade. Hundreds took part with their wonderful costumes and creations. Thousands watched with smiles and amazement in the June sunshine.
Read report of Saturday's Parade and see HebWeb photos
Calderdale Coup
- Labour ousted from power
At the end of July, Liberal Democrat councillors stopped backing the Calderdale MBC Labour Administration and changed to supporting the Conservatives. A vote of no confidence in the Labour administration was carried by 24 votes to 22. Read more and see Forum thread
Bridge Mill at 700
W1 centenary:
Sand in your Eye project
The murder of Lindsay Rimer:
20 years on
West Yorkshire Police are launched an appeal to trace the killer or killers of 13-year-old Lindsay Jo Rimer from Hebden Bridge who went missing 20 years ago on Friday 7 November 2014.
Two decades have passed since Lindsay was last seen, with the last known sighting of her being at just after 10.22pm at the Spa shop on Crown Street. Her body was found five months later in the Rochdale Canal. She had been murdered.
HebWeb News: The murder of Lindsay Rimer: 20 years on.
HebWeb Feature: The murder of Lindsay Rimer
HEBWEB FORUM:
The most discussed issues of 2014 were
Plans for large car park near station
Mountain bikes on public footpaths
See HebWeb Forum for all topics which were discussed during the years
A special thanks and Happy New Year to all those who read and support the HebWeb, especially those who have sent us their news items, event details and photos, shared their views on the Forum and submitted their Small Ads.
See also: