Madcap rockers risk life and limb at the Trades
Sunday, 18 October 2009

Madcap rockers John Otway and Wild Willy Barrett make a welcome return to the Trades on Thursday 22nd October with their surreal blend of minor hit singles and manic energy.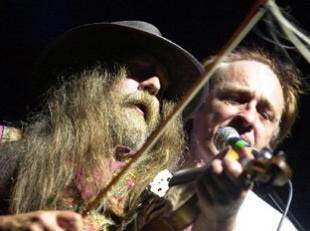 John Otway made his name with his first single 'Really Free' which hit Number Nine in the hit parade in 1970s when you actually had to sell some records to get into the charts.
He then teamed up with Wild Willy Barrett producing a series of critically acclaimed albums that sold very few copies but their fans continue to flock to their shows where there is a very real risk of serious physical injury during live classics like 'Headbutts.'
Otway decided he wanted to celebrate his 50th birthday by having a second hit single and a concerted drive by his fans saw 'Bunsen Burner' reach Number Nine earning the pair a bizarre appearance in Top of the Pops.
Banco de Gaia makes his debut at the Trades on Friday 23rd October after months of campaigning by club members to book him.
Banco - aka Toby Marks - creates a unique spin on electronica intruding elements of Eastern and Arabic music trying together the cornucopia of sounds to his trademark ambient-dub rhythms.
Toby started his careers as a drummer in a heavy metal band then surviving a season playing Beatles covers for bored tourists in Portugal before beginning his solo project creating huge selling dance and chill-out tunes.
Banco de Gaia plays as part of a benefit along with the Magic Lantern crew for the Bearded Theory festival which was decimated by a freak tornado earlier this year.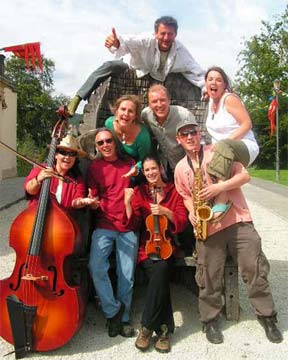 The weekend comes to a radical finish with Seize the Day on Saturday 24th October who came together as part of the Road Protest Movement in 1990.
Since then Seize the Day have built a solid reputation on the festival circuit as a radical acoustic band who write catchy songs supporting a whole range of causes.
They are a band who say they want to inspire people to actually do something to change society and you as are likely to meet them at your nearest frontline protest as hear them in a club.
"Otway and Barrett are one of the best live acts in the UK with a very real possibility John will be carried on a stretcher and last time they played it was a sell out packed with their loyal fans," says Trades Club Spokesperson Paul Clarke.
"Our members have been lobbying the committee for months to book Banco de Gaia so we're finally found a free night in his busy world tour and we're expecting it to be one of the gigs of the year.
"The Trades ahs always been a club that has supported radical thinkers so it seemed logical to book Seize the Day who are not only great musicians but some of the most effective environmental and anti-globalisation activists in the country."
More info from 01422845265 or boxoffice@tradesclub.info
---
Listen now
John Otway and Wild Willy Barrett
---
Previously on Hebweb
We try to make sure that the Hebden Bridge Web news is correct,
but if you are aware of any errors or omissions, please
If you have comments on Hebweb news please make
a contribution to our
© Hebden Bridge Web