Wednesday, 15 May 2013
Handmade Parade 2013: try something new at the Skill Classes
If you fancy joining a samba or street band, making a giant sculpture, inflatable costume or mask or learning how to stilt, the Handmade Parade Skills Classes could be just the thing for you.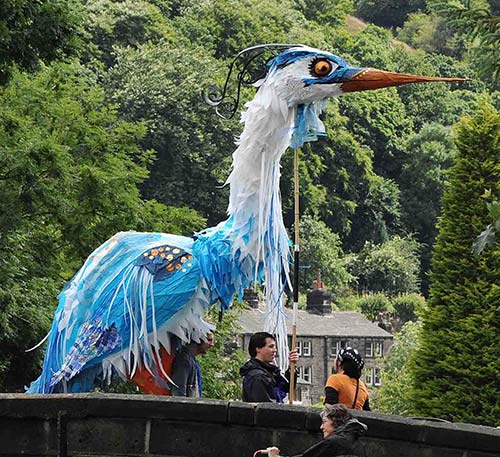 This year's Myths, Mysteries and Mayhem parade is on June 22, and there are open workshops for people to come and make costumes and carryable art from June 1 to 20. But for those who want to get more involved and learn a new skill, the parade skills classes are a chance to learn from some great artists and performers.
Handmade Parade Artistic Director Andrew Kim said: "We're very excited by this year's classes for adults and teens. Although the Handmade Parade open workshops are glorious in all their making chaos, these classes offer a great opportunity to learn hands on from our team of local professional carnival artists."
Make a fantastic, huge sculpture with Kerith Ogden the artist who brought you the squid, giant snail and heron from past parades. This workshop will be a very good introduction to withy sculpture - from basic construction and simple forms, to making more complicated 3-D sculpture. June 8 and 15, 4.30-6.30pm and June 16, 10.30-12.30pm. For adults and teens; three sessions £30/£20 concessions.
Come and make a show-stopping giant inflatable carnival costume for this year's parade. In these workshops artist Lisa Gort will show you in simple steps how to make an inflatable, how to turn your ideas into large 3D forms. We will work together to make a stunning inflatable costume for the parade. You will also learn about the simple technology required to make wearable inflatables. We will sew and stick and decorate the costume, and then blow it up! June 8 and 15, 4.30-6.30pm and June 16, 10.30-12.30pm. For adults and teens; three sessions. £30/£20 concessions.
Join parade artistic director Andrew Kim and learn how to make your own mask. Explore the ancient and powerful world of mask performance. Each participant will design, sculpt, papier mache and paint their own mask which can be used in the parade and/or the finale. Andrew will also teach a basic intro to how to bring a mask to life. June 4, 6, 11, 13, 19, 6.30-8pm. For adults and teens; 5 sessions. £30/£20 concessions.
Join the Handmade Street Band led by Peadar Long. We will be merging our funky street band with the Northern Lights Street Orchestra. We are looking for brass, sax and percussion players who have their own instruments, can play at least at a basic level, and aren't afraid to have a bit of fun as they play. Wednesdays June 5, 12, 19, 4-6pm. These sessions are free but it is essential to book.
Get your groove on and join Mitch Oldham for some samba drumming. Join the year-round Handmade Samba Band as they prepare for the big event. June 9, 5-7pm, June 10, 6-8pm, June 16, 5-7pm and June 17, 6-8pm. All levels welcome. For ages 13+; £3 a session.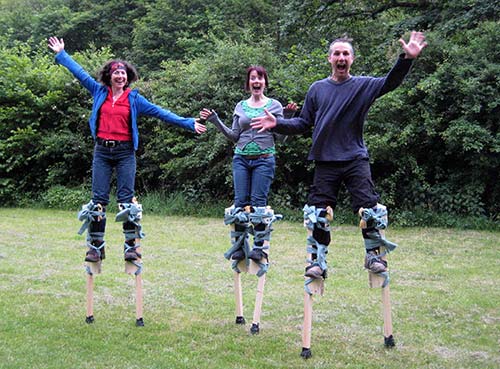 Do something amazing - learn to walk and dance on stilts. Travis Downs and Andrew Kim will be training adults and children (age 11 and up) to stilt walk and make costumes for the parade and finale. June 8, 9, 15, 16, 4.30-6.30pm and June 21, 4-7pm (Finale rehearsal). Four sessions plus finale rehearsal. £20/£15 concessions
All the above parade skill classes will meet at the parade workshop at Victoria Road. No previous experience is necessary. To sign up, email your name and which class you're interested in to info@handmadeparade.co.uk  or visit www.handmadeparade.co.uk for more details.