Monday, 17 April 2017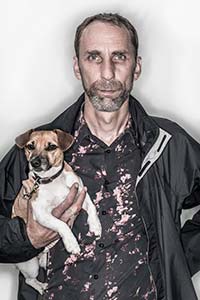 Will Self is on the phone to Hebden Bridge
Controversial novelist Will Self is coming to Hebden Bridge to talk about his new novel Phone satirising our obsession with technology.
During his appearance in the Town Hall on Thursday 29 June as part of Hebden Bridge Arts Festival, Self will read from his new book challenging our obsession with mobile technology and take questions from the audience.
Festival launch
Tickets for this event are very limited and will available  at the festival launch event in the Town Hall on Thursday May 4 - starting at 6pm - where the full 2017 programme will be announced with tickets for all events also on sale.
Will Self has written ten best selling novels including Great Apes, The Book of Dave and Walking to Hollywood full of larger than life characters that have been translated into 22 languages.  Despite his very individual writing style - often focusing on mental illness, illegal drugs and psychiatry - his novel Dorian, an Imitation was longlisted for the Booker Prize, and Umbrella was shortlisted for the Man Booker Prize.
Self's wit and honesty has made him a regular on our TV screens on Have I Got News for You, as an unlikely regular panelist on BBC2's Shooting Stars and five appearances on Question Time.
Flâneur
Self has described himself as a modern flâneur – or stroller - who has written about walks he has taken including a 26 mile trek from his home in South London to Heathrow Airport and after touching down at Kennedy Airport walked 20 miles from there to Manhattan.
Raconteur
Arts Festival Artistic Director Helen Meller said; "As well as being one of our greatest contemporary authors Will Self is a brilliant and honest raconteur who delights in open debate.
"Will Self is a genuine one off so this event will sell out quickly, and as well having a chance to listen to his new work we can guarantee this will be a night that will be both challenging and fun."