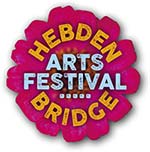 Thursday, 28 June 2018
Kids test out special purple ice cream
Pupils from Old Town Primary were only too happy to test out purple ice cream that will only be available during the Landscape open air experimental music event on Sunday 1st July.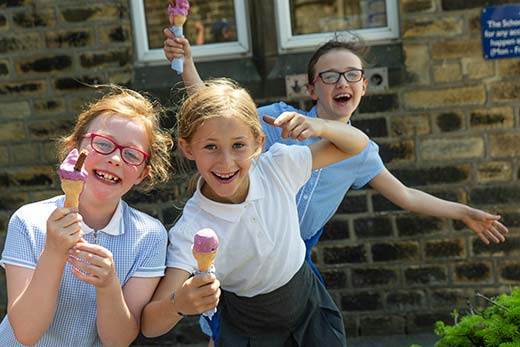 Landscape is the recreation of an ambitious Hebden Bridge site-specific  score written in 1970 by pioneering West Yorkshire composer Trevor  Wishart. This 2nd-ever performance is being staged by local musician  Julian Brooks, who has been rehearsing a huge cast of professional  musicians, community groups, local schools and businesses in various  locations around Hebden Bridge, Mytholm and Heptonstall.
As part of the day long performance Mytholomroyd based Royd's Ices, who took part in the original event, will be taking part and selling black,  deep purple, dark blue, bright orange and deep red ice creams during  Landscape which has been supported by Hebden Bridge Arts Festival and Arts Council England.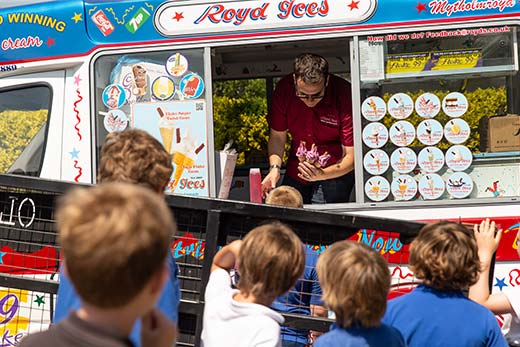 To test the blackcurrant-flavoured purple version Royd's Ices dispatched  a freshly churned batch in one of their vans up to Old Town, and the  children gleefully queued up on the hottest day of the year to try out  the purple cones made to a delicious secret formula.
Arts Director Helen Meller said, "The purple ice creams were a big hit  with pupils and staff alike and Julian Brooks joined in leading a musical workshop with the whole school.
"This is going to be a very special event  and we are so grateful to  everyone at Royd's Ices who remember Landscape from all those years ago  and have been slaving away to create these wonderful ice creams that I'm sure will tickle people's taste buds."
Landscape begins at 9.45am on Sunday 1 July. At 11.30am three Royd's Ices vans, with musicians performing inside, will leave Hebden Bridge train station to sell their multi-coloured ice cream goodies at various locations around town for the rest of the day.
Pick up a Landscape programme at Hebden Bridge Town Hall or in town on the day 
More details from the Festival website or pick up a programme from the Town Hall
Previously
HebWeb News: Street Superstars back for Arts Festival - 26 June 2018
HebWeb News: Non-conformists head to Hebden Bridge Arts Festival - 21 June 2018
HebWeb News: Win an original John Hegley cartoon - 13 June 2018
HebWeb News: Non-conformist singers needed for Arts Festival - 8 June 2018
HebWeb News: Landscape scores rediscovered - 4 June 2018
HebWeb News: Hebden Bridge Labels wanted - 1 June 2018
HebWeb News: Non-conformists head to Hebden Bridge Arts Festival - 7 May 2018
HebWeb News:Café Culture is back thanks to generous grants- 2 May 2018
HebWeb News: A Cosey night out at the Arts Festival- 30 April 2018
HebWeb News: DJ Dave Haslam is in the hot seat - 31 March 2018
HebWeb News: Top comic Bridget Christie plays Hebden Bridge Arts Festival - 21 March 2018