Thursday, 23 May 2013
Handmade Parade 2013 attracts artists from across the globe
Next month's Handmade Parade will have an international feel with artists from across the globe joining the celebration of Hebden Bridge's unique creativity and culture.

Three guest artists from the United States will be working on the parade alongside assistant artists from Ireland and London who will join the existing team of local artists who have made the parade such a success over the past five years.
Duane Tougas from Minneapolis is a puppet maker, visual artist and sculptor. He has worked for the In the Heart of the Beast Puppet and Mask Theatre, whose May Day Parade was a big inspiration behind the Handmade Parade. He has worked throughout Minneapolis and the US since 1991, creating shows, designing and building stage sets, and teaching workshops in schools. See Doug's work here.

Kat Corrigan, also from Minneapolis, is an award-winning painter, stilt walker and art teacher. Her greatest joy is in creating a large event with a large group of people, so she's very excited to be joining the Hebden Bridge parade. More about Kat.
Bonnie Kim from Hawaii is an artist and educator who is coming to Europe to study marionettes in Prague and decided to call in to Hebden Bridge on the way, such is the reputation the parade now has overseas. Her specialties are puppetry, masks and movement. She has worked with the Bread and Puppet Theatre, a theatre company renowned for their giant puppets and masks. Her performances with giant puppets and masks have been presented in Hawaii, Vermont, Korea, and Cambodia. Her work can be seen here.

Joining them will be new assistant artists Isabel Lyster, a freelance artist from London specialising in puppetry, illustration and sculpture, Joanna McGlynn from Galway, who has participated in arts festivals all over Ireland, and Douglas Thompson a professional artist whose work has featured in many art centres, galleries, theatres and carnivals across West Yorkshire.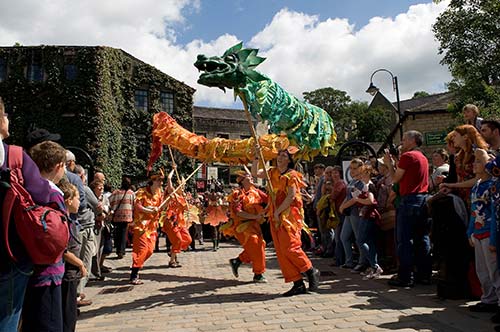 Andrew Kim, Artistic Director of the Handmade Parade told the HebWeb: "In addition to having a top team of parade artists from the upper Calder Valley, and a bigger outreach artist team working with over 20 schools and community groups, we are thrilled have assistant and guest artists coming in from London, Ireland and the USA. It's thrilling to see our event building up such an international reputation."

This year's parade, Myths, Mysteries and Mayhem, takes place at 12 noon on 22 June, helping to celebrate the launch of the Hebden Bridge Arts Festival, and alongside the finale in Calder Holmes Park, there will be Arts Festival entertainment and events, including a Bridge The Gap youth arts event.

Open workshops will be held from June 1 to 20 and there will also be parade skills classes for teenagers and adults who want to get stuck into a new skill - from stilt-walking, joining the samba or making giant willow sculptures.

For more information about classes or if you'd like to volunteer to help out at the parade go to www.handmadeparade.co.uk