White Ribbon Campaign benefit at the Trades
Monday, 9 November 2009
West Yorkshire's top Djs will be slaving to the rhythm in aid of the White Ribbon Campaign at the Trades on Saturday 14th November.
The Slave to the Rhythm fundraiser brings DJs Denaji, Nemoid and Ante Tina together for the first time playing a mix of Disco, fonk, 80s soul, prog, 60s classics, hip hop and dubstep.
All proceeds from the night will to the Hebden Bridge based White Ribbon Campaign that aims to stop violence against women.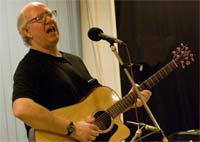 The weekend kicks on Thursday 12th November with roots legend Clive Gregson who is stopping off at the club before he goes on tour with Jools Holland and his Big Band.
Clive emerged as the main songwriter with the much underrated Any Trouble in the 1980s before hooking up with Christine Collister recording a series of critically acclaimed albums.
He has been described as 'most emotionally literate songwriters around' and he has been in demand to work with big names like Richard Thompson, Nanci Griffith and Eddi Reader.
Leeds based breaks heads Alphadrive make their first visit to the club on Friday 13th November with a reputation as one of the freshest love dance around.
The trio have had a busy summer headlining dance festivals cross Europe including the legendary Beat-Herder and they have also found time to support high profile acts including The Orb, EMF, Scratch Perverts, Rouge Element and DJ Yoda.
Aphadrive were dubbed by LSR FM as 'break masters' for their unstoppable high-octane shows and they are bringing a team of DJS to make a night of it.
"It's an incredibly busy weekend at the Trades and we're delighted to once again offer our support to the White Ribbon Campaign and this fundraiser boasts a particularly strong line up of quality DJs," Trades Club Spokesperson Paul Clarke told the Hebden Bridge Web.
"Alphabeat come to us with a massive reputation as one of the best live dance acts on the circuit so we're expecting it sell out pretty quickly as dance aficionados check them out.
" Clive Gregson is jetting in from his base in Austin, Texas to play the Trades and it is fair to say he one of the finest songwriters we have ever had at the club so full marks to Steve Tilston for yet another top flight booking."
More info from 01422845265 or boxoffice@tradesclub.info
---
Listen now
---
Previously on Hebweb
We try to make sure that the Hebden Bridge Web news is correct,
but if you are aware of any errors or omissions, please
If you have comments on Hebweb news please make
a contribution to our
© Hebden Bridge Web