News, Features and forthcoming Events
Hebden's Favourite Film: Brief Encounters. Picture House this Thursday (17th May) at 7.30pm, following a public vote, coming to the big screen once more. See What's On.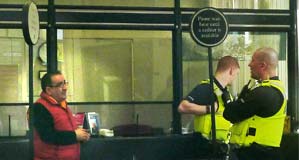 Police are called to the NatWest bank, Hebden Bridge, when Mayor of Calderdale Nader Fekri refuses to leave, after the machine swallowed his card. Even though he was off to Germany on council business in a few hours, staff refused to give him his card back! See Yorkshire Post. (Photo: Jason Elliott)
Victoria Road plans to be unveiled at "Public Exhibition" of proposals. Developers "committed to engaging with the local community." See Planning Watch. (14 May)
Crimsworth Farm Raw Pink Sauerkraut!

Craig Whittaker condemns gay marriage proposals. Our MP claims that such marriages would be adult-centred and lead to polygamy. Read Craig's blog entry. And see HebWeb discussion
Hebden Bridge in the spotlight: Hebden Bridge and the Paul Barker book on Radio Four Wednesday (9th), 4pm
Guardian Northerner features Spaw Sunday in Cragg Vale, Luddenden and Midgley. (8 May)
Hebden Bridge in the spotlight over the weekend. Full page article in the Sunday Observer on Free food, sharing and caring. Reviews on Paul Barker's book on Hebden Bridge in the Saturday Guardian ("West Yorkshire's cool and quirky corner") and Independent ("a microcosm for local life buffeted by the winds of change).
Janet Battye holds Hebden Bridge's Calder ward for the Liberal Democrats by 145 votes on a 45% turnout, higher than the national average. The Greens push Tories into 4th place. More info
Labour gain Mytholmroyd's Luddendenfoot ward. Simon Young for Labour won the seat from Christine Bampton Smith (Lib-Dem) More info
Labour gain Todmorden: Hebden Royd Town councillor Steve Sweeney takes the seat. More info
LOCAL ELECTIONS - the count started at 9.30am at North Bridge Leisure Centre. Four women are contesting Hebden Bridge's Calder Ward. Read more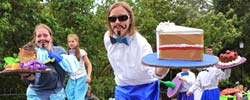 Handmade Parade 2012: Join the skills classes - join a street band, make a giant sculpture or inflatable costume, try your hand at a dynamic Brazilian art-form or learn how to stilt. Read more
Brown's Site: local architects Moreton Deakin Associates join the Forum discussion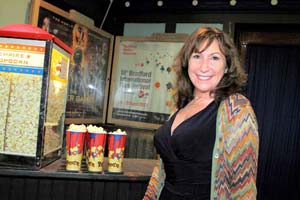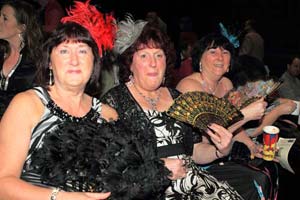 Director and Writer Kay Mellor at the Picture House's gala screening of Fanny Elvis. Report and Pictures (25 April)
Blenheim Street: Residents are angry about plans to build a pair of four storey houses on "disused scrub land" at the top of a cul de sac on the Birchcliffe hillside. See Planning Watch
Local Elections: A Labour-led Council will continue the fight for the NHS, Labour leader of Calderdale Tim Swift tells the HebWeb. Read more (22 April)
Tickets for Patti Smith at the Trades Club sold out within 90mins!
Success for The King's Troup, Hebden drama group. They have been selected to perform in Manchester and Stratford upon Avon. Read more (13 May)
Trades Club near miss - The Trades Club have vowed they will be back next year after narrowly missing out on the NME small venue of the year award. Read more (11 May)
Trades Club celebrates 30 years of live music over the bank holiday in early June. The Club is looking for people who've played there, or who have stories to tell. Read more (8 May)
POLICE STOP PARENTS LEAFLETING outside Calder High. The HebWeb has a copy of the leaflet and has contacted the police asking what law could be broken. Updated. Read more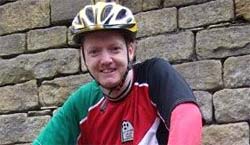 Former Green Party councillor starts cycling round the length of Britain's coast. The co-founder of Kerbside Recycling, Calder Valley Credit Union, and former Green Party Town Councillor, Jamie Johnson, is raising funds for Palestinian refugees. Read more (1 May)
Elvis mayors: see the Mayors of Calderdale and Hebden Royd, and former Mayor Rev James Allison on stage limbering up for Fanny and Elvis at the Hebden Royd Town Council Civic Dinner.
World Championship Dock Pudding Contest, Sunday, 15 April, see Mytholmroyd Net for result and video
Ted Hughes Writing Competition is launched!
Local papers: HB Times office to close, journalist Susan Press tells HebWeb - see Forum thread. Update from Cllr Tim Swift: Halifax Courier to go weekly. "Those interested in the many goings-on in the upper valley are increasingly likely to turn to the 'Hebweb', the flourishing local website of town news and views." says Martin Wainwright, writing in the Guardian's Northerner Blog

Above: Heptonstall Players perform the Pace Egg Play in Weavers' Square, Good Friday afternoon. The Doctor has NipNap for the fallen Bold Slasher. More photos. And see this HebWeb news item for details of how much was raised.
Fox Friends clean up and help moves towards Yorkshire's first co-operative pub. Read more with details of Easter raffle.
Job Vacancy: Picture House Manager. Hebden Royd are seeking someone to manage the Picture House. Read more
PICTURE HOUSE - once more in local hands. A special meeting of Hebden Royd Town Council was held this afternoon (30th) to ratify and complete the transfer. Read more
Memoirs of a Japanese Chicken Sexer in 1935 Hebden Bridge has come second in the Oddest Book Title of the year contest - see BBC article
Berringden Brow: Fourth and Final book. The final instalment of locally-set "Berringden Brow" saga is now out! "Life's Rich Tapestry" sees middle-aged heroine Jess working on a university research project . . . Read more (30 March)

Hebden Bridge to host national Ambitious Communities conference, looking at how communities can transform their neighbourhoods by owning and managing local land and buildings. Read more (27 March)

Hebden Bridge's favourite films. The people have voted! It's Brief Encounter, the winner, followed by Local Hero and Pulp Fiction. More info and details of showings at the Picture House. (26 March)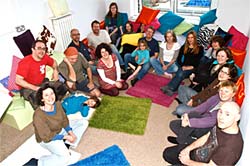 Riverside School Makeover Weekend: more than 70 parents, teachers and friends spent last weekend converting the old old PE store into a special nurture room – just 48 hours! Read more and see pictures. (20 March)
Craig Whittaker arrest in January: CPS say there are no grounds for further action. The Conervative MP for Calder Valley was arrested for an alleged assault in December 2011 on his adult son. See BBC report and Forum thread (21 March)
Brown's site: supermarket, hotel, sports ground, social housing, left alone? Read the discussion
Fox and Goose Pub Co-op: Following extensive discussion on the HebWeb Forum in January and February, moves to buy out the Fox and Goose and run it as a co-operative pub are moving forward. Read more (16 March)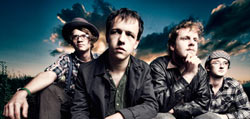 Maia and BrouHaHa at the Trades: Local band Maia's first headline show at the club is promising to be one of their best yet. Read more (12 March)
Calder High given 'notice to improve following Ofsted. Less than a week after Riverside received its unfavourable Ofsted report, the inspection of Calder High raises further questions about the education of Hebden Bridge children and students. Read more (6 March)
Riverside School put into 'special measures' following Ofsted.
Read more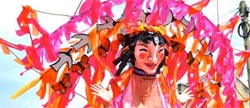 Handmade Parade gets go ahead for 23 June - The future of the parade, one of the biggest events in the area's calendar, had been in doubt after drastic cuts to arts funding left it way short of the amount needed. Read more (2 March)
Grant Success for Village Turbine: Blackshaw Head based Pennine Community Power has won a grant of £30,000 which will partly fund a community wind turbine at Blackshaw Head. Read more
Eastwood Recycling set for 'remodelling'. Read more
Youth House goes to Light Opera Society, Brass Band and Theatre School. Read more
Grant for Calder Valley Club and for other local projects from Hebden Royd Town Council. Read more

Olympic torch: Hebden Bridge's Chris Green of the White Ribbon Campaign is one of those selected to run with the Olympic torch through Halifax. Read more (19 March)

Hebden Bridge musician Steve Tilston wins at BBC Radio 2 Folk Awards with the Best Original Song award. Read more
Ian Coates - snowed in east of Milan, finally on his way back to Hebden Bridge, recounts some of the many countries he and his Honda have travelled through since 1999 - See HebWeb Feature.
Keep a close eye on your dog, urges Calderdale Council, amid growing concerns about disturbance to wildlife caused by out of control dogs. Read more (31 Jan) See also: Forum thread

Small Ads - "I am very pleased to say the response was terrific and both properties are now let." 30 Jan (Less than a week)
BBC Look North covers the takeover of the Hebden Bridge Picture House. See video clip (24 Jan)
Trades Club featured in Guardian's Northern Blog. "Good times roll at our celebrated Trades Club John Peel's 'great little music venue' is going strong, with added delights cooked up by a Tibetan chef. Read full piece by Berringden Brow's Jill Robinson.
Songs of Praise in Hebden Bridge - see Nick Wilding and other familiar faces.
Calder High: Former Calder High teacher of 27 years, Anne Todd, tells of an atmosphere of mistrust and anxiety among staff, lack of experience among management, deteriorating behaviour since the last inspection and streaming imposed without consultation. Read more in the HebWeb Forum.
Calder High Parents threaten exam boycott, at heated meeting with school governors over early GCSEs. Calls were made for the school Head and management to meet with parents. Read more
Concerns about early GCSE at Calder High: Governors to meet with parents on Wednesday (30th) - 6pm at revised venue, Calder High School. Read more

Jason Elliott's 500 Faces of Hebden Bridge

Small Ads - "We placed a job ad on the Hebweb recently, intending to keep it there for 2 weeks, but we had to take it down after 3 days due to the huge response generated"
HebWeb News Review of 2011 - read here - with links to reviews of the years 2007-2010.
Five hundred words on Hebden Bridge - "Everything in the house was heated by the fire, all the old terraced houses used coal for heat and cooking back then, the valley had a serious smog problem." Read more from Dave Bridges' 500 words.
Small Ads - I just wanted to let you know that through my small ad on your site I found my ideal new home, meeting all my requirements. Thank you very much for such a great resource
BBC News item on Fox and Goose co-op project. "Pub regulars in West Yorkshire are hoping to buy the business and set it up as a co-operative." Read more (3 Feb) And see forum thread
Asbestos keeps on killing: 2 of the children of a Hebden Bridge asbestos worker have died from the dust. See Yorkshire Post and Metro articles. And the HebWeb feature on Acre Mill.
BBC News Magazine: "Why is Hebden Bridge the lesbian capital?" Thanks to the many people who have emailed the HebWeb about this
More from Hebden Bridge Web