Tuesday, 4 June 2013
Parade Workshops Get Off to a Flying Start
More than a hundred people started creating their crazy costumes for this month's Handmade Parade when the open workshops kicked off in style last weekend.

A flying pig, goblins, mermaids and imps are all beginning to take shape and organisers are urging people to avoid the last week rush and get down to the workshops to start work on their creations.
The theme for the parade, which takes place on June 22, is Myths, Mysteries and Mayhem. Pegasus may take to the air, sea monsters could be spotted and trolls may appear from under the bridge.

The parade will be split into four sections of Earth, Air, Fire and Water. Those going along to the workshops will have the chance to choose which section they'd like to be in and will receive expert help and guidance from professional parade artists so that they can create their own costume and carryable parade art.  No experience necessary – just enthusiasm!

The workshops continue from 4-6pm on Tuesdays and Thursdays and from 1pm to 4pm on Saturdays and Sundays through to June 20, with extra workshops for teens and adults from 7-9pm on June 18 and 20.
Workshops will be held at Unit 5, Victoria Works, Victoria Road, Hebden Bridge - entrance is by donation. All children under 12 need to be accompanied by an adult at the workshops and during the parade.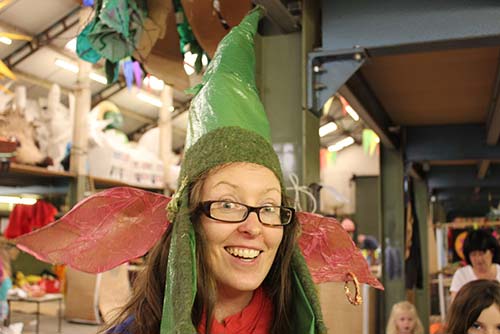 Handmade Parade Co-ordinator Hannah Merriman told the HebWeb: "What a fantastic way to start the parade! Sun both days, more than 120 people in the open workshops over the weekend and a load of goblins, cheeky cherubs and merfolk made already. There's still plenty of time to come on down and make your thing, shake your thing, or make your thing shaking your thing.
 
"And if you'd like to make this even more your parade by helping us out with our mini wish list this year, we would be very grateful if you could bring any spare tea towels, hand towels, brooms, clean plastic drinks bottles and big cardboard boxes along with you to the workshops."
The parade, now in its sixth year, will begin at 12 noon on Saturday, June 22, helping to kick-off the celebrations for the Hebden Bridge Arts Festival launch, and will wind its way through town to Calder Holmes Park for a spectacular finale which will be followed by lots of arts festival entertainment.
There will also be a Bridge the Gap youth arts event in the park, as well as parade skills classes for teenagers and adults who want to get stuck into a new skill – from stilt-walking, joining the samba or making giant willow sculptures. For more information on skills classes go to www.handmadeparade.co.uk/classes  or email Hannah at info@handmadeparade.co.uk