11 May 2017
2017 Arts Festival programme launched
Guests at the Hebden Bridge Arts Festival launch event were met by a sea of planted wellies as the team announced their full 2017 programme.
Programme highlights include Leeds based Phoenix Dance Theatre coming to Calder High School on Tuesday 27 June presenting ReFINED,  a mixed programme packed with solos, duets, trios and quartets curated by their  Artistic Director, Sharon Watson, from some of the  internationally renowned company's most popular recent work.
Three of Britain's best young female folk acts have joined forces as Coven and they can play a one off show at the Trades Club on Monday 26 June. Huddersfield duo O'Hooley & Tidow join BBC2 Folk Awards nominees Lady Maisery and activist singer/songwriter Grace Petrie to play songs from their debut EP, Unholy Choir, which sums up the group's no holds barred attitude.
Music fans can check out a night of electronic music curated by local musician Pete Duggal at the Trades Club on Saturday 24 June, It's a rare chance to see Gazelle Twin's live audiovisual show Kingdom Come - inspired by J G Ballard's final novel - and afterwards legendary Blitz Club DJ Rusty Egan will be spinning the discs.
Comic turned chef Hardeep Singh Kolhi is back in Hebden Bridge on Sunday 25 June with an open invitation to join him for a tasty curry and some outrageously funny stories as you scoff. For comedy fans the good news is there are a few tickets left for TV star Sara Pascoe's Animal show at the Picture House on Tuesday 27 June, and the Comedy Club 4 kids at the Town Hall on Saturday 1 July.
The festival is also a forum for debate which is guaranteed when Guardian writers Polly Toynbee and David Walker discuss their new book Dismembered: Why the assault on the state harms us all at the Town Hall on Friday 23 June. They will be welcoming all comers to interrogate their belief that the state and the services it provides benefits us all.
Popular science is hugely popular these days and Frances M Lynch will be literally singing the praises of pioneering UK female scientists at Wainsgate Chapel on Saturday 24 June, This Edinburgh fringe winning production mixes ancient and modern music to celebrate some of our nation's greatest thinkers. 
Folktronic singer/songwriter Minute Takes and animation artist Ana Stefaniak invite audiences to join them on a journey through the creative process at Wainsgate Chapel on Sunday 25 June offering a mix of live piano songs and projected films. 
Fans of female singers will be keen to see North London trio Girl Ray who will be playing tunes from their critically acclaimed debut album Earl Grey at the Trades Club on Friday 30 June.  Hotly tipped North Yorkshire singer closes the festival at the Trades Club on Sunday 2 July with songs from her album Writing of Blues and Yellows.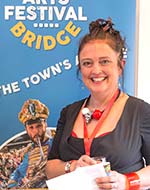 Arts Festival Artist director Helen Meller (pictured right) said, "We are confident that a festival that feeds people and makes them think - with plenty of laughs along the way - has something for everyone. Our event with Guardian cartoonist Steve Bell has already sold so we would advise people to book quickly as tickets for these events wouldn't be around for long."
You can buy tickets at Hebden Bridge Town Hall from 10am to 4pm Monday to Friday or online at the festival website where you can see the full programme.