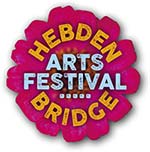 Thursday, 13 September 2018
Weekend of Wonderful Women
Folk singer and activist Grace Petrie will be headlining the new Weekend of Wonderful Women organised by Hebden Bridge Arts Festival this October.
Grace will play Hope Baptist Church on Friday 26 October as part of a weekend celebrating 100 years of free thinking women in Calder Valley and marking the centenary of women winning the right to vote.
The festival runs from Friday 26 October to Sunday 28 October featuring a series of talks, gigs and events that continues the Arts Festival's 2018 non-conformist theme as well as highlighting the massive contribution of women to the UK's creative industries.
Grace Petrie burst onto the national folk scene in 2013 with the anthemic Farewell to Welfarechallenging the emerging austerity agenda, and since she has been gigging round the country building a loyal following for her tuneful and witty protest songs.
The Leicester born singer's Whatever's Left album saw her moving into more personal territory adding shades of Americana and country to her sound. Her relaxed onstage patter has won her high profile support slots with Emmy the Great, Josie Long and folk aristocracy Billy Bragg.
Her new single Black Tie, from her first full studio album Queer As Folk, is a musical postcard to her teenage self where she reassures the young Grace that everything will work out eventually.
Grace played this year's Arts Festival as part of the Coven collective of female folk artists playing some of her own songs alongside Huddersfield's O'Hooley and Tidow and Lady Maisery.
Arts Festival Artistic Director Helen Meller said, "After her appearance with Coven lots of people wanted to hear more from Grace so when we knew we were staging the Weekend of Wonderful Women it seems right to bring her bring back as our musical headliner.
"Grace has never been afraid to tackle big issues, but does so in a way that is also very accessible, so she will add a huge amount to what will be a thought provoking and fun weekend."
Tickets are available now from the Festival website or at Hebden Bridge Town Hall Monday-Friday 9-5pm.
The Arts Festival would like to hear about the women who have inspired you – past or present, local, national and international. Share your ideas by email.
Previously
HebWeb News: Festival street performers - photo - 2 July 2018
HebWeb News: Kids test out special purple ice cream - 28 June 2018
HebWeb News: Street Superstars back for Arts Festival - 26 June 2018
HebWeb News: Non-conformists head to Hebden Bridge Arts Festival - 21 June 2018
HebWeb News: Win an original John Hegley cartoon - 13 June 2018
HebWeb News: Non-conformist singers needed for Arts Festival - 8 June 2018
HebWeb News: Landscape scores rediscovered - 4 June 2018
HebWeb News: Hebden Bridge Labels wanted - 1 June 2018
HebWeb News: Non-conformists head to Hebden Bridge Arts Festival - 7 May 2018
HebWeb News:Café Culture is back thanks to generous grants- 2 May 2018
HebWeb News: A Cosey night out at the Arts Festival- 30 April 2018
HebWeb News: DJ Dave Haslam is in the hot seat - 31 March 2018
HebWeb News: Top comic Bridget Christie plays Hebden Bridge Arts Festival - 21 March 2018