News, Features and forthcoming Events

Community Wind Turbine - share offer success! Blackshaw Head will be supplying the National Grid by October. Read more (8 Aug)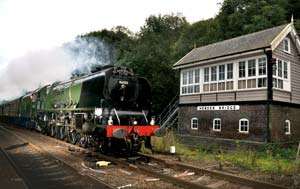 Scarborough Flyer steams through Hebden Bridge. Click photo to enlarge, from Andy Spencer
BBC Look North: Hebden Bridge and Mytholmroyd back in business. (3 Aug)
Flood advice video, including footage from local photographers, and interviewing Mary Dhonau, chair of the Flood Protection Association, who gives advice and practical tips on preventing floods, dealing with floods and minimising flood risks. (2 Aug)

Town Hall Café now open. Organic House has won the Hebden Bridge Town Hall catering franchise and the Café is now open, offering locally sourced and organic food and drink. Read more (30 July)
Discussion: proposed new supermarket, floods, Himalayan Balsam and buses are current threads on the HebWeb Forum
Changing face of Hebden Bridge. As the bookshop in Crown Street closes, citing the economic climate and the Kindle as reasons, another estate agents opens in the former Booths shop.
Community Foundation say donations to flood fund have passed £115,000. See Calendar report.
BBC's Any Questions? to be recorded in Hebden Bridge. The programme will be broadcast from the brand-new Waterfront Hall, part of the Town Hall development, on Friday August 31st. Read more (No more tickets available as of 25 July)
Save the Railway: Punch Taverns, owners of The Railway pub, hit twice by floods in the past month, have made the decision to sell it. See petition calling on them to reconsider
And Save the Dusty Miller - and following the floods in Mytholmroyd Punch Taverns have also decided to close the Dusty Miller pub. See petition
Wadsworth Bee Group has received a £460 grant from the Co-op Community Fund.
Yorkshire Water this morning report that in advance of the "expected heavy rain we are delivering sandbags to vulnerable customers in Calderdale to help them protect their properties". (18 July)
Central Library and Archive: Have your say - again. Calderdale Council has re-launched its consultation on the future plans for the Central Library and Archive. Read more, with links to previous coverage on the HebWeb. (17 July)

Open for Business: There was a meeting for businesses affected by the floods in the Calder Valley on Wednesday 18th. Read more
Flood-hit businesses in the Calder Valley are being told how they can apply for a share of the Council's £250,000 Rise Fund. Read more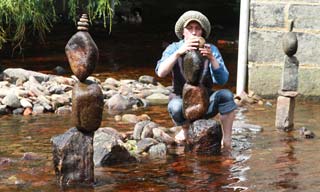 Locally‬ based Ecuadorian artist Juan Cerruffo balancing stones in the calm Hebden Water on a fine July day (12th) in Hebden Bridge. Photo by Craig Shaw. Click photo to enlarge.
FLOOD NEWS AND PHOTOS - together with links to YouTube and media coverage. Burnley Road from NatWest Bank to the Marina, most of Market Street to past the Co-op and George's Square were among the places flooded by today's torrential rain. This time, it wasn't the rivers, but drains were overwhelmed. Birchcliffe Road and Keighley Road were rivers of water. Read more
Flood Update from Calderdale - Tuesday, 10 July
Councillors slammed as buses still don't run - read the human costs to those who rely on buses which don't arrive in this five month HebWeb Forum thread.
Flood defences pledge for Mytholmroyd and Hebden Bridge: New defences will be developed quickly, says the Environment Agency, according to this BBC report
Blenheim Street Planning Application - Hebden Royd Town Council unanimously opposed the application last night. See Forum thread and Planning Watch. (9 Aug)
Bulky waste collections: Calderdale to charge £10 from October.
Moors management: On August 12th (the "Glorious Twelfth" marking the official start of the grouse-shooting season) Treesponsibility are planning a "Ban the Burn" protest Walk to Walshaw Estate, leaving from Hebden Bridge at 9.30 am. Read more.
What's on this weekend. Hebden Bridge Vintage Car Rally will again be staged at Calder Holmes Park.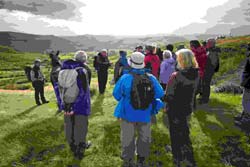 Walk and Ride Festival: Walkers, cyclists and horse riders will all be able to enjoy the splendour of the South Pennines, including the Buttress Challenge in Hebden Bridge, during the fifth Walk and Ride Festival this September. Read more
Census results show increase in Calderdale's population. Read more

What's On: Support flood fund raising events - tagged with this image. Fox and Goose have organised and evening of acoustic music on Sunday, as well as Floodstock, planned for September
Hebden Vale Children's Centre: was badly damaged by recent floods. They are planning to run some of their popular sessions from the nearby Hebden Bridge Methodist Church.
New Banner: Local people travelled to the Durham Miners' Gala to see Calder Valley artist Andrew Turner's new banner for the Women Against Pit Closures movement. Read more
YouTube video of Hebden Bridge getting on its feet after the flood. Inspiring collection of images put together by Jason Elliot.
Floodstock Blues Festival planned for September: organised by Slightly Foxed in aid of Calder Valley Flood victims.
Daily Mail on Hebden Bridge and the floods: "Until just over three weeks ago, the 5,000-plus residents of Hebden Bridge, West Yorkshire, could be forgiven for feeling ever so slightly smug." Read more

Hebden Bridge Folk Roots - planned for November and organised by a small group with a wealth of experience in folk music and organising events. For more info, including line-up, see the FolkRoots website on the HebWeb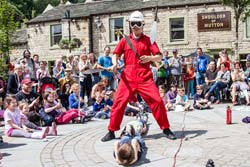 Arts Festival: With devastating flooding either side of the festival, it has been an extremely difficult time for many of the businesses in Hebden Bridge but they rallied to support this year's Arts Festival. Read final Festival Report for this year.
Support local businesses hit by floods. Some have been forced to move to temporary premises. Eg, Valley Organics can currently be found at the Baptists Church. Read more
Calderdale Council's Leader, Cllr Tim Swift, says: "Action needs to be taken to reduce the risk of flooding." Deputy Leader, Cllr Janet Battye, says: "We need to work with the Environment Agency, our partners and the community to produce a clear plan which will help to protect people's homes and businesses in the Upper Calder valley.
FLOODED AGAIN
A couple of weeks after the previous flood, one month's rain falls in three hours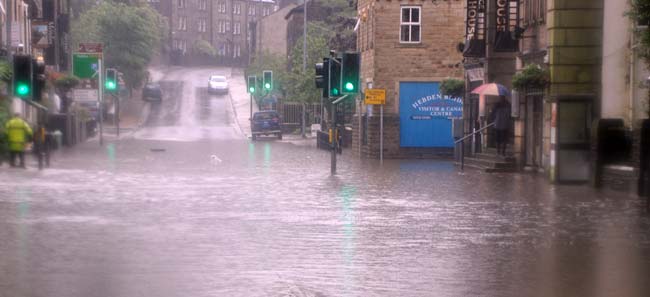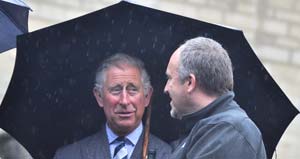 Royal Visit: Hebden Royd Town Clerk, Jason Boom sharing a joke with Charles on the Old Bridge at lunchtime today. Click to enlarge. More photos (6 July)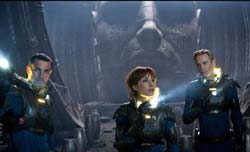 Picture House Digital Launch with Prometheus on Friday, 6th July. Read more
Calderdale Council has today announced plans to set up a £250,000 fund to help flood-hit businesses in the Calder Valley get back on their feet. Read more (4 July)
Flood clean-up continues: Calderdale Council, its partners, residents, businesses and volunteers are continuing the clean-up. Read more, including details of drop-in sessions today in Tod, tomorrow in HB and Friday in Mytholmroyd (3 July)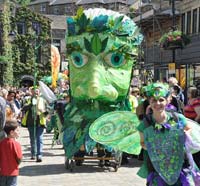 HANDMADE PARADE - Nearly 700 people took part in the parade and several thousands more lined the route to enjoy amazing giant puppets, dazzling artwork, a riot of colour and toe-tapping music. News and links, including one to Guardian gallery and to Calendar. See also: HebWeb photo gallery.

Praise for flood clean-up team. The team who spearheaded the clean-up, worked with the emergency services through the night and all the next day (3 July)
Hebden Bridge WI raised £1575.35 for people affected by the flood on their refreshment stall in the Rag Market this weekend.
Calder Valley Flood Victims - very active Facebook group
Mytholmroyd Net: video footage of the Gala, and latest news on Mytholmroyd's flood clean up
Flood insurance advice session at Council Chambers, Town Hall. 12.30. Tuesday, 10th July. Listen to, and ask questions to, Ian Macdougall of Marsh Risk Consulting, claims specialist and expert in flood insurance
Picture House back open Tuesday night after having to close on Monday 9th due to the floods in the town. See Picture House website for more updates.
Fruit for Free at Hebden Bridge Train Station: The redcurrants, blackcurrants and the fruit planted outside Hebden Bridge Railway Station between the car park and the railway fence are now ready for picking. Read more (9 July)
University of the Third Age: Richard Pomfret, launched his talk entitled "Pitch and Pythagoras - Pulse and Prison", by telling his audience that a piano can never be in tune. Read more (9 July)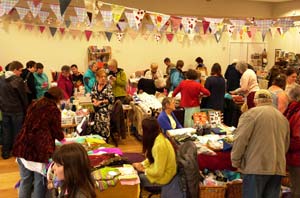 The fabulous Hebden Bridge WI Rag Market was the place to grab a bargain on all your favourite haberdashery and craft goods last weekend. Over 1200 crafters, sewers, knitters, flocked to the market at thenew Waterfront Hall - the perfect space for the Rag Market, airy and light, full of chatter, colour and lots of smiles all weekend. Read more (4 July)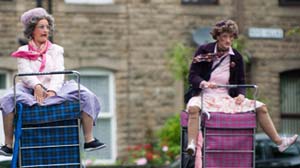 ARTS FESTIVAL Carnival weekend as the Festival hit the streets of Hebden over the weekend. Read latest news from the Festival. (3 July)
Bus problems continue - one woman reports no replies from councillors or Metro - she (and baby!) may be forced to move. See Forum
THE SUN SHINES ON THE HANDMADE PARADE
Town Council give £10K to Flood fund - see Floods: the Aftermath news page. And, the latest flood relief info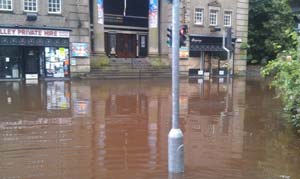 PICTURE HOUSE: After much effort from Staff, Friends of the Picture House and passers-by the Picture House only missed one screening after being flooded up to a depth of 5 ft in places.
See Yorkshire Evening Post five minute video of interviews with Environment Minister, Richard Benyon, Craig Whittaker MP and an Environment Agency spokesperson.
Richard Benyon spent Tuesday morning in Hebden Bridge, meeting those hit by the weekend's floods and visiting Central Street infants School. (26 June)
With the Parade, Mytholmroyd Gala and Arts Festival opening, "it's going to be a massive celebration in our valley on Saturday showing the world that rain and mud won't crush our spirits! Andrew Kim, Parade director." HebWeb Forum

"...nothing could have stopped what happened with the onslaught of water on Friday night." Craig Whittaker. Parliamentary discussion on the floods.
Hebden Bridge Fringe programme - Benidorm meets Shameless (drama), learn to crochet, Pakistani story telling, Burlesque Taster Class, Dance Workshops, Vintage Pop Choir, The Speed of Dating (comedy), Cabaret, Literary Quiz, poetry and prose, and finishing with a Bellydance Spectacular. Read more
Prime Minister praises "the resilience" of Calder Valley community - see Floods: the Aftermath news page. And 300 tonne crane brought in to move boat. (28 June)
EMERGENCY FUND for people and groups affected by the Calderdale Floods June 2012, set up by the Community Foundation. Please make a donation.
Info, links and photos on our Flood news and photos page - large versions of photos now available, just click photo.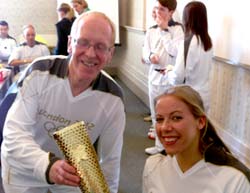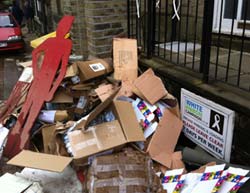 With his Olympic Torch, White Ribbon campaigner Chris Green with Halifax champion wheelchair racer Hannah Cockcroft. Hover over image to see aftermath of floods involving £10k losses at the White Ribbon office in Mytholmroyd.
Yorkshire Post: Clean-up starts as communities count cost of flood devastation. "Businessman Marcus Doyle said that his Home...Oh shop in Hebden Bridge, part of the Yorkshire Soap Company, was a 'complete write-off' . . There's tremendous support from the community.."
Guardian Northerner: Hebden Bridge mops up after the floods. "At the Bookcase, an independent bookshop which makes a point of stocking the work of local writers, the proprietor Kate was awaiting a visit from the loss adjusters."
HebWeb Forum threads Calder Valley floods: helping the victims, and the Floods, the politics - can we do anything to prevent or mitigate further flooding.
FLOODED: Below - Hebden Bridge at 11.30pm Friday. Burnley Road, Market Street, Albert Street, Crown Street, Bridge Gate, Old Gate and more. The worst flooding in Hebden Bridge for over 30 years. More photos - now with enlarged versions if clicked.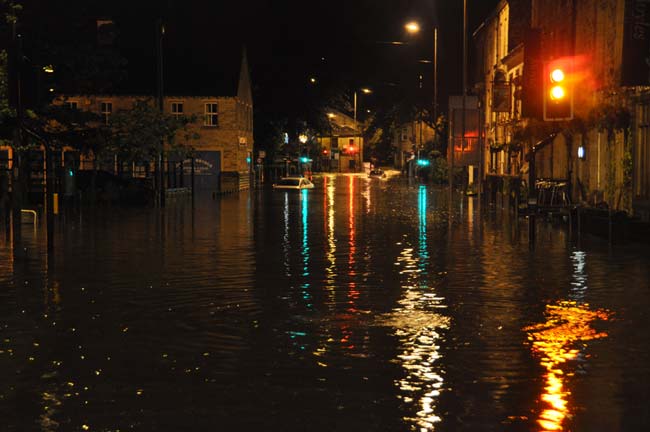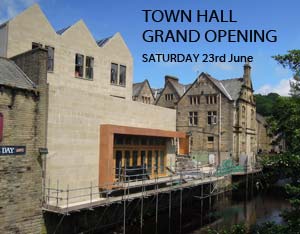 Mytholmroyd Net - serving the community of Mytholmroyd for 12 years

Ian Coates of Hebden Bridge has been travelling the world on his Honda since 1999. He's now nearing home - latest update from the Sierra Nevada in Spain - See HebWeb Feature. (13 June)
Guardian Northerner outlines some of the major events lined up for Hebden Bridge and "some of them thar surrounding hills".
Calder High Parents urge school leadership to address concerns - "to help Calder High to be a successful and exciting place in which to learn". Read more
Victoria Road plans unveiled at "Public Exhibition" of proposals. Developers "committed to engaging with the local community." See Planning Watch.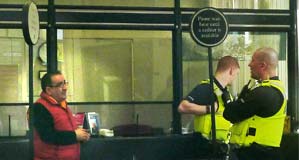 Police are called to the NatWest bank, Hebden Bridge, when Mayor of Calderdale Nader Fekri refuses to leave, after the machine swallowed his card. Even though he was off to Germany on council business in a few hours, staff refused to give him his card back! See Yorkshire Post. (Photo: Jason Elliott)

Craig Whittaker condemns gay marriage proposals. Our MP claims that such marriages would be adult-centred and lead to polygamy. Read Craig's blog entry. And see HebWeb discussion
Hebden Bridge in the spotlight: Hebden Bridge and the Paul Barker book on Radio Four Wednesday (9th), 4pm
Guardian Northerner features Spaw Sunday in Cragg Vale, Luddenden and Midgley. (8 May)
Hebden Bridge in the spotlight over the weekend. Full page article in the Sunday Observer on Free food, sharing and caring. Reviews on Paul Barker's book on Hebden Bridge in the Saturday Guardian ("West Yorkshire's cool and quirky corner") and Independent ("a microcosm for local life buffeted by the winds of change).
Janet Battye holds Hebden Bridge's Calder ward for the Liberal Democrats by 145 votes on a 45% turnout, higher than the national average. The Greens push Tories into 4th place. More results
Small Ads - "I am very pleased to say the response was terrific and both properties are now let." (Less than a week)
Small Ads - "We placed a job ad on the Hebweb recently, intending to keep it there for 2 weeks, but we had to take it down after 3 days due to the huge response generated"
Five hundred words on Hebden Bridge - "Everything in the house was heated by the fire, all the old terraced houses used coal for heat and cooking back then, the valley had a serious smog problem." Read more from Dave Bridges' 500 words.
Asbestos keeps on killing: 2 of the children of a Hebden Bridge asbestos worker have died from the dust. See Yorkshire Post and Metro articles. And the HebWeb feature on Acre Mill.
Mayroyd Development - rejected plan revived - see Planning Watch and Forum discussion.
£75,000 available for community groups: Hebden Royd Town Council invites groups to apply for grants, especially those who need help most in the current climate. Read more
Victoria Road Playground: Friends of The Little Park have told the HebWeb that the second phase of planned improvements to Victoria Road playground is due to commence in September. Read more (12 June)
Calder High is not on the Secretary of State's Priority School Building Programme list, published today. Nor is any other Calderdale school.
POLICE STOP PARENTS LEAFLETING outside Calder High. The HebWeb has a copy of the leaflet and has contacted the police asking what law could be broken. Updated. Read more
Elvis mayors: see the Mayors of Calderdale and Hebden Royd, and former Mayor Rev James Allison on stage limbering up for Fanny and Elvis at the Hebden Royd Town Council Civic Dinner.
Ted Hughes Writing Competition is launched!
Local papers: HB Times office to close, journalist Susan Press tells HebWeb - see Forum thread. Update from Cllr Tim Swift: Halifax Courier to go weekly. "Those interested in the many goings-on in the upper valley are increasingly likely to turn to the 'Hebweb', the flourishing local website of town news and views." says Martin Wainwright, writing in the Guardian's Northerner Blog
Calder High: Former Calder High teacher of 27 years, Anne Todd, tells of an atmosphere of mistrust and anxiety among staff, lack of experience among management, deteriorating behaviour since the last inspection and streaming imposed without consultation. Read more in the HebWeb Forum.

Jason Elliott's 500 Faces of Hebden Bridge

Small Ads - I just wanted to let you know that through my small ad on your site I found my ideal new home, meeting all my requirements. Thank you very much for such a great resource
More from Hebden Bridge Web