Monday, 24 June 2013
Handmade Parade: Wonderfully colourful and creative, dazzling and inventive - and with flying pigs!
Almost 1,000 people took part in the parade, which featured amazing giant puppets, astonishing artwork, five bands and some crazy costumes. Thousands more lined the route along Victoria Road, Valley Road, Bridge Gate and Holme Street to Calder Holmes Park.
The biggest Handmade Parade ever thrilled the crowds on Saturday as Hebden Bridge marked a year on from the floods with a dazzling display of its creative talents.
The parade kicked off this year's Hebden Bridge Arts Festival and as part of that Bridge the Gap also staged a youth arts culture event called Park Yourself.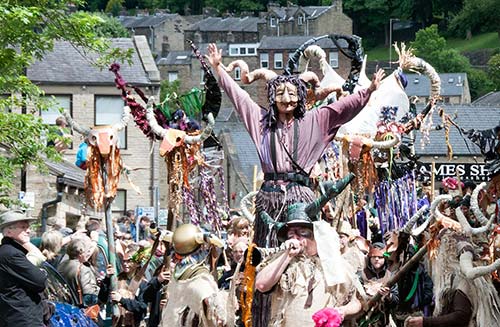 This year's theme was Myths, Mysteries and Mayhem and was split into four sections of Earth, Air, Fire and Water. Pegasus took to the air, mermaids were out en masse, there were more than one hundred fire birds, stilt-walking horned beasts and terrifying trolls. And if you'd waited all your life to see a flying pig, on Saturday there were dozens of them.
Among the big makes which drew gasps from the audience were Brigid the fire goddess, created by Kerith Ogden, Easter Island stone heads created by Jonny Quick, a giant inflatable whale created by Lisa Gort and a flying Pegasus by Fran Sierevogel.
Once the parade reached the park, the audience were treated to a stunning finale pageant featuring a tribe of trolls, fire-tricksters, the salamander squad  and stilting horned beasts. It culminated in spectators joining in a disco dance around a giant glitterball.
Andrew Kim, Artistic Director of the Handmade parade, said: "Each year, we seem to be growing not only in numbers but in the quality of participation. We are so grateful and proud of being able to offer the opportunity for this ever expanding community dance down the street!
Funding for this year's parade allowed organisers to take on the biggest team of workshop leaders and parade artists in the parade's history and to provide free workshops to over 24 local schools and community groups—over twice as many as last year.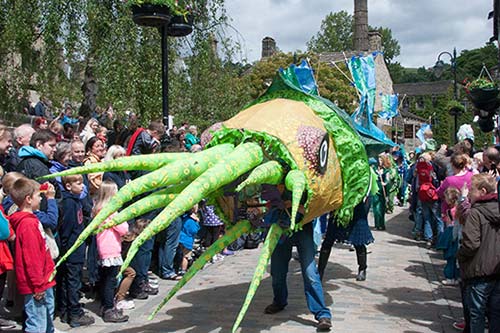 Organisers would like to thank everyone who volunteered, took part and lined the streets to watch for making it such a special day.
Last year's parade had to be postponed for a week due to the floods but the weather was kinder this year with the parade and finale pageant beating the heavy showers later in the afternoon.
Handmade Parade Co-ordinator Hannah Merriman said: "Throughout the lead up to the parade things felt special - from our international visiting artists to the wonderfulness of our volunteers. People really threw themselves into the theme this year and our artists were outstanding! I'm truly overwhelmed by what our community created and think every single person who got involved can be very proud of being a part of it".
Emily Jones from Hebden Bridge, who took part in the parade with her family, said: "It was fantastic, certainly the longest parade ever and I think it proved that in Hebden Bridge anything is possible - even flying pigs."
More Photos
Steve Morgan - participants as a studio shoot before the Parade